Gourmesso have updated their line-up of Nespresso compatible coffee capsules. How do they taste? And how do they compare to the more expensive Nespresso pods? Here's a review and a look at what's new.
If you're like me, you need — absolutely must — start your day with something that has a major kick of caffeine. Coffee, yes that's okay in a pinch. But nothing quite does it like a strong shot of espresso.
I own a Pasquini Livia 90. For me, it's a work of art, and produces wonderful espresso. Rich and creamy. With beautiful crema. It too me a while (and a few bags of beans) to get the brewing process down pat. After about 10 years of ownership, though, I can pull reliably good, tasty shots.
But I don't always have the time in the morning for a minor espresso yoga — grinding, tamping, timing and all that jazz.
That's where Nespresso comes in.
Turn it on. Put in capsule. Place a cup underneath. Press a button. Voila. Your morning espresso is ready. Little fuss, and pretty darn tasty too (though not quite at the Pasquini level, but quite good).
Those Nespresso capsules are pricey. Not as expensive as daily visits to Stabucks, of course, but they can add up. The joy of the razor-cartridge battery.
Gourmesso Capsules: Nespresso Quality for 30% Less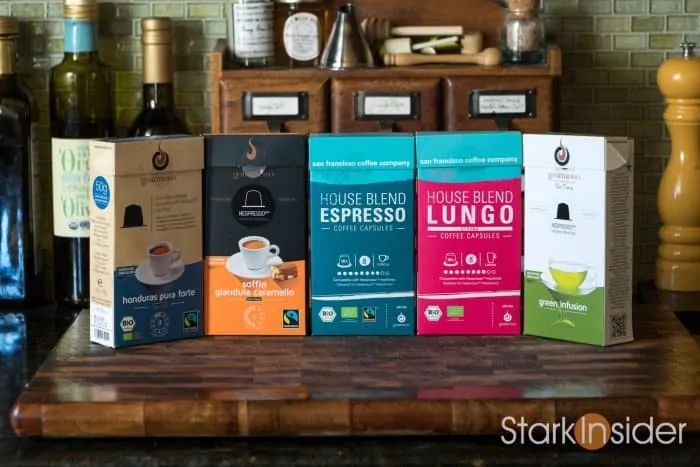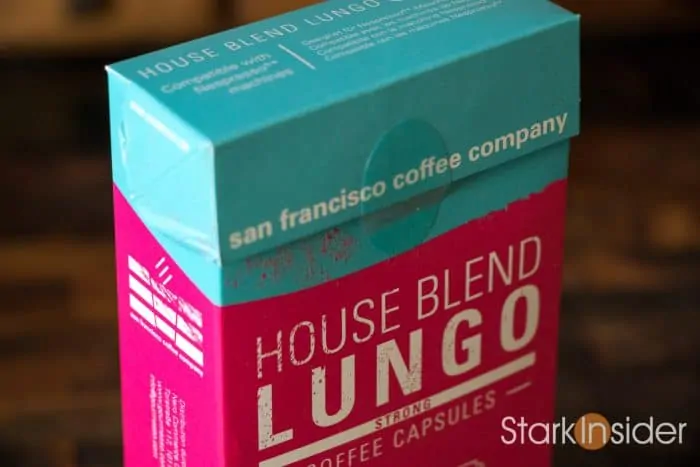 Thankfully, a few years back we began to see third parties enter the market, offering up Nespresso compatible pods, typically at lesser cost. As fans of espresso, latte, cappuccino and caffeine in general what's not to love? More choice. Less cost. All good.
Gourmesso sent us a batch of their original capsules a while back. I tasted through an assortment, and in my review wrote:
"Some real winners here. And at 33% less, Gourmesso gives us espresso fans budget relief without much sacrifice. Recommended." 4 out of 5 stars.
I was impressed, with one caveat to keep in mind: the Gourmesso "10" capsule (on a scale of 1 to 10, from weakest to strongest) wasn't quite as strong as a Nespresso "10". Still, very close. And a good value to be had. They were definitely worth checking out for those stocking up on their capsules. Read: original Gourmesso capsules review on Stark Insider.
Gourmesso Capsules: What's New?
What's new with Gourmesso:
New flavors
Environmentally friendly and smaller packaging (plastic wrappers are gone); hermetically sealed and invidually labeled
As of now, Gourmesso has 9 espresso, 6 lungo, 9 flavors, 5 tea, and 2 decaf coffee options
Carries over:
Fair Trade certified
Organic blends available
Future improvements:
Per Gourmesso they will be "making the pods 100% compostable, so they break down in soil in just a few weeks. This will be something we are planning for the future."
Gourmesso Capsules: Lots of Choice and Flavors — Even Tea!
We received 5 boxes of Gourmesso capsules, even including tea. Here's a quick summary of my thoughts on each after a few quick tasting sessions:
San Francisco Coffee Company House Blend Espresso 8: A basic shot of espresso. Nothing fancy. Tastes fairly neutral. Decent enough. I think a lot of people will like this as the baseline for espresso-based drinks.
San Francisco Coffee Company House Blend Luongo 8: Same as above with more intensity for larger drinks.
Tea Time Green Infusion: Did not test yet. To be updated shortly when my wife (the tea person in the family) gives them a go.
Soffio Gianduia Caramello (Fair Trade) 5: Very nice. Rated a 5 in terms of strength, so not the most intense. Lovely flavor. This could satiate those with a sweet tooth for all things chocolate and caramel.
Honduras Pura Forte (Fair Trade) 9: Another winner. Creamy. But not bitter.
All of them come in pretty cardboard ("frustration free") packaging.
Overall, I'd score them a solid 4.5 out of 5 stars. I prefer the stronger capsules. Obviously personal preference plays a large part here. Before you stock up, you may want to try out a sampling across the board (trial bundle is a good start), and figure out which are your favorites.
Isn't this one of the perks of using a Nespresso machine? That you can change up your morning routine and keep life very exciting by changing up your espresso flavor!
Gourmesso Capsules: Photo Comparison with Nespresso Capsules
Here's a visual look at two shots. On the left Gourmesso. On the right Nespresso.
Gourmesso Capsules: Verdict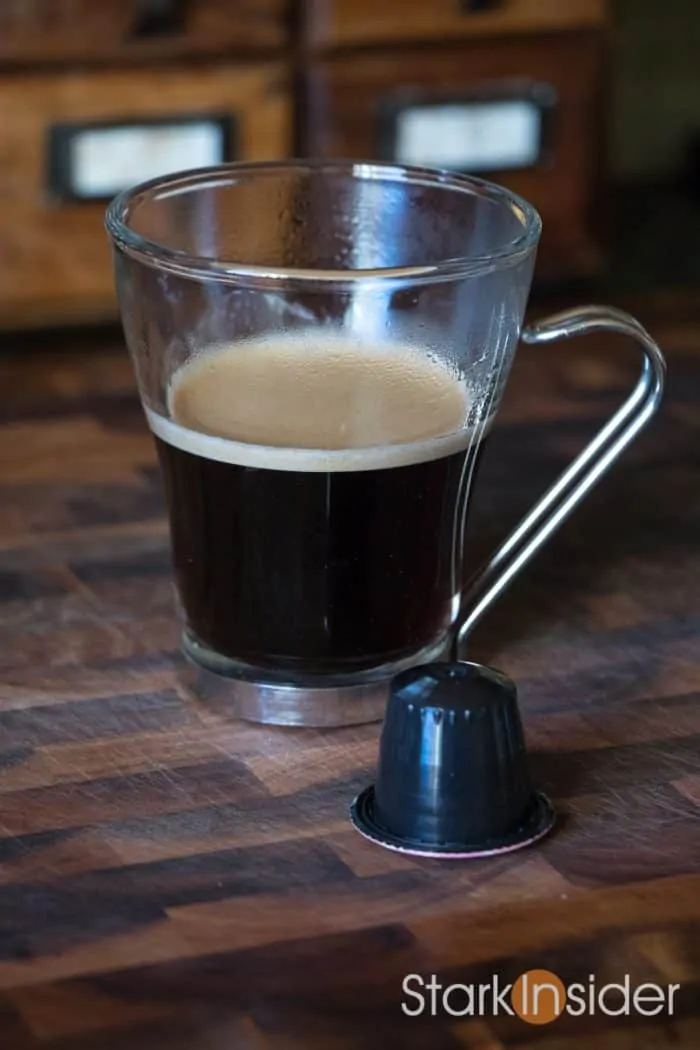 Nespresso-compatible capsules that taste good for 33% less.
That's the bottom line, and I can easily recommend these Gourmesso capsules.
Gourmess Capsules for Nespresso Machines

Rating: 4.5 out of 5 stars

Price: $0.47 to 0.50 (USD) per capsule depending on quantity

Where: Available at Amazon in a variety of flavors and strengths
Buy/research Gourmesso capsules for Nespresso compatible machines: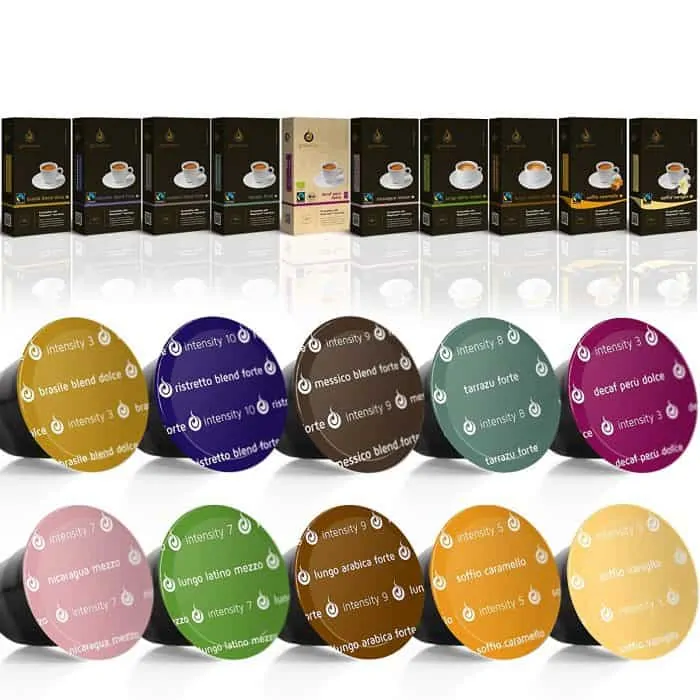 Buy/research Nespresso espresso machines: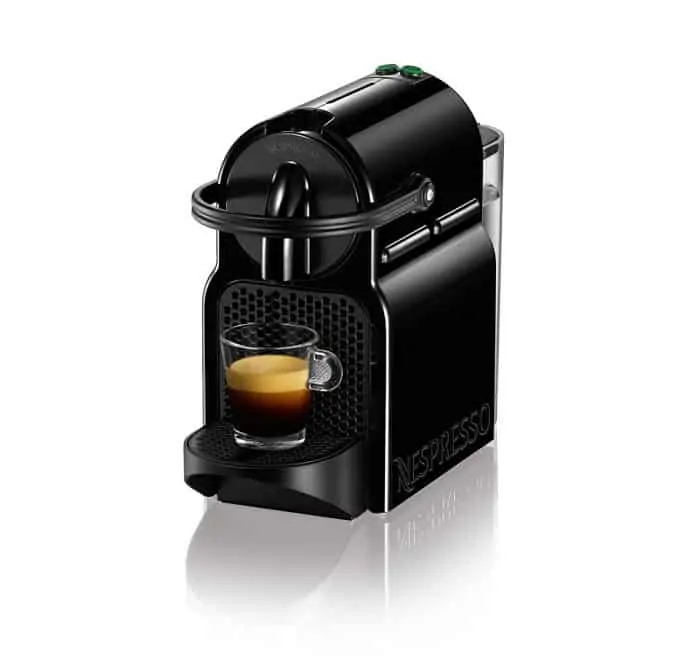 Photo credit: Clinton Stark with Canon EOS 80D