Good news! Apple has finally added Theater Mode for the Apple Watch.
The small, but very useful new feature rolled out as part of the watchOS 3.2 update. To get it, you'll need to ensure your iPhone is running the latest version of iOS (10.3).
Activating theater mode on the Apple Watch turns on silent mode (no sounds), and prevents the screen from turning on automatically when lifting your wrist. This is ideal for situations where you need be discreet. A night at, say, the… theater would be a perfect example. Or at a movie. Or concert. Or it could come in useful when you want to concentrate in a meeting, and not be bothered by distracting notifications.
Vibrations (haptics) still come through when the Apple Watch is in theater mode, so you can still decide if you want to wake up your watch to see more about a given notification.
Users of watches running Android Wear (which I believe is on its death bed, and needs a massive overhaul and re-launch) would likely view this itty bitty news with a bit of snark. Wear watches have had theater mode it would seem forever. It was perhaps the last feature that Google could hang on to as an advantage. Though, some might consider Wear's ability to have an always-on display useful. Then again, a glowing face at night it not always something a lot of us want.
Apple Watch: Theater Mode
Note: this is from my Apple Watch Series 1. On a Series 2 there's an additional icon (a water drop) for Water Lock.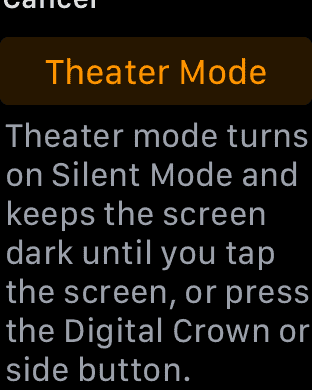 Also in the watchOS 3.2 update is the ability for apps to use Siri. That means we should see voice-control features added by third party developers, making it easier to issue hands-free commands via the Apple Watch.
Earlier this year I made the jump from Android (Nexus 6p) and Android Wear (Huawei Watch) to iOS (iPhone 7 Plus) and watchOS (Apple Watch Series 1). The migration wasn't nearly as difficult as I had imagined it might be. Instead, I discovered the world of Apple and the world of Google when it comes to mobile is increasingly similar. Apps are virtually identical, as is the overall operation of the devices. Apple, though, wins a lot of little battles against its competition by owning both the hardware and software. It's very evident. When you, for example, migrate from an old iPhone to a new one, the process is seamless. As is setting up the Apple Watch. The usability of the iPhone and Apple Watch far surpasses anything I've tested running Wear, including the (nice) Huawei Watch, ZenWatch 2, and Moto 360 Sport. Apple gets all the details just right.
Now with Theater Mode you have one more bit of control when you're out on the town and don't want to distract those around you. That's a thoughtful and very nice thing!