It's a well-worn cliche to be sure. But: Would Steve Jobs have approved of the new (late) 2016 MacBook Pro laptops?
Of course we will never know. If I were a betting man I'd wager "no."
Though I originally bought a Surface Book (with Performance Base) to replace my long-in-the-tooth MacBook Air (excellent) I found that in my short time with Microsoft's innovative hybrid laptop-tablet that, though it was very well engineered, it simply could not provide the overall sense of productivity I get when using a Mac. Something just feels right about the way Apple designs laptops. The build quality, the keyboard, the screen, the trackpad; it all feels just right.
So as much as I anticipated I would make the jump to a Windows laptop, here I am typing a new 2016 15-inch MacBook Pro.
The decision was hurried somewhat. I had a trip booked for Paris and Europe, so I needed a mobile video editing system. When I found the Surface Book not quite right — slightly floppy screen with less contrast than a Mac, shiny silver keyboard that is hard to see, and disappointing performance in Premiere Pro — I scrambled, headed to a nearby Apple store here in Silicon Valley and plunked down a veritable fortune. Yes, the new MacBooks are expensive. Too expensive. Yet, I unfortunately find not much else out there that can quite put it all together quite the way Apple does with its MacBooks.
After a few weeks with a new MacBook Pro here's some of the good and the bad I've enountered.
2016 MacBook Pro: The Good
Screen
The screen on the new MacBook Pros: gorgeous. And this is a case where resolution only tells part of the story.
The 15-inch MacBook Pro comes with a sharp 2880 x 1880 IPS display; the Surface Book, a 13.5-inches with an impressive 3000 x 2000 PixelSense display. Even though the Surface Book wins on paper, in practice I find that the MacBook Pro display yields deeper blacks (which helps contrast), generally more legible text, and better details. It's close. And no question, specs aside, personal taste plays a part. In the end, side by side, I find the MacBook Pro display to be exceptional.
Trackpad
Windows laptops have finally caught up to Macs. Almost. It used to be that their trackpads were always a few steps behind. Now Dell (XPS 13 and 15), Microsoft (Surface Book), HP (Spectre) have engineered trackpads that are as responsive and easy to use as they are on a Mac. Almost. I still find scrolling and gestures to work just that much better on a MacBook. On most new laptops, I'd score Windows' trackpads, say, a 9 overall when it comes to trackpad performance. The MacBook, though, is a 10. It's as good as it gets.
Keyboard
Much has been said about the low-profile, clacky keyboard in the new 2016 MacBook Pro line-up. I've found both to be true. Keys sit almost flush with the surface. It's unsettling at first, especially for someone who has slowly upgraded over the years: 2010 MacBook Pro to a 2012 MacBook Air. Place them side-by-side and you can see the trend to flatter and flatter keyboards. After an hour or so, any potential concern was gone. This is a fast, easy-to-use keyboard. And, yes, it's, for lack of a better word, clacky. I can't imagine typing discretely on this keyboard in a meeting, or at night while your better half is trying to sleep.
Overall Design
Beautiful. Once again, Apple doesn't not disappoint when it comes to industrial design. The MacBook Pro feels like the part; it's rock solid. No flimsy parts. Everything speaks quality. And you get the feeling this thing will be around in five years.
Speakers
Boom. These speakers, especially as I discovered on the 15-inch model, are a mobile audiophile's dream: loud but not muddy, with clean bass, crisp highs, and an overall pleasing tonality. Scientific? No. But to my ears these are some of the best speakers yet put into a laptop. Many won't care, instead preferring to use headphones. I do on occasion too. But there's many times — when I'm editing a video in the office, for instance — where the speakers alone almost justify the insane prices Apple is charging for these laptops.
2016 MacBook Pro: The Bad
Touchbar
It's a useless gimmick.
Wi-Fi Randomly Drops
At least once (or twice) a day the wi-fi connection drops. At first it happened when I plugged in a device into one of the USB-C ports, usually a SD card reader. Poof! Wi-fi would drop. Remove the device, and Wi-Fi would once again come back. A quick Google reveals that this is a common issue. Worse still, Wi-Fi seems to drop randomly throughout the day. The solution: go to the menu bar, turn off Wi-Fi and turn it on again. A pain. Hopefully Apple soon will issue a fix.
Lack of Ports
I think we all get the need to progress. You can't cling to the past and expect to innovate. But I'm one of those who agree with the critics: Apple has gone too far. USB-C is great. It can do it all. And it take up little space. Great. However, I still use SD cards. I expect any photographer or videographer still does. Having to dig out a dongle is a royal PITA. I've discovered on this European trip that backing up video data on a nightly basis is an exercise in dongle Hell.
Apple is forcing us into a USB-C future that still feels years away. Meanwhile, us users are feeling the pain: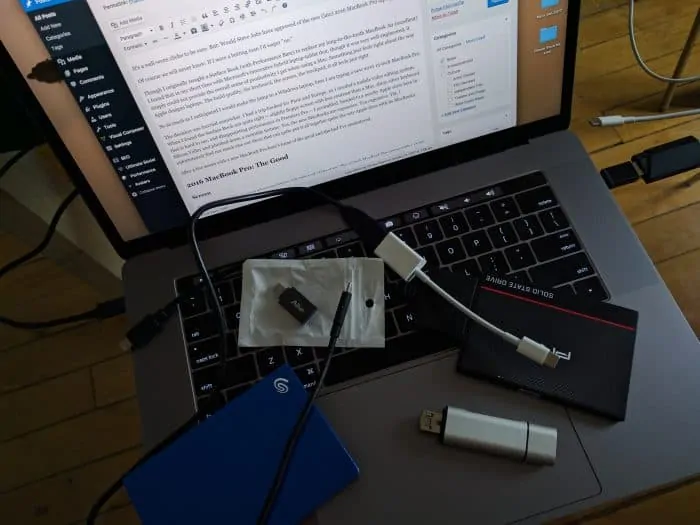 Screen Randomly Goes Blank
Another in the "randomly" department. On occasion, the screen on my MacBook Pro goes blank.
I couldn't figure out why. If I tapped a key it would come back to life, everything as it was. Then, I realized, aha! I had re-programmed one of the Touch Bar keys as a sleep short-cut. When typing, I found myself accidentally hitting that Touch Bar shortcut when my fingers were near the I, 9, or 8 keys. See, that Touch Bar… more annoying than productive. At least, at this point.
Battery Life
Too early to tell, but in my limited use I'd say battery life is just Okay. I don't think that I can get 10 hours out of this 15-inch MacBook Pro. More like 5-6 hours. That is far from a lab test, yes, but my early hunch is that Apple could've done much better when it comes to battery life — perhaps the absence of Intel's latest Kaby Lake processors hurts here.
Adobe Premiere Pro Crashes
Here I am. On a trip. Editing video. With the new 2016 MacBook Pro. And it crashes in Adobe Premiere Pro! The most important thing I need to do while on the road… and even my wife's older MacBook Pro has no issue with editing in Premiere. Heck, even my lowly m5-powered Lenovo Miix Windows tablet can run Premiere (albeit very slowly). Googled, again, and discover others with same problem. Short term fix is to turn off hardware acceleration in Premiere and rely solely on software processing to get the job done. Fortunately, that fix has worked. I suspect Adobe has yet to work out the drivers for the new AMD graphics chips in these new Macs — previous models have used NVIDIA. Hopefully a bug fix in process.
Bonus Complaint: That Godawful White Charging Cable
I went with a Space Grey MacBook. The darker color scheme looks less bling compared to Silver. It's a classy look that I think will catch on — like hi-fi components I expect the silver/dark scheme to cycle in and out of favor over the years. BUT… that white charging cable is not doing us any favors. It looks horrid plugged in to a USB-C port, next to the clashing Space Grey color laptop body. I'm confident Jobs would not have approved. It looks ghastly. This from a company known for aesthetics. Why does Apple not provide a matching Space Grey charging cable?
2016 MacBook Pro: A keeper, but just
If there were a Windows alternative to the MacBook Pro that offered a similar keyboard, trackpad and screen, I'd give it strong consideration, especially since I'd likely be able to save a bunch of money. But, after scanning the market for a few months and testing various models at Best Buy, and the Microsoft Store, I've yet to find one that put it's all together like Apple. So, while there are early bugs, I'm still willing to ride it out.
The closest I've found to date is the Surface Book. I really like what Microsoft is doing these days. That is one beautifully engineered piece of gear (as is the Surface Pro tablet). But I feel like it's one generation away from truly challenging the MacBook Pro.
So, while I occasionally have harsh, unprintable words for my MacBook Pro — especially when it began crashing while editing in Premiere Pro on deadline — it gets the job done. And that's what counts the most to me at the end of the day: getting the job done. It's not necessarily fun, or as innovative as in year's past, but I can still clock in, and know that I can be productive on my MacBook Pro.
Steve Jobs? Probably rolling in his grave.