Stark Insider is a major media sponsor of Mill Valley Film Festival (MVFF) 39. Don't miss a thing. Get your iPad, iPhone, Roku, Apple TV, Chromecast, or plain old web browser ready, and be sure to subscribe to the Stark Insider YouTube Channel for updates, news, and reviews. Plus interviews with host Loni Stark.
For me the weekend is the perfect opportunity to rope Loni Stark into another experimental short film or pseudo music video. I'm not sure what else to call them. But I guess they're bursts of odd, unpredictable sort of creative energy that somehow need an outlet. Yes, I spend too much time in the steam room listening to 80's new wave.
This time, we needed makeup, a tiara, a strobe LED, water-based fog, and a mysterious black box wrapped in barbed wire. And the requisite assortment of important Stark Insider video stuff: blood, stuffed toys, leather gloves, a wig, and leather jackets.
Would Loni be up to the task?
You'll find out soon, as I cut together A Gift From Me to You.
Loni always asks me why my ideas seemingly always involve her. Probably because I don't want to go looking for actors. And she's usually nearby. Plus, there's some monstress-like SI sub-text at work here. But I don't want to give away the story line we've been developing over the last ten years.
I told Loni it would take only 1 hour to shoot (naive!). It took over 3 hours. Just for a simple video! I have newfound respect for those who work on feature length projects and documentaries. It is exhausting. As you're going along, doing a 10 second shot here, a 15 second shot there, and maybe a 5 second insert, you never really know if it's working until you get all the footage loaded into the edit suite. I swear that's where you make or break it.
This is Loni, as we shot the final scene outdoors. Basically the look of someone about to kill me if I didn't hurry up and get this thing over and done with so she could enjoy a normal weekend: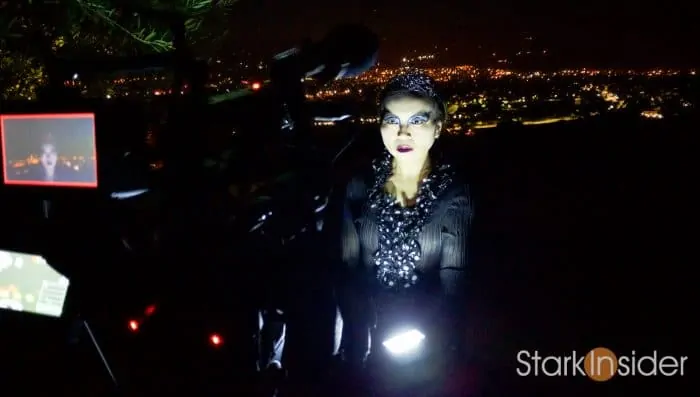 And a still from the video, processed quite a bit using Adobe Premiere Pro and Lumetri Color: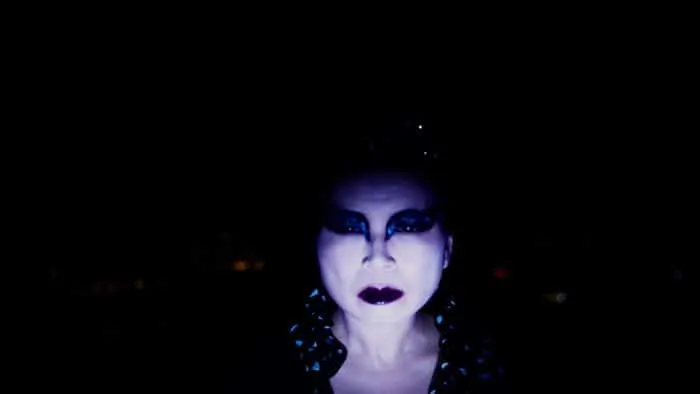 What I like about doing these quick turn projects is, aside from getting the satisfaction of seeing something through from beginning to end in a short timeframe, is that it gives us practice in trying to develop and evolve our video skills.
Be it "acting" (I use that term very loosely) in front of the camera, lighting a scene, composing a shot, moving quickly to stay on schedule (we always create a deadline so we work under a sort of pressure, even if, in this case, it's artificial), or working on getting things like ADR and foley right, each time we shoot an experimental video we'll likely be better prepped for our next mainstream project — on location or in the home studio. We like to stay busy. Getting our mistakes out of the way, and attempting to move forward, has been part of our ethos here on Stark Insider for the last decade or so. Sometimes it works, sometimes not. But, as they say, the beat will never stop.
Someone once said — I think it was superb indie actor/director Mark Duplass at a recent SXSW talk — that everyone has 39 bad films in them. So the sooner you get those out of the way the better off you'll be. I guess I'm working my list as fast as I can.
Like I did with our PEANUTS tribute Coffee Lane  that we shot up in Sonoma, I once again storyboarded, to dreadful effect: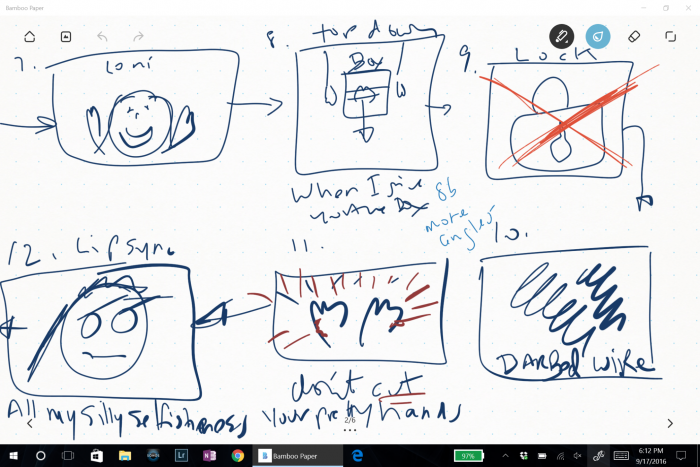 But it was enough to get Loni and I on the same page, and ensure I was getting enough coverage on the Canon C100, and that I was maintaining proper angles and line of axis (though I'm pretty sure I screwed up more than a few shots).
Loni snagged a photo of me trying to keep my shot list in order (I think I failed here too!):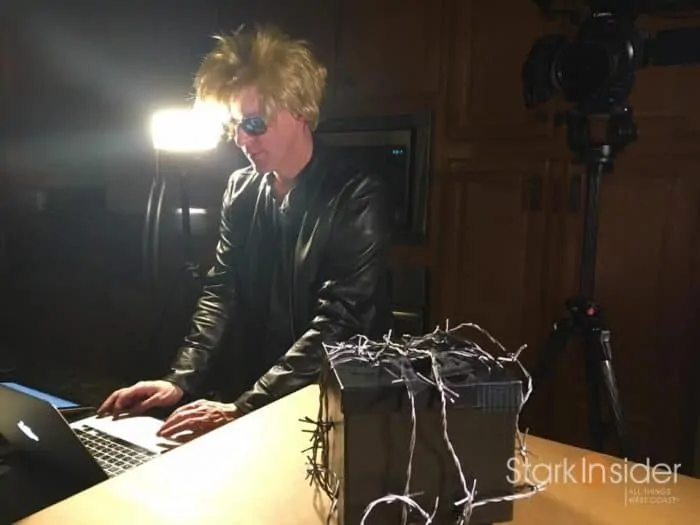 Video coming soon…
Stay creative, or try! Go see this! Get out there! But… why listen to me?!
Oh, and these just arrived in time for my next experimental short: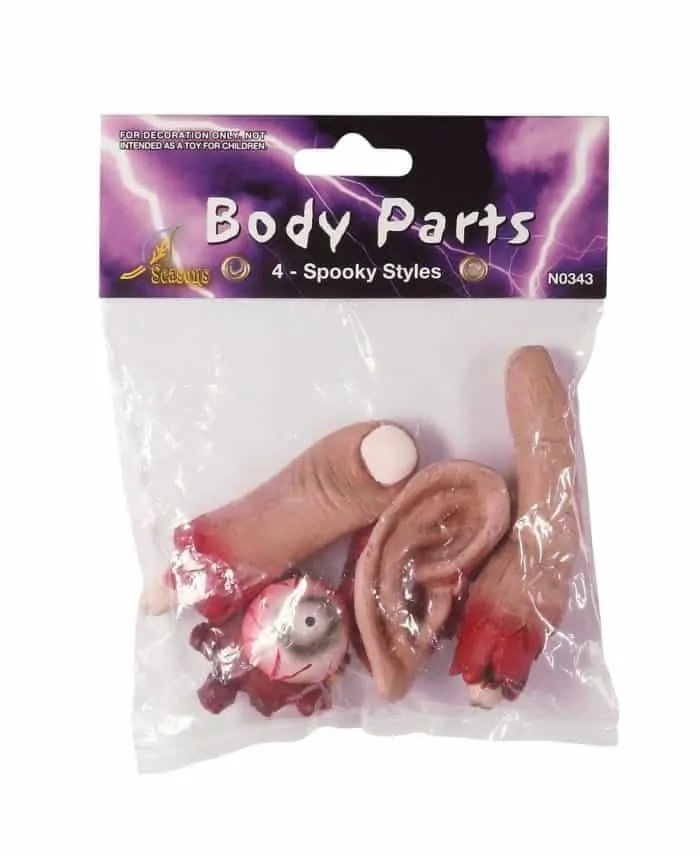 More Stark Insider videos coming soon, including new concerts and interviews from the Live in the Vineyard music festival in Napa, the upcoming Mill Valley Film Festival, some wanderlust for good measure. And of course: the experimental.
Happy shooting!
WATCH: "I See You" – Clip from A GIFT FROM ME TO YOU starring Loni Stark as the reluctant Black Swan