Stark Insider is a major media sponsor of Mill Valley Film Festival (MVFF) 39. Don't miss a thing. Get your iPad, iPhone, Roku, Apple TV, Chromecast, or plain old web browser ready, and be sure to subscribe to the Stark Insider YouTube Channel for updates, news, and reviews. Plus interviews with host Loni Stark.
Use it. Or lose it.
"Take away the brain, you take away the person."
That's one of Dr. Marian Diamond's most famous catch phrases and quotes. Surround yourself with "enriched" environments, and your brain will benefit. So much so that, as I learned watching the fascinating documentary My Love Affair with the Brain: The Life and Science of Dr. Marian Diamond, it can even physically expand. The term used to describe the phenomena: plasticity.
Many were at first skeptical of the neuroscientist and her findings even after years of extensive testing on lab rats. Impossible! The brain, they said, was set at birth. DNA defined its size and ability. It would grow, limited by its pre-defined characteristics, and then decline with age. The process was surely pre-ordained, and not influenced by our environment. Even confronted at conferences in the 1960s and 1970s Diamond would persist, and, eventually prevail (see "Chemical and Anatomical Plasticity of Brain: Changes in brain through experience, demanded by learning theories, are found in experiments with rats", 1964). Turns out our brain is, in fact, malleable.
Plasticity was just one of many significant discoveries her research would uncover over a career that would span some six decades.
Another milestone: she was the first scientist to analyze the brain of Albert Einstein.
According to local filmmakers Catherine Ryan and Gary Weimberg, Marian Diamond only just retired, stepping down from her post at U.C. Berkeley in 2014, at the age of 87, after a storied career. Still energetic, witty, and as passionate about sharing her learnings and knowledge with others, her lectures and YouTube videos have become among the most popular in their field. Indeed, science can be entertaining.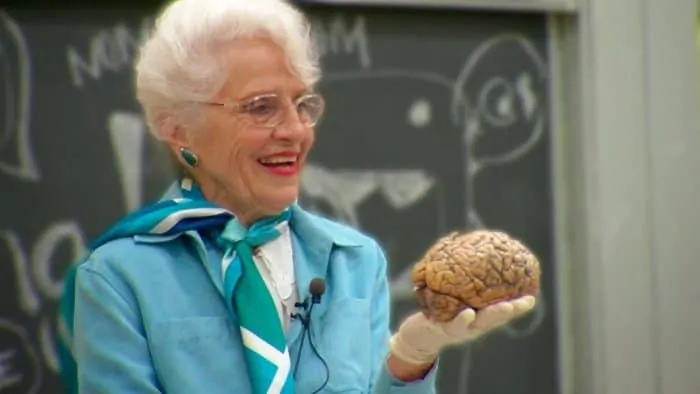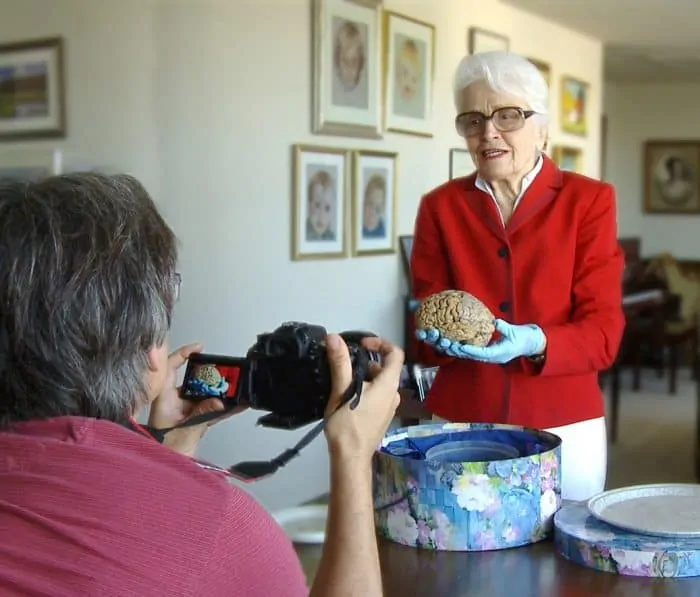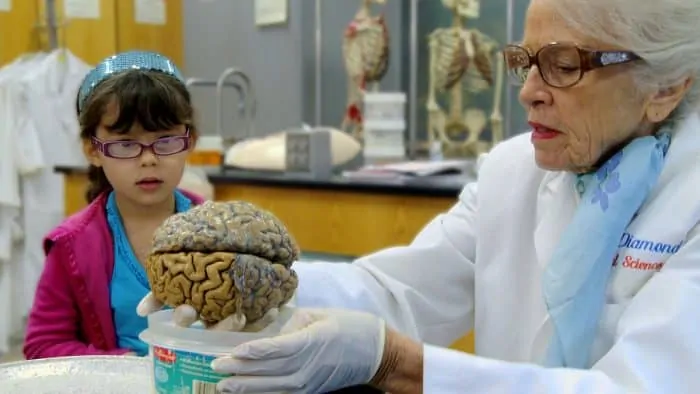 One utterly charming scene in My Love Affair with the Brain occurs when Diamond presents the brain (which she carries around in a giant flowery hat box) to a young girl. She watches, fascinated, while the professor unveils an actual human brain, and proceeds to explain the frontal lobe. As viewers we are equally transfixed as the transfer of knowledge and learning process unfolds. Inspirational and magical — as is the girl's expression. Wonderful stuff.
How can you not fall in love with a woman who carries around a preserved human brain inside a giant flowery hat box?
I watched a rough cut of the film over the weekend. It runs just over 60 minutes, and my understanding is that it will be cut down, given a new celebrity voiceover, and eventually packaged as a multi-part series for PBS. Shot over five years, the documentary flies by in the blink of an eye, educating and entertaining us in equal doses.
Also see: Brain scientist Marian Diamond subject of new documentary (Berkeley News)
My Dad was a high school biology teacher for much of his career, and as a young kid I could begin to appreciate that for many, it's not a job, but rather a calling. Science in the hands of a committed teacher like Marian Diamond (who's been called a "Rock Star" professor), can be one of the most powerful — and important — experiences in life.
SCIENTIFIC HIGHLIGHTS of MARIAN DIAMOND's CAREER

One of the founders of modern neuroscience. Her pioneering research preceded the very term "neuroscience".
Enrichment and brain plasticity (how the brain changes due to experience and environment) are concepts we now take for granted, but they were a scientific battleground where Dr. Diamond decisively challenged the old view of the brain as fixed and unchangeable. She was the first to find actual evidence of plasticity in a brain, changing forever our understanding of the brain … and ourselves.
First to publish a study of Albert Einstein's brain – fueling yet another paradigm change, a renewed appreciation of glial cells, the 80% of the brain that, previously, was said 'to do nothing.'
Her YouTube Anatomy lectures have nearly 2 million hits, making her the teacher of the 2nd most popular college course in the world, and inspiring the NY Times to call her "one of the tweedy celebrities of cyberspace."

Source: Two-time Emmy winning filmmakers Catherine Ryan and Gary Weimberg's notes for My Love Affair with the Brain: The Life and Science of Dr. Marian Diamond.
While I can't write a full review, I can highly recommend you seek it out at the Mill Valley Film Festival. There it will screen three times (Oct. 13, 14, 15). I hope many people see it. Marian Diamond shattered the glass ceiling in the field of science, but apparently never used the fact that she was swimming upstream in a male-dominated field as a crutch, or excuse.
That Marian Diamond is as enthusiastic and gregarious late into life perhaps reinforces her theory that the brain does benefit from five essential items: diet; exercise; challenge; newness; and love.
Pure joy.
WATCH: Trailer for My Love Affair with the Brain