Great news Bay Area!
Andrew Lloyd Webber's eternal classic The Phantom of the Opera will kick off Broadway San Jose's 2016-17 season. Look for the US tour to arrive this September. Full details below.
In addition to Phantom, other musicals rounding out the Broadway San Jose line-up include The Sound of Music, Annie, Kinky Boots, Matilda the Musical, The Bodyguard, Cabaret, and The Book of Mormon. Phew. Quite the season indeed. You want musicals. You got musicals!
As for Phantom, this is the new production created by Cameron Mackintosh. Last year the show made its way to San Francisco. There Loni Stark ventured backstage at the Orpheum and met up with a rather cheerful and talkative (and very much unmasked) Phantom to learn more about the re-imaging. Watch the video below as Chris Mann and Katie Travis give us the low down on the exciting new adaptation.
WATCH: BTS Phantom of the Opera with Chris Mann
Andrew Lloyd Webber said, "It's wonderful to have a new production of Phantom touring America now that the show has celebrated 28 years on Broadway.  Director Laurence Connor has done an amazing job and this production has received huge critical acclaim in the U.K."
With a 28 year run to date, Phantom is the longest-running production on Broadway.
Mackintosh's new version opened November 2013, and has played for over 2 million people across North America.
The Phantom of the Opera

First production: 1986

Based on the classic novel Le Fantôme de L'Opéra by Gaston Leroux, The Phantom of the Opera tells the story of a masked figure who lurks beneath the catacombs of the Paris Opera House, exercising a reign of terror over all who inhabit it.  He falls madly in love with an innocent young soprano, Christine, and devotes himself to creating a new star by nurturing her extraordinary talents and by employing all of the devious methods at his command.
Christine is played by Katie Travis.
Costumes by Maria Björnson.
Choreography by Scott Ambler.
Laurence Connor directs.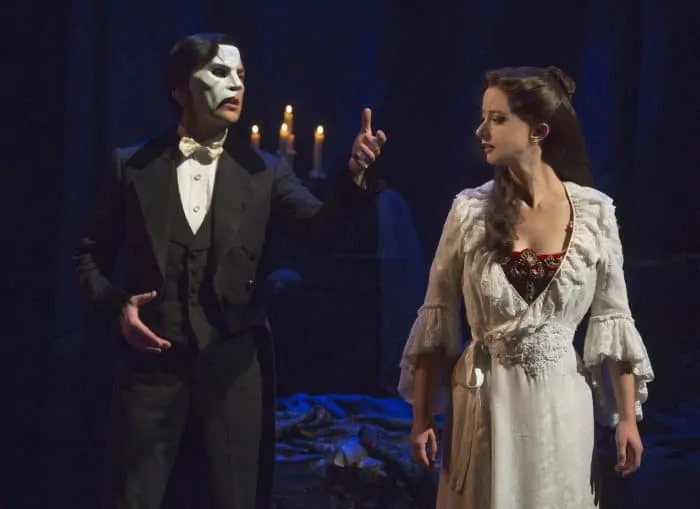 Tickets for Phantom of the Opera go on sale today, and the show runs at the San Jose Center for the Performing Arts September 15 through October 2, 2016.
Sing once again for me!
With Loni Stark in San Jose.