It's official. I'm now "studying under" famed filmmaker Werner Herzog.
Well, actually we all are…
A few months ago I enrolled in the German director's MasterClass. You've probably seen ads for the web site — most notably the ones by Ron Howard on directing and others on writing, comedy, and various other subjects. There's nothing new of course about online courseware. But in addition to big names, these ones have extremely high production value. And, more importantly, as I've learned after the first few chapters, some seriously useful content.
I figured I'd share my experience taking Werner Herzog's filmmaking class here on Stark Insider. I'll talk about what I learned, if the course met my expectations, and how I plan to incorporate the lessons in the videos I make here for this web site.
Unlike many who are taking the course, my goal is not to become a filmmaker; at least not in the conventional sense. Rather, my intent is to incorporate filmmaking — most notably, documentary — technique and hope that by exposing myself to understanding the principles of making a film I'll be able to create more engaging, better quality videos. In short: I want to become a (far) better story-teller.
Werner Herzog Teaches Filmmaking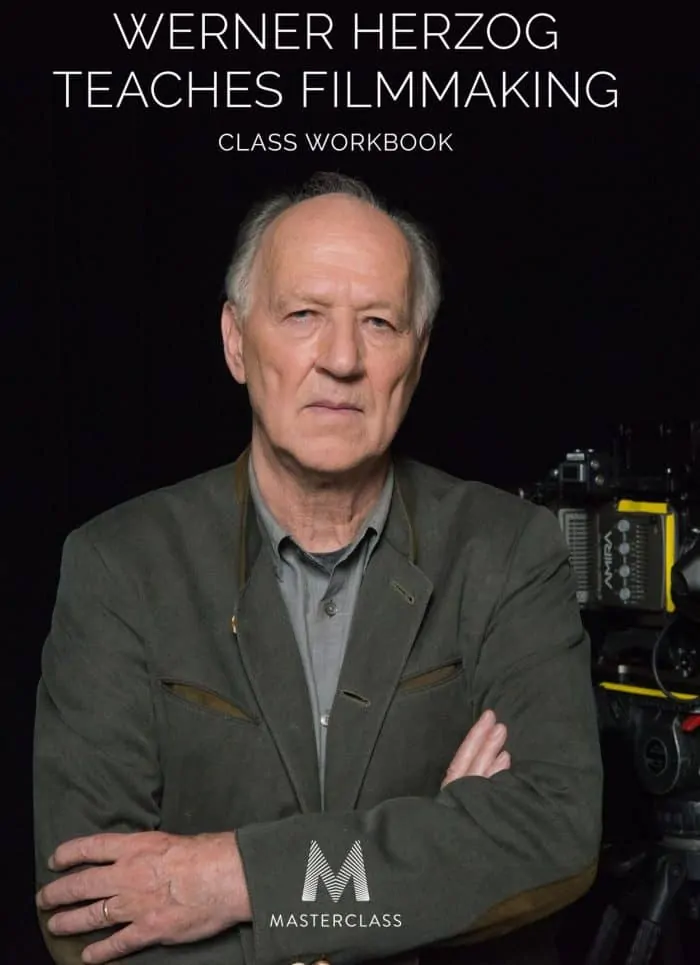 So I paid the $90 fee and the course was recently made available. There are 26 chapters. You can go at your own pace as lectures are pre-recorded. But the organizers recommend a 7-week schedule. This gives you enough time to tackle the homework assignments, and digest the material as you go.
I'm not expecting this online course to replace proper film school by any means. Unlike ingesting random learnings across the Internet, though, this course will offer a single philosophy. Ironically, Herzog himself is self-taught and has never taken formal training. Yet, here he is, now teaching. Over the ten years of producing videos here on Stark Insider, I've tried to learn as I go — making videos, making mistakes, and then trying to understand what works and what doesn't and, most importantly, why. I've had plenty of practice, now I feel it's time to bolster the theory.
If you asked me a few months ago what I thought about Werner Herzog and his work, I'd respond, who?! Blasphemy I know. Munich born, Herzog's made over 70 films, dating back to the 1960s. Before I started his masterclass, I wanted to get to know my teacher a little bit. So I dove into his films. I started with Fizcarraldo (1982), a whimsical piece about a man (played by the remarkable, charismatic, if not a bit creepy at times Klaus Kinski) who endeavors to build an opera smack dab in the middle of a jungle. No easy feat. Because I'm a BTS/making-of junkie (Heart of Darkness) I found the documentary about the making of that film, Burden of Dreams (1982), every bit as, if not even slightly more, fascinating. There, Herzog shares his filmmaking philosophies, and holds court on surely one of the most challenging locations and movie sets of all time. It's absolutely intriguing. Listening to him, I soon realized that he was not only a gifted filmmaker, but he also appeared every bit the gifted teacher.
The Power of Foreign Cinema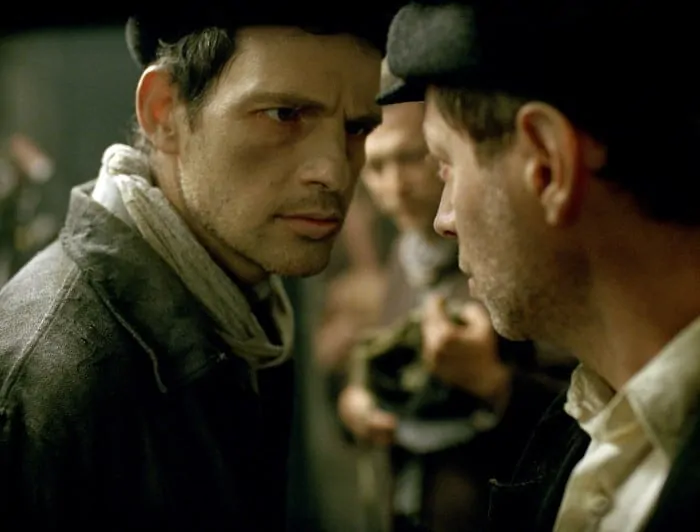 I'm not sure if the course has any quizzes or tests. I do know there's homework assignments. The first is to explore foreign cinema. Herzog implores us to watch films (and to read). He says foreign films were "instrumental to his own filmmaking education." No matter which country a film is made in, there are common rules — what he calls the universal rules of filmmaking. So, he's asking us to dive into places with "substantial film culture":
Iran
The silent era in Germany
Cinema novo in Brazil
Neorealism in Italy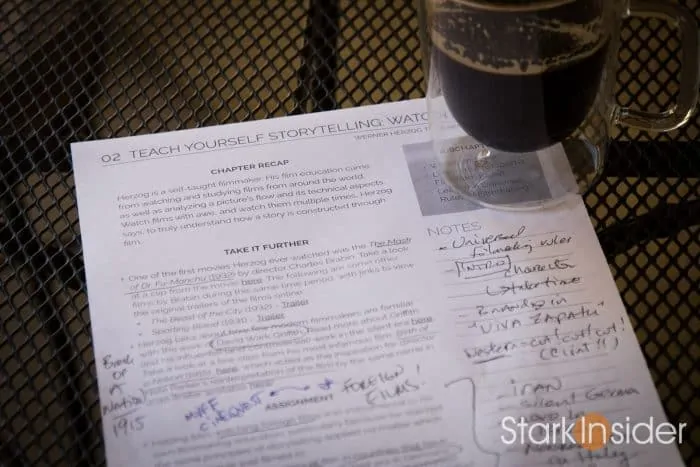 There's no specific directive other than to attempt to identify common themes across the four countries, and various movements. His accompanying lecture (about 10 minutes in length) for this particular chapter did not cover these topics. Unlike a conventional course, Herzog doesn't explicitly cover all the material in a given topic. Rather, in his lecture (he speaks directly to the camera, and there is no live audience), he touches on key aspects that influenced his life, and, in this case, how as an 11 year-old boy he came to learn about the idea of film itself and the early works that left a lasting impression.
A Filmmaking Journey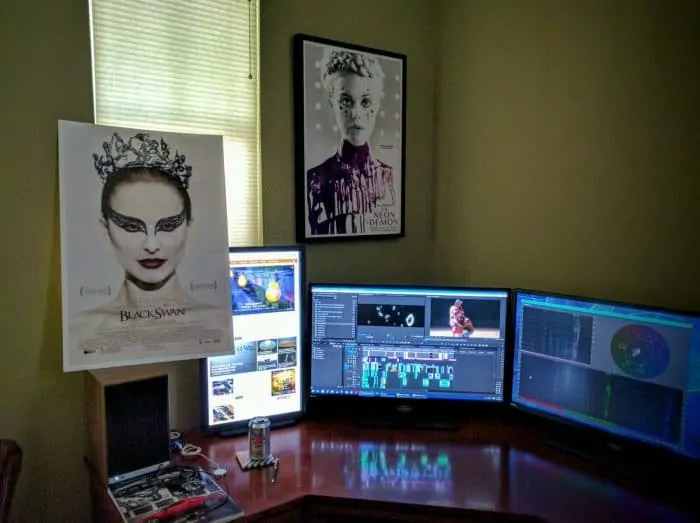 Natalie & Elle. 2 down, 3 posters to go. Inspiration for edit suite. #indiefilm #arthouse #createordie pic.twitter.com/0lgMRvM53I

— Clinton Stark (@clintonstark) July 13, 2016
In 2015 I made a strong push to better understand cinema and its history.
I've always loved — loved — films, especially arthouse indies. Recent classics. Black Swan. There Will Be Blood. Mulholland Drive. Birdman. Whiplash. And especially the timeless greats of the 70s. The Godfather. The French Connection. Jaws. The Deer Hunter. Taxi Driver. Apocalypse Now (possibly my all-time favorite, right up there with Black Swan).
Throughout the year I gained a better understanding of the role of the director. I was especially interested to know the creative side. From the investor side my take is that the director is all about one thing: risk mitigation. People are putting up lots of money. They want a return. That tension between artistic expression and financial return is an interesting phenomena.
Soon I found myself playing the learn-the-director game. I'd start with a favorite. Take Black Swan (2010) for instance. I'd watch the film (again) and then research the director to death. I'd Google Darren Aronofsky and study his background. Then I'd track his film history. I'd watch his debut — in this case the stellar 1998 debut Pi — and proceed to watch as many of his follow-on works as possible, taking care to note progression and stylistic changes and evolution.
And that process of exploring directors continued: Francis Ford Coppola, David Lynch, Alfred Hitchcock, Ingmar Bergman (Persona, wow!), Martin Scorsese, Lars von Trier, David Cronenberg, Gaspar Noé, and so many others. And, yes, recently, even Neon Demon director Nicholas Winding Refn.
Introducing Loner Starzog
"Don't lust after the latest camera."
That was Werner Herzog on an informative, entertaining, and evidently heartfelt Reddit AMA. One thing you quickly learn about Herzog is that he comes across unlike the man you see in his very serious photos and various marketing materials: dour expression, arms crossed, moody lighting. Yes, it can frighten the aspiring student such as myself. Could I survive 7 weeks under this angry looking gentleman?
Enter Loner Starzog.
My wife's alter ego.
Loner Starzog

Loner Starzog, aka Loni Stark.

My wife's alter ego keeps me in check:

Stare down the creative process! Show it who's the boss!
Cameras are just tools; your play things don't amuse me!
Practice or perish!
Failure is not an option, it is only the weak who give up!
Enough talk, action!

Thanks Loni/Loner. And thanks too for being such a willing subject over the last decade for Stark Insider videos.
One thing that derails a tech geek like myself is pixel peeping. I'm sure a lot of us do it from time to time. We love specs. We love comparing one model of something to another model. Whether it's a smartwatch, phone, computer or car, we endlessly research the Internet. I suppose the journey is half the fun.
But when it comes to filmmaking and this class, Herzog notes in the introduction something very important:
"Many of the assignments require creating short films or clips based off the principles you will learn from Werner Herzog. A smart phone or DSLR camera will do just fine."
"A smart phone or DSLR will do just fine."
Note to self: he doesn't suggest I go out and buy a RED Raven digital cinema camera, and then spend weeks and months struggling to learn how to use a fancy new camera! A DSLR will do just fine. Or a smart phone. After all, it's the story that counts most — the technique, the framing, the pacing. The camera is, say, a 1% factor. Sure, if you're shooting high frame rate commercials I get that you'll need technical oomph. Otherwise, it can become a dead end, incessantly surfing camera forums, and pixel peeping with geeks.
Instead, Loner Starzog tells me via text:
Stare into the creative process.
And So it Begins…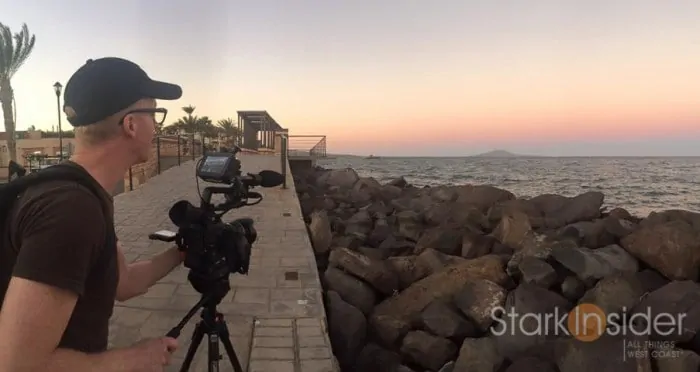 Summer school is in. I've got seven weeks of hard work ahead. Herzog warns us it will be hard. In the intro class workbook he notes that "you must be willing to go above and beyond in your fortitude and effort to experience the wold to become a great filmmaker, and the assignments reflect this mindset."
Oh boy. What am I getting myself into?
I'm not sure how this will all turn out. But I do promise to share my learnings, my struggles and my joys and defeats along the way.
And because I'm married to Loner Starzog I'll also have a willing participant in any short films and clips I need to produce for the assignments. I'll share those too here on Stark Insider. For better or worse.
Now, time to close the REDuser tab, and dive down the rabbit hole.
Learn More: Werner Herzog Teaches Filmmaking (MasterClass)