The Stark Insider summer concert series continues with interviews and highlights from the Live in the Vineyard music festival. Past episodes include Pentatonix, Ben Rector, and previews of Audiodamn!, Daughtry, Ingrid Michaelson. Today: Juno nominated and platinum selling singer-songwriter Shawn Hook.
He's got the suit. He's got the coif. And he's definitely got the groove.
Meet Shawn Hook.
The Canadian native is coming off a massive 2015, thanks to his platinum-certified hit "Sound of Your Heart" off his third album, Analog Love. Check out the gorgeous, sexy, snowy video here.
He's been twice nominated for Junos (Canada's equivalent of a Grammy). In 2013 for "Breathrough Artist of the Year" and again this year for a fan choice award.
Now Hook has a new album (Relapse), millions of new (loyally rabid) fans, and is performing across the country, most recently at #Trendfest16.
But what's the man himself like in person?
I got to find out recently. At the Live in the Vineyard music festival I discovered personality to spare. It was here, at the Uptown Theater in Napa, that I had the good fortune to meet up with British Columbia transplant, who now calls Los Angeles home. He was gracious enough to spend some time with me before his acoustic set. We also captured some footage from his performance which you can see in the video below.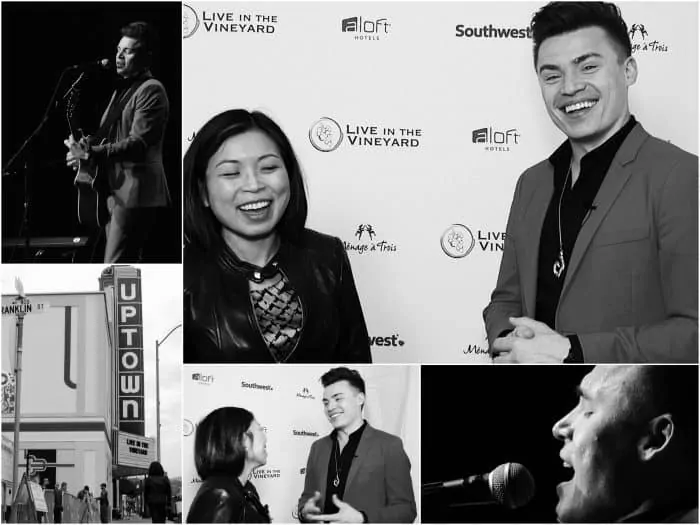 Watch as I find out the story behind his hipster orange suit, how to learned the craft of music, and his favorite iPhone app — one that's invaluable when on tour.
Don't forget to check out Shawk Hook's web site to look out for appearances.
More to come soon from LITV. For now — you knew it was coming — it's off the hook with Hook, not to mention a bundle of smiles and laughs.
WATCH: Shawn Hook Interview – Live in the Vineyard @ Uptown Theatre Napa