Stark Insider's coverage of the Live in the Vineyard music festival continues as Loni Stark heads backstage to meet some of today's top acts.
Night 2 of #LITV concert kicking off soon. Lineup: @ColdWarKids @LukasGraham @ShawnHook @audiodamn & Nate Botsford pic.twitter.com/yH5qW2sN6Z

— Stark Insider (@StarkInsider) April 10, 2016
It's a wrap.
Live in the Vineyard 17 ended yesterday with a performance by Safety Suit at an intimate brunch held at the Westin Verasa. Deliciousness courtesy of Chef Ken Frank (interview).
Despite the rains across the Napa Valley over the course of the 3-day music festival, there was no slowing artists who performed in vineyards (Ingrid Michaelson), in barrel rooms (Pentatonix), in large tents stocked with plenty of Stella beer (Daughtry), and, of course, at the Uptown Theatre (German newcomers Audiodamn!, Andy Grammer, Zella Day, Ben Rector, Lukas Graham, Shawn Hook, among many more).
Fun chat backstage w/ @Audiodamn ! at #LITV. Impromptu sampling of their upcoming single coming out in May. https://t.co/xwwBqyVRnZ

— Loni Stark (@lonistark) April 11, 2016
One thing that sets LITV apart is that attendees can gain entry through radio contests. That, plus the small allotment of tickets and smaller venues make for a very special, very cozy music festival — one that often puts the audience within arm's reach of the artists. Case in point: Pentatonix. The eclectic a cappella group held a riveting set in the (large!) barrel room at the Charles Krug winery.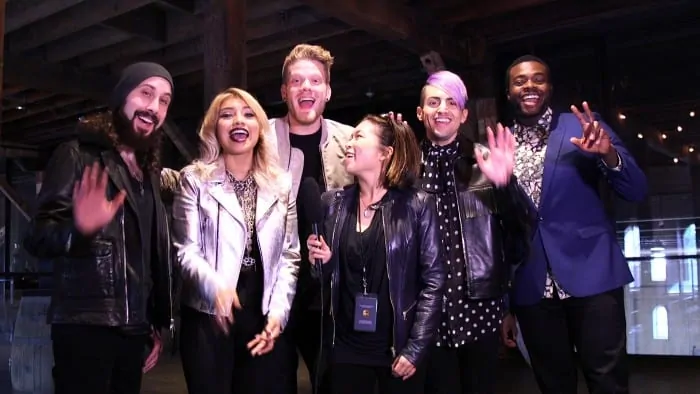 You can see quick highlights of that performance in this Stark Insider video of Pentatonix performing live:
WATCH: Pentatonix – Live in the Vineyard
The next day Chris Daughtry and his band rocked the joint. Among several highlights during a set that saw him playfully banter with the audience — several times attempting to flick his guitar picks into beer glasses in the front row — was a memorable rendition of his new single "Torches." Watch a clip of Daughtry performing at Live in the Vineyard:
WATCH: Chris Daughtry – Live in the Vineyard
That evening, LITV moved to the Uptown Theatre where acts included: Brendan James, Tor Miller, Zella Day, Ben Rector, and Andy Grammer. Look soon for full Stark Insider videos.
.@LukasGraham "You're Not There". Very emotional performance… #LITV pic.twitter.com/nMcIJhwZa2

— Loni Stark (@lonistark) April 10, 2016
Singer-songwriter Ingrid Michaelson was the main attraction Saturday. Hosted by Menage a Trois winery, she got the audience on their feet with an acoustic 30-minute set that her biggest hits such as "Girls Chase Boys" and "The Way I Am." Despite the rainfall, the audience appeared to be basking in the vibrant scenery, and familiar tunes. Video highlights below including a preview of the Stark Insider Interview with Loni Stark:
WATCH: Ingrid Michaelson – Live in the Vineyard
Again, the Uptown in downtown Napa hosted the evening's performances. The line-up on day two of LITV 17 featured nerds-turned-rockstars Audiodamn!, Nate Botsford, Shawn Hook, Lukas Graham, and Cold War Kids. Plenty of Stark Insider videos to follow from this evening as well. Here, you can watch Loni Stark catch up with the very memorable trio Audiodamn! who give us an impromptu, sneak peek of their upcoming single (May) "Don't Call Me When It's Over":
WATCH: Audiodamn! – Live in the Vineyard
Stay tuned to Stark Insider for more Live in the Vineyard video segments coming soon. Tip: Subscribe to SI on YouTube to get automatic notifications of new episodes.
With Loni Stark contributing from the Napa Valley. Videos by Clinton Stark.