It took some (often painful and awkward) time to get to the reveal, but at its Tech World conference here in San Francisco, Lenovo finally revealed an actual product. And it's interesting to say the least.
The Phab 2 Pro is, yes, a phablet featuring a massive 6.4-inch screen. It's the world's first Tango-enabled phone. That means you'll be able to take advantage of Google's augmented reality (AR) and virtual reality (VR) software engine. In a demo at the show, Tango was used to overlay real-time information on the phone, guiding a family through a store.
Project Tango continues to be a large investment for Google.
Phab 2 Pro, positioned as a flagship device, will sell unlocked for $499 (Best Buy), and ship September 2016 according to Lenovo.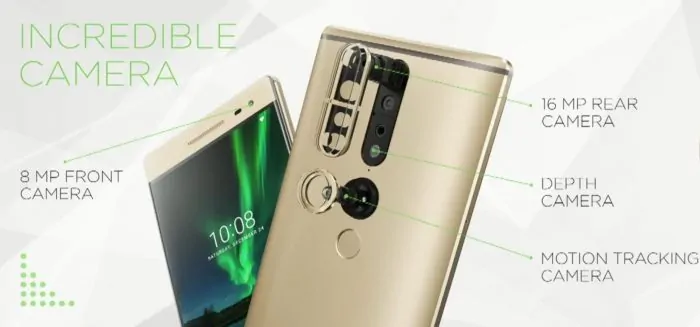 Google started Project Tango in 2014 as "a small R&D effort." Its core ability is to determine a user's position in the world. Using various sensors, and cameras, the technology can be used by developers to create things like 3D maps, augmented reality experiences (like the shopping demo shown briefly at Lenovo Tech World) and, of course, to create mobile virtual reality experiences. Immersion is the goal.
In some ways, Tango is the on-the-go version of the PC-tethered VR experience found on the HTC Vive and the Oculus Rift.
Lenovo Phab 2 Pro

Tango-enabled

Metal unibody (Champagne Gold, or Gunmetal Grey)

6.4-inch display, QHD 454ppi

4 cameras: 8MP front, 16MP rear, depth, motion tracking

Dolby Atmos sound, Dolby 5.1 audio capture

Fingerprint sensor

4,050 mAh Battery (Lenovo says will provide up to 15 hours use)

2.4x fast charging

$499 USD unlocked / globally available September, 2016 (Best Buy)
Google today, who shared the stage with Lenovo for part of the keynote, announced it would shorten "Project Tango" and that the initiative would be known going forward as just "Tango." I'm guessing that reflects that the technology is now at the commercialization stage, as evidenced by the new Lenovo Phab 2 Pro — and I'm sure we'll see many more to come in the months ahead.
In addition, Lowe's said they will arm their in-store teams — aprons in the aisle! — with Phab 2 Pro smartphones. Tango will enable customers to see, for instance, what a dark cherry flooring would look like in their homes or to virtually add furniture to a space to see in advance how it would look. Much of this is not new — home decorating software has been around for almost as long as PCs themselves. The difference, the way I see it, is Tango enables a more broadly available solution (smartphone) together with ease-of-use. That should translate into something that won't require tedious hours at a dedicated workstation.
WATCH: 

Lenovo Phab 2 Pro – World's First Smartphone with Tango
Moto Z and Moto Z Force with Moto Mods
Later in the keynote, Lenovo also revealed its eagerly awaited Moto X successors: the Moto Z and Moto Z Force.
The key thing worth noting in these two new smartphones, as actor Ashton Kutcher demonstrated, are the 16 magnetized pins at the rear which enable swappable accessories, called Moto Mods, to "snap on" and enable extended functionality.
At launch there will be three Moto Mods available: a projector, extended battery pack, and JBL speaker.
Verdict: pretty cool!