"Violence, motherf***ers!"
Well, that's an interesting alternative to shouting, "Action!" on set.
Nicolas Winding Refn is laying it all on the line. Next week, when the hotly anticipated indie The Neon Demon premieres at Cannes, we will learn if the high-profile director has pushed the strangeness envelope far enough. After all, if the result is stuck between normal and strange, it has no chance; I'm paraphrasing based on what the Danish art-house director said about his philosophy towards art in general and filmmaking specifically in the doc My Life as Directed by Nicolas Winding Refn, which was directed by his wife.
So, if the boos rain down at Cannes, like they did for the divisive Only God Forgives, I'm scoring that as a small triumph, even if the box office doesn't see it that way.
Refn fans, and fans in general of aesthetic film design, and contemporary horror, one that appears to embody styles of the greats like Argento, Fulci, and possibly Polanski, will want to check out a fresh behind-the-scenes look at Neon Demon. Danny Leigh was on set last year, and captured the account in a new piece ('Movie blood tastes so good' – on The Neon Demon set with Nicolas Winding Refn) just posted on The Guardian. And, yes, the set in L.A. was, of course, awash in red. Refn Red.
As much as I hope for this, his 10th film, to be as strange as strange can be, and as poetic as poetic can be — Suspiria?! — I also realize that Refn will need at least a modicum of positive commercial reaction. Looking back, we may see him years from now as an auteur creating lasting, ground-breaking works, but that journey could get cut short if his films don't at least draw some film-goers and critics to recognize his (cutting edge) efforts in the short-term — like Drive was able to successfully achieve in 2011.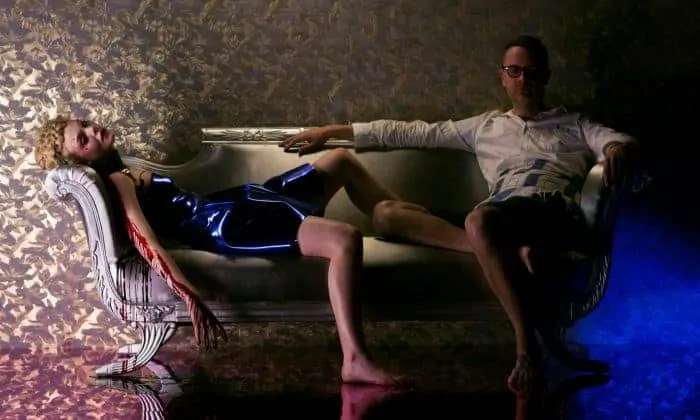 If you're like me you've got your Google Alerts for Refn and Neon Demon feeding you daily nuggets. It's the kind of frenzy I save for my art-house favorites: Aronofsky, Lynch, Jodorosky, Paul Thomas Anderson, Boyle (granted, tipping mainstream these days), Polanski, and up-and-comers like David Robert Mitchell (It Follows), and Ana Lily Amirpour (A Girl Walks Home Alone at Night), among so many other bold creatives.
ALSO SEE: Top 10 arthouse films of the last 10 years
The boos at Cannes for The Neon Demon are slated for May 20.
Theatrical release in the U.S. is June 24.
Evidently, all there's left to say: "Arthouse, motherf***ers!"