Now that the Canon EOS 80D DSLR camera is here, it's time to take stock of some of the good, as well as some of the bad.
I primarily shoot video, and have been using the 80D for a few months now. So far I've used it to shoot interviews, b-roll, some landscape video, and some miscellaneous shots where the Dual Pixel AF enables me to pull off an otherwise impossible (at least as a solo shooter) rack focus shots — to me, this is the 80D's real magic sauce.
Coming from years of shooting Canon DSLR — Rebel T2i, EOS 60D, 70D, and now 80D — for Stark Insider videos and I'm well-versed in its operation, and appreciate that Canon sticks with a tried-and-true formula and doesn't completely reinvent the wheel each time.
As you might expect, upgrades are usually evolutionary, rather than moonshots. Much like Porsche has done with the 911, the body remains much the same with each iteration. Yes, there's minor variation in control layouts, and materials (especially between the pro range such as the 1D and 5D and the prosumer/consumer models), but if you're a Canon shooter, you know that it only takes a few minutes to feel right at home with just about any DSLR the company makes. Same was true for me when I first picked up the 80D. There was virtually zero learning curve. In my books, at least, that counts for something.
ALSO SEE: Canon EOS 80D: Q&A on video features
Right then, let's take a quick look at some of the good and the bad of the Canon EOS 80D. Again, please keep in mind, I'm a video guy so most of my time (over 95%) with the camera is spent shooting Stark Insider videos in and around the San Francisco area.
Shooting Video with a Canon EOS 80D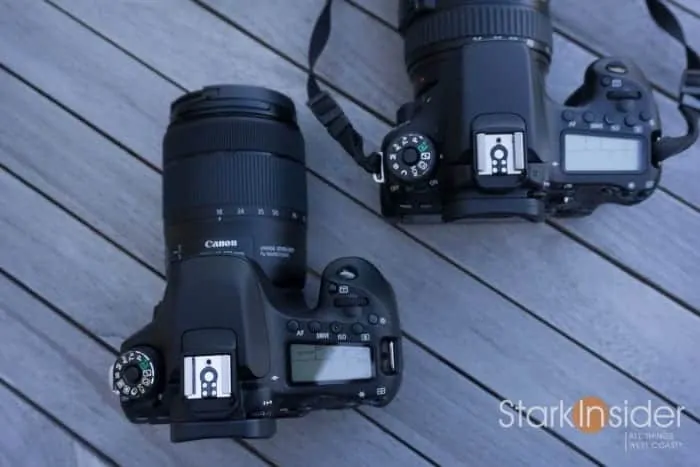 Canon EOS 80D: Pros
Body is rugged, weather-sealed and feels immediately familiar to any Canon shooter.
Dual Pixel Auto-Focus is better than ever, thanks to more focus points, and a faster processor (Digic 6) which means near instantaneous lock-in with NO hunt-and-peck (except perhaps in very low light).
Buttons on rear of the 80D have been slightly redesigned (versus the 70D); in my tests they provide slightly better tactile feedback, resulting in increased precision.
Menu system is less intimating. Canon has organized the menu into tabs, making it easy to jump to the setting you're looking for. I never found the 70D menu daunting in the first place, however, the new organization should make it even easier for new Canon shooters.
Low-light performance is (marginally) improved. You can now shoot to -3EV (same as 6D). Yet, keep in mind the 80D is not a low-light monster. It's not bad mind you, and I've shot concerts using 1600 ISO and even 2000 and find the results fine (I deliver to Web).
100% viewfinder coverage means what you see is what you get. Sounds insignificant given this is a minor jump over the 70D's 98% viewfinder coverage. In practice, though, it means you can have more confidence in composition. Very important.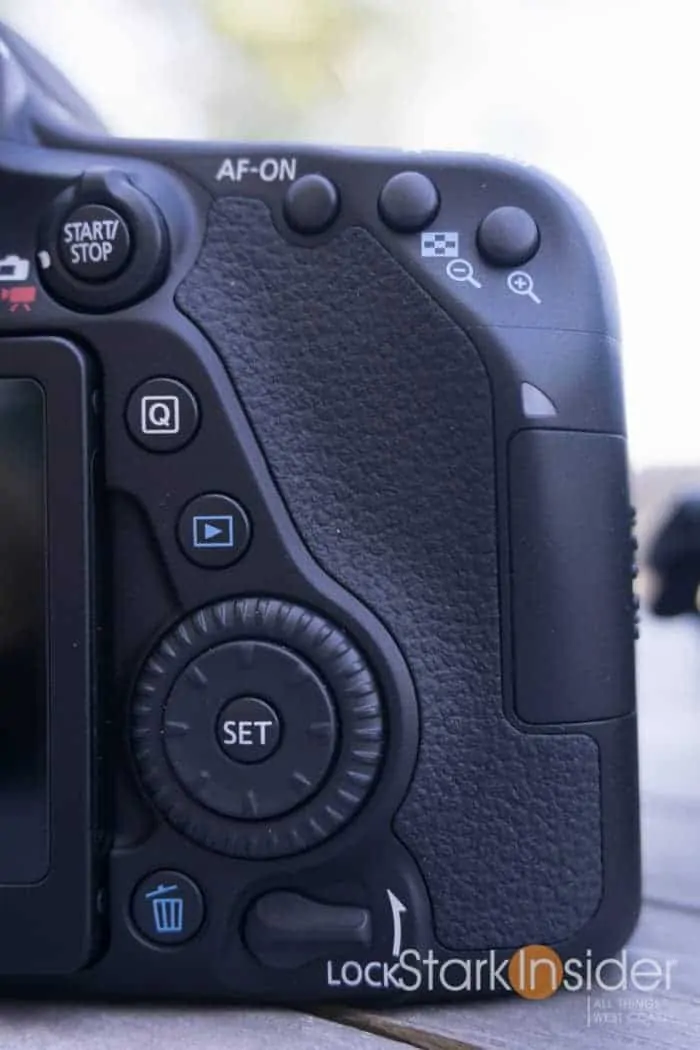 Touch focus – I've yet to find someone who does it better. Canon may lag in some areas (4K video), but focus is not one of them. DPAF broke new ground when introduced in 2013 on the 70D, and as I mentioned it's phenomenal. But what makes it especially good is the ability to touch a subject on the LCD panel. The 80D does the rest, tracking the subject as it moves across the frame. Try it. There's no going back (if you're a manual focus guru, I still think there's value to discover here in certain scenarios).
Lens selection – lots, there's plenty of lens choice for the 80D! The EF mount is an industry standard. And Canon, as well as third-party glass (Sigma, Tokina, Rokinon, etc.) afford us wide selection at a variety of price points. There's a reaso when everyone on a non-EF mount wants a Metabones adapter and something like the Canon 25-70mm L, or Canon 70-200mm L lens. EF is the gold standard at this price point.
Battery – goes forever.
SD memory cards – record forever, are dirt cheap, and can be found everywhere (probably even a few in the back of one of your junk drawers)
Canon EOS 80D: Cons
Price. It's not wildly expensive. Yet, with given how the competition has moved (especially Sony) over the past 18-24 months I wish Canon would've been just a tad bid aggressive (please just a tad at least!) on the pricing front. Consider, the 80D body at $1,199 and the kit $1,799. That's Sony a7 territory. Or within easy range of a Panasonic GH4. Or if you're an aspiring filmmaker you could easily buy a Blackmagic Pocket Cinema Camera and a lens for the same as an 80D kit. Me? I'd take the 80D. But it's at least something to think about.
No 4K. 1080p HD only on the 80D. I'm not ready to deal with storage and workflow pains of 4K video, especially all I'd get in return is a sharp, video-ish image (on most cameras in this range). Landscape and wildlife shooters likely feel otherwise. It's a personal choice. I deliver Stark Insider videos to YouTube, Facebook, Vimeo. HD is fine at this point. I share more thoughts here in my Q&A on the 80D including the absence of 4K video shooting.
Canon does not include a ($30!) lens hood with the $1,799 kit. Cheap. Cheap. Cheap. Really: cheap!
Canon EOS 80D: Video Tests
Granted these aren't your typical camera test videos, rather these are examples of a few cases where I've used the Canon EOS 80D for a Stark Insider shoot.
MORE: Tips for shooting video with a Canon EOS 80D DSLR camera
Because I shoot primarily with a Canon C100 II now, I use the 80D (as I did the 70D as a b-cam). Also, when I like to be more discrete nothing beats a Canon (or compact mirrorless) body for blending in with crowds.
Pentatonix Interview
Canon C100 II main. 80D B cam.. Same for all videos below.
The Art of Swordplay
Opera!
Soon I'll be heading to Vancouver, Canada where I'll be using the Canon EOS 80D exclusively on a shoot. I can't wait to see how it turns out, and to share the results here on Stark Insider.
Canon EOS 80D: Parting Thoughts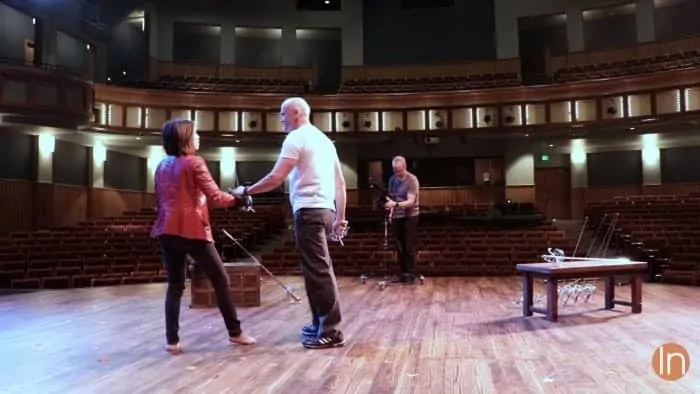 Canon has taken what the strengths of the 70D — namely auto-focus, ease-of-use, image quality and handling — and further amplified them for the 80D. Sure, the 80D might not necessarily "go to 11" and could very well lose a spec war with several competitors on paper.
But cameras live in the real world.
And they must perform without hesitation and provide the shooter the best opportunity to capture the moment.
ALSO SEE: Top 5: Best DSLR Cameras for Shooting Video
Or, in other words, the sooner the camera, aka the tool, disappears and reduces technical barriers between us and our subject matter, the sooner we can apply our creative energy to the most important thing: story-telling.
Happy shooting!