It's finally here. Will the world ever be the same again?
Or, more to the point, will virtual reality (VR) become a market reality, or simply exist as a niche product fulfilling the ardent dreams of hardcore gamers?
Oculus Rift, the VR headset maker now owned by Facebook, began shipping today, and the initial reaction (and sales) could provide a valuable bell-weather to those assessing the technology's potential to takeover living rooms everywhere.
Taking a scan across Google this morning reveals an overall positive sentiment for Rift. Here's some of the salient points I scooped from across the Web.
Wall Street Journal says the Rift needs better games, and perhaps it would be better holding off until that day arrives:
"At some point I think there will be a great VR game to play—maybe when Oculus ships its Touch motion hand controllers later this year. But right now there isn't a single Rift title that I'm dying to play. Nintendo has Mario. The Xbox has Halo. PlayStation has Uncharted. Until Rift gets a legendary franchise of its own, it just isn't worth the plunge."
In a flashy review, for some reason all a glitter in purples and pinks, tech site The Verge came away generally impressed, awarding Rift a very respectable 8 out of 10:
"…the Rift makes a good case for seated VR, and it lays a solid foundation for what's to come. The headset you can buy today is not Oculus' most ambitious vision for virtual reality — but it's a vision that Oculus has successfully delivered on."
Brian Chen of the New York Times believes the Rift holds promise:
"The Rift's graphics, sound and head tracking, which is the device's ability to follow where the viewer looks, do feel like something out of science fiction. While the system's setup is somewhat complex, the smoothness of the graphics and the high-quality design of the headgear make virtual reality feel ready for prime time."
At USA Today, a writer observed their son's reaction which I think says it all:
"Oh my God, this is awesome, this is sick!"
Unlike Oculus' lower cost Gear VR ($99 USD) which uses your phone as a display, the Rift ($599) uses a high-tech approach that employs a pair of screens — one for each eye — that displays an image side-by-side, resulting in stereoscopic 3D.
Likely one stumbling block to widespread adoption: the Rift requires some serious PC horsepower. According to the company's web site, you'll need at least an Intel i5 processor, NVIDIA GTX 970 or AMD R9 290 (or greater) graphics card, and at least 8GB RAM. No doubt, those serious about VR and gaming in particular will already have a machine on hand easily besting those specs. For the everyday, casual consumer, the effort and cost to get up to speed may not be worth it. Time will tell; especially as costs come down over the years.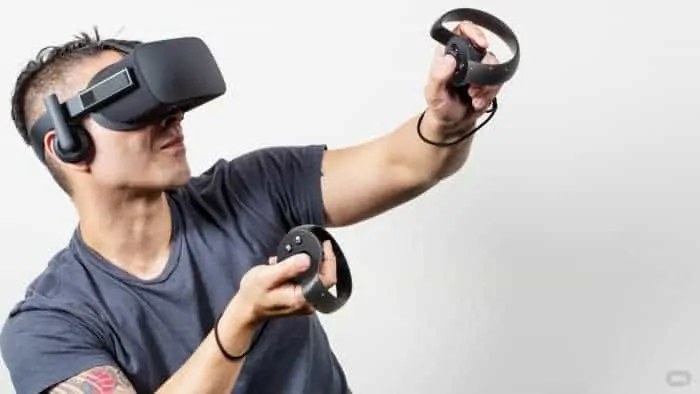 At launch there are about 30 games and apps available for the Oculus Rift, with not much beyond games. Shipping is slated for July 2016.
I'm guessing that this initial foray into VR will be all about games (The Verge picks their Rift favorites). No surprise then that Sony is launching its headset, PlayStation VR, using its PS4 video game platform as the engine. Oculus offers all sorts of accessories for its Rift headset, including game and touch-based controllers, clearly expecting gamers to jump on board.
But, the big question remains: Is VR the next 3D TV for the home or Google Glass, or is it here to stay?