The initial notes of She Loves Me, which just opened at Foothill College's Lohman Theatre, made me crane around to find the orchestra. So vital and breathy, no way this could be a canned score. Reeds and strings emerged fresh and clear even from off stage, where the orchestra was secreted away.
She Loves Me, adaptation of Miklos Laszlo's Parfumerie, has a foot in two worlds. As a romantic musical comedy, it is looks back, drawing from an '40s and '50s tradition that is arguably more about style than heart. Think about insipid musical rom coms involving people on cruise ships, throw in a few dance numbers and you have the feel of its parentage. However, this Jerry Bock (music) and Sheldon Harnick (lyrics) 1963 musical looks forward as well. The new energy is palpable, but it's not all there yet. You get a sense of this from a recent interview with Jessica Whittemore, who played female lead Amalia Balash, by John Orr. Talking about her character, Whittemore observes "she's demurely dressed, but her behavior is not demure. She's not a typical lady from the 1930s."
This betwixt-and-between status puts a damper on the snappiness of some scenes, but does give a funny look forward. It's impossible not to listen to the title song She Loves Me, and not hear bits of "Wonder of Wonders, Miracles of Miracles," which would emerge in Fiddler the very next year.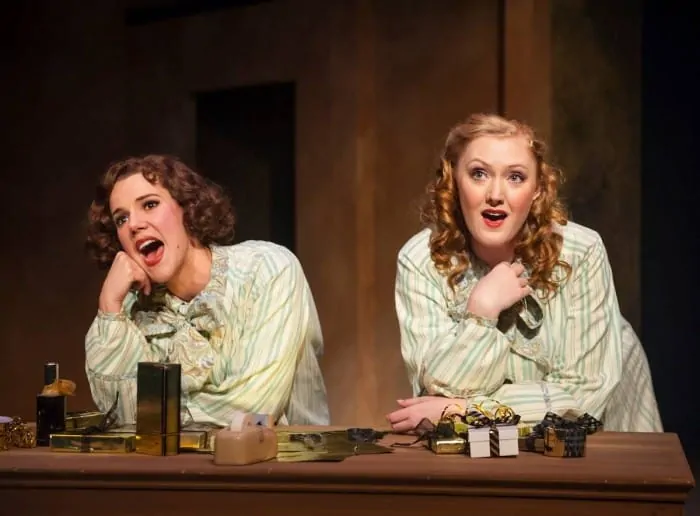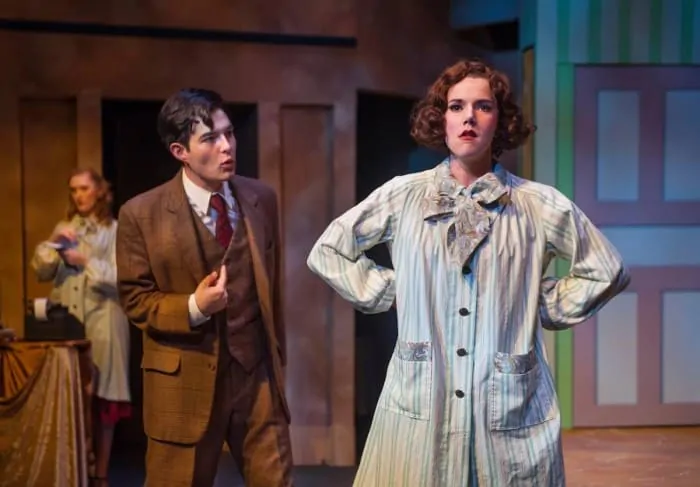 On opening night, Act I was unfortunately flat on with poor timing. The heightened artificiality of the dialogue came off as wooden, instead of arch. Amazingly, however this flatness disappeared entirely from the second act. Folks who saw the second night report a more even experience so this was undoubtedly an opening night thing.
The set, mounted on a turntable to reveal by the interior and exterior of the perfume shop, was imaginatively designed, which much care to the shop interior and exterior. However, drapes dragging on the ground inside the shop just looked sad.
Several performances were worth calling attention ro, not the leastt because focusing on them seems to minimize the unevenness. George Mauro's Mr. Moracek was an anchor in every scene he was in. Nick Mandracchia's headwaiter completely reenergized the latter moments of the first act. We've seen Mandracchi before in the ensemble of City Lights' 2014 performance of Amadeus. We've also seen Morgan Dayley, who played Ilona Ritter here, in the recent San Francisco Playhouse production of Company.
She Loves Me will be at the Lohman Theatre on the Foothill College campus until March 6th.