Company opens with Robert (Keith Pinto) silently musing so intently into the future that you can smell his bourbon. For a brief moment, he's alone on the set, with its projected drop of a black & off-white Statute of Liberty and martini glass complete with etched skyline, and you know you're in for a good ride.
Three years ago, San Francisco Playhouse pulled off a small miracle – the ticket to the (hopefully) good theatrical life. Their tiny cast of My Fair Lady (MFL) won fans among theatre and non-theatre people, going places that MFL has never gone before while exercising complete fidelity to the original. Some of us who try to keep a finger on the pulse on Bay Area theatre thought it could not be repeated.
Hah! I love being wrong.
Since then, SF Playhouse has brought us some of the best moments of Bay Area theatre. Not like My Fair Lady – Bill English and Susi Damilano are too smart to try to repeat that – but qualitatively different best moments – Jerusalem, Tree, Bengal Tiger at the Baghdad Zoo, and more. This Company echoes these past successes while remaining entirely itself – which is the sweet space for any show.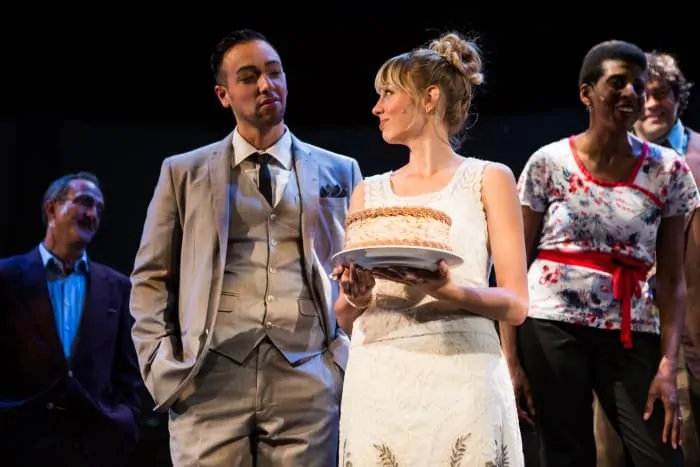 This SF Playhouse Company (one of Sondheim's most lauded shows – although there's plenty of room for competition) also goes places that no production of Company has gone before.
You're not looking at some 1970 set piece. Company remains so vital you have to pay attention to this microscope on everyone's marriage, complete with ironies, compromises, and connections for which we all keep looking. Minor updates – like smartphones – quicken the snappy pace and give the thing an edge that's not entirely obvious in the original – at least from a 45 year distance.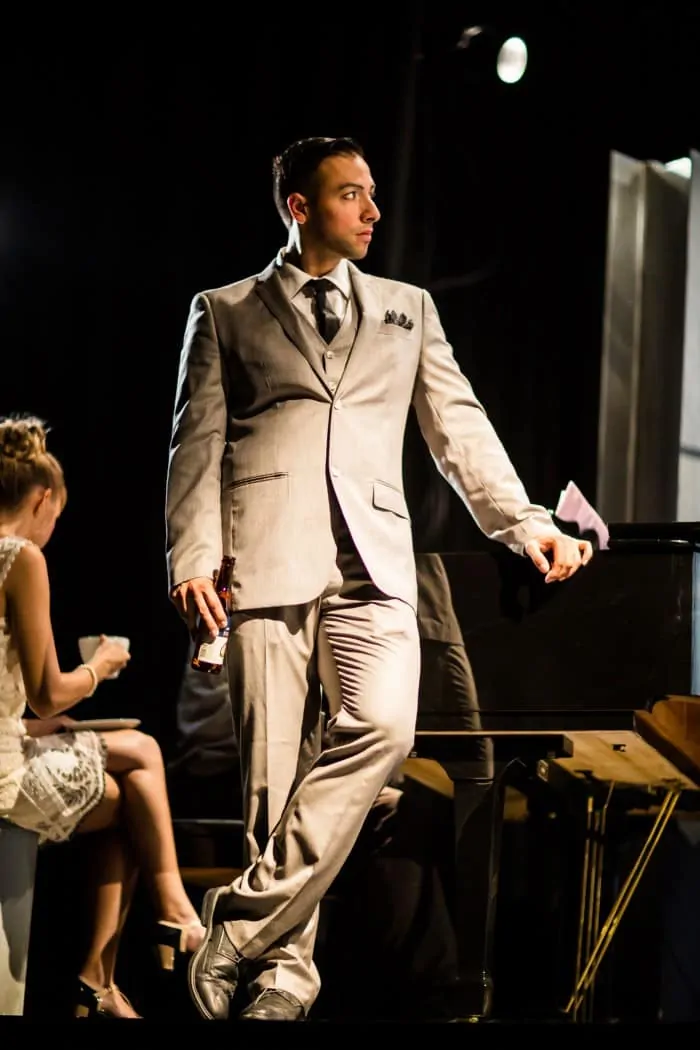 Taking on pass on the full orchestration was a another smart move; instead SF Playhouse repeated the two-piano thing that worked so well in MFL, this time bringing them onstage where they framed the multi-platform set upon which the cast moved so nimbly. The sharply dissonant step-and-a-half musical motif ("Bob-by") demands your attention. This Sondheim score works its magic better when articulated on piano than drowning in lush mix.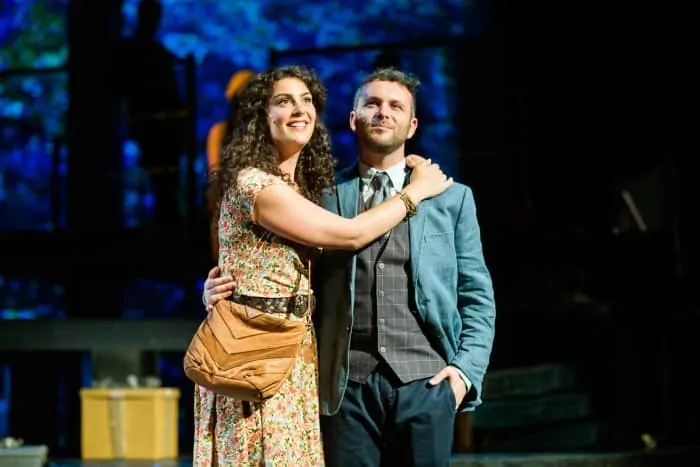 Choreography is tight, well executed, and complete with all the satisfying big signature flourishes. The SF Playhouse trailer opens a tiny window into this, but trust me, it doesn't do the choreography full justice.
You're not looking at some 1970 set piece.
Company brings back Monique Hafen as Amy, whose scene toward the end of the first act is so loaded that it almost feels like a whole act unto itself. The same is true for Joanne Prentice's Lady's Who Lunch, which feels infinitely more vulnerable and savage than the original 1970 recording. Once again, one marvels anew at how Sondheim gets women.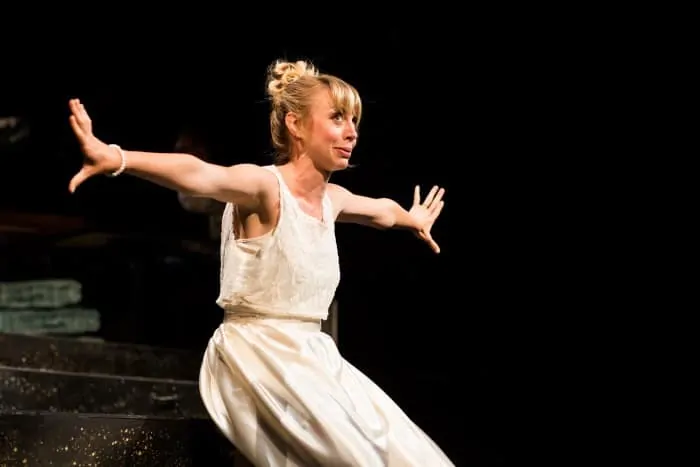 And then of course, there's Keith Pinto, who also doubles as dance captain. I could happily watch this thing in its entirely just to watch Pinto pull off his note perfect trick of appearing entirely distant and simultaneously engaged.
Company plays San Francisco Playhouse through September 12. This one's good enough to take in twice.
Photos by Jessica Palopoli.