Napa Valley's massive music festival once again returns in 2016.
BottleRock organizers have announced that the Red Hot Chili Peppers, Stevie Wonder, and Florence+The Machine will headline this year's edition which takes place May 27-29, 2016 at the Napa Valley Expo.
"We're incredibly excited about our all-star lineup and what we have in store this year," said Dave Graham, CEO of BottleRock Napa Valley and Latitude 38 Entertainment. "Our festival and foodie enthusiasts have come to expect a certain level of quality and entertainment from BottleRock and each year, we strive to make the event even better than the last. This year's festival promises even more world class music and more of what makes the Napa Valley so legendary."
Other acts scheduled to take to one of the several stages on the grounds in downtown Napa include: The Lumineers, Death Cab for Cutie, Lenny Kravitz, Walk the Moon, Rodrigo Y Gabriela, Ziggy Marley and Grouplove.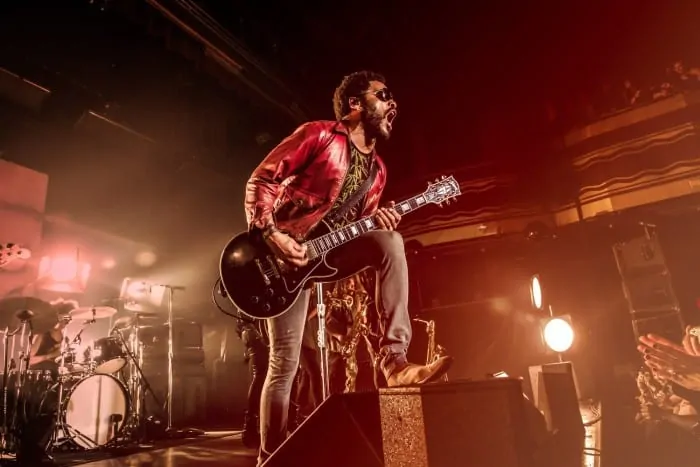 Last year, BottleRock returned to form after a few financial missteps, and logistical issues which created a less than ideal concert-going experience. According to Clinton Stark in his review on Stark Insider, "it was epic, it was memorable, and it was a major comeback."
Andrew McMahon in the Wilderness, who was seen recently in Napa at the Live in the Vineyard music festival, is also among scores of acts set to perform. Other LITV alum making BottleRock appearances in 2016 include MisterWives, and Greg Holden.
Also See: The Re-Birth of BottleRock – No Doubt About It This Time
On the local front, look for the Silverado Pickups and the Napa Valley Youth Symphony to make appearances, among several others.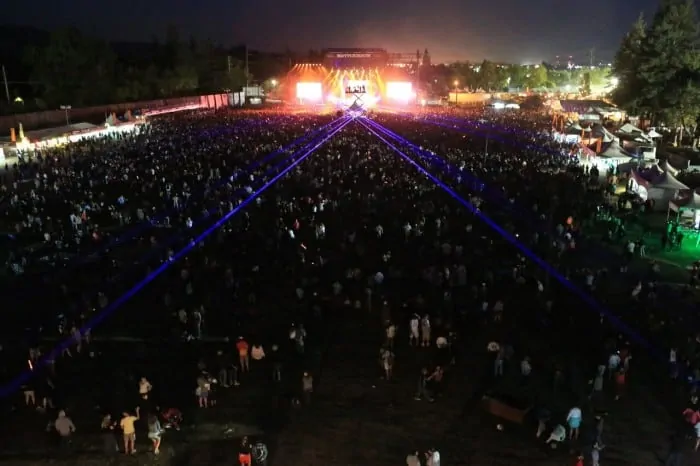 As in past years, BottleRock will once again feature local food, wines, and craft beers, in addition to world-class muralists and sculptural artists who will bring to life "one-of-a-kind" installations.
BottleRock 2016 runs May 27-29, 2016 in downtown Napa.  More line-up information and tickets available here on the BottleRock web site.
Be sure to subscribe to the Stark Insider YouTube channel for the latest in indie film, West Coast music, and the occasional dose of wanderlust.
BottleRock 2016 Line-up: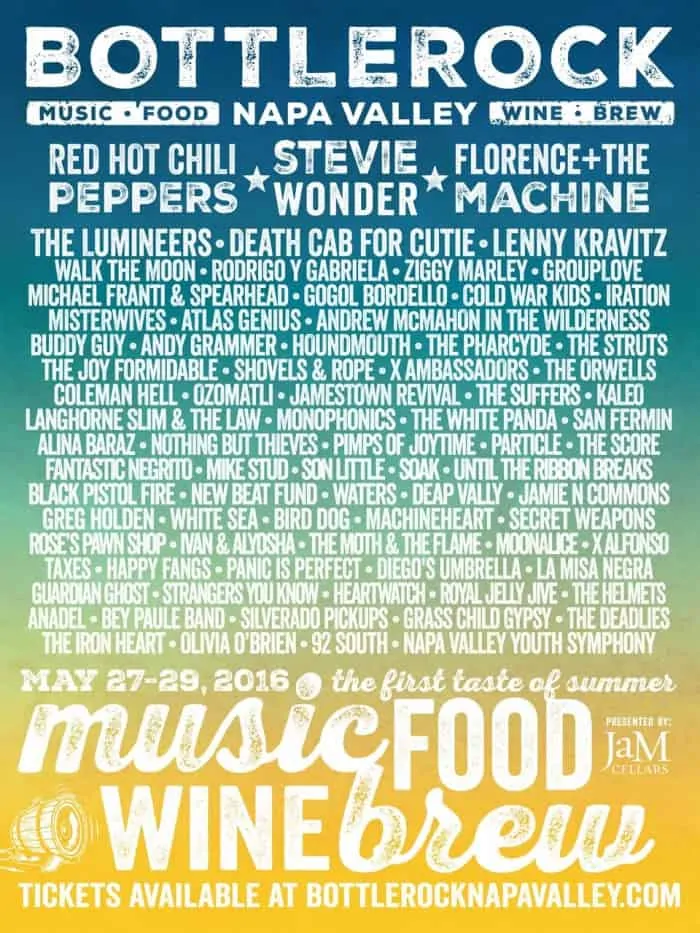 Stark Insider – West Coast Music

Complete list of acts scheduled to perform at BottleRock 2016

The Lumineers, Death Cab for Cutie, Lenny Kravitz, Walk the Moon, Rodrigo y Gabriela, Ziggy Marley, Grouplove, Michael Franti & Spearhead, Gogol Bordello, Cold War Kids, Iration, MisterWives, Atlas Genius, Andrew McMahon In The Wilderness, Buddy Guy, Andy Grammer, Houndmouth, The Pharcyde, The Struts, The Joy Formidable, Shovels & Rope, X Ambassadors, The Orwells, Coleman Hell, Ozomatli, JamesTown Revival, The Suffers, Kaleo, Langhorne Slim & The Law, Monophonics,  The White Panda, San Fermin, Alina Baraz, Nothing But Thieves, Pimps of Joytime, Particle, The Score, Fantastic Negrito, Mike Stud, Son Little, SOAK, Until The Ribbon Breaks, Black Pistol Fire, New Beat Fund, WATERS, Deap Vally, Jamie N Commons, Greg Holden, White Sea, Bird Dog, Machineheart, Secret Weapons, Rose's Pawn Shop, Ivan & Alyosha, The Moth & The Flame, Moonalice, X Alfonso, Taxes, Happy Fangs, Panic is Perfect, Diego's Umbrella,  La Misa Negra, Guardian Ghost, Strangers You Know, HEARTWATCH, Royal Jelly Jive, The HELMETS, Anadel, Bey Paule Band, Silverado Pickups, Grass Child Gypsy, The Deadlies, The Iron Heart, Olivia O'Brien, 92 South, and the Napa Valley Youth Symphony