Stark Insider on the Arts: Cy Ashley Webb reviews new show at TheatreWorks Silicon Valley, Hershey Felder as Irving Berlin.
We're lucky in the Bay Area. Not for all the usual self-congratulatory reasons, but because writer, actor, and pianist Hershey Felder has been here so frequently these past few years, bringing George Gershwin, Alone to the Berkeley Rep in 2013, followed in 2014 by Maestro, his killer show about Leonard Bernstein, and by Monsieur Chopin later that year. He returns, this time to TheatreWorks at the Mountain View Center for the Performing Arts, where his newest show, Irving Berlin, opened last night.
Felder's performances have provided some of the best moments on Bay Area stages in recent years. While not all cotton to Felder's vaguely bio-pic style, I can't help but wonder if such persons went to schools that showed bad movies, or had awful piano teachers, or suffered a mineral deficiency that rendered them insensible. In Irving Berlin, Felder repeats the formula that's served so well with his other musician portraits, but kicks it up a notch, in ways I'll explain shortly.
Shows like this makes one grateful again.
While the songs of Irving Berlin are indelibly etched in our collective memory, his person has gotten quite away from us, receding in the mirror in a way that even terrabytes of old-timey videos can't bring back. Some of Felder's material, particularly that describing Israel Isidore Bollin's (aka Irving Berlin) trajectory from the Russian shtetl to the Lower East Side, is vaguely familiar, if only because it's the same well-trod path taken by a generation of musicians and conductors. Other material – such as Berlin's 62-year marriage to Ellin Mackay, who remained the love of his life –  escapes us, even though Alan Sherman, of all people, riffed on it in "How Deep is the Birdbath." Likewise, who even thinks about how Berlin wrote his songs? Unable to read music, he sang the parts to a musical secretary who noted the score. For me, the real eye opener, which I'll not disclose here, was the back story  of White Christmas.
Every move of Felder's seems carefully calibrated to a degree that would stagey on a lesser actor. Here, however, it gives rise to a delightful particularity that reveals his respect for his subject and his audience. The same is true for Felder's set design, in which each element seems carefully calculated for its ability to tell the story while drawing in the audience with its beauty.
Felder easily moved back and forth to the piano, letting songs arise organically. Felder's voice is easy to hear – and his takes of There's No Business Like Show Business, Alexander's Ragtime Band, Puttin' on the Ritz, White Christmas, and dozens of others, wowed the audience.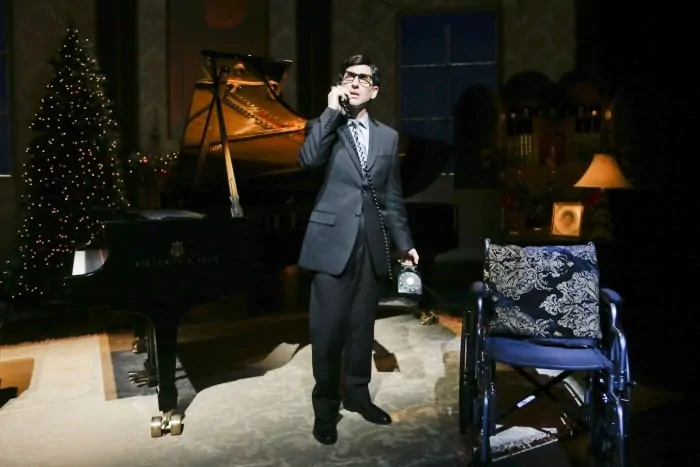 Felder's use of video projections seemed new with this show. Unlike others who try to dominate you with shock and awe video productions that demand attention, or jar your nerves, ("now it's time for the projection!"), these merely nibbled at the edges of your attention until you realized you were focused on something really interesting. Felder also pulled off a swift trick in singing and playing over an orchestrated recording that accompanied the projections, bringing a unity to every aspect of the work. The same exquisite care Felder took with the writing, acting, music, and set design, was lavished on these projections, impeccably integrating them into the set design.
Shows like this – one more exceptionally good show in a string of shows so consistently good that they're worth taking a chance on – makes one grateful again, that TheatreWorks is here, not in San Francisco, Berkeley or even San Jose. TheatreWorks is here at home.
Photo credit: Eighty Eight Entertainment