Nespresso pods are a convenient way to make quick shots of espresso. But from $0.70-0.80 each they can be pricey (though far cheaper than ordering daily at Starbucks!).
Fortunately third party pods are finally making their way to market.
Gourmesso makes a decent collection of capsules that sell for about a third less than their Nespresso counterparts. I found them to be just okay. The main problem: they just weren't as rich, creamy or dense.
Today, we're looking at another intriguing entrant, Rosso Caffe.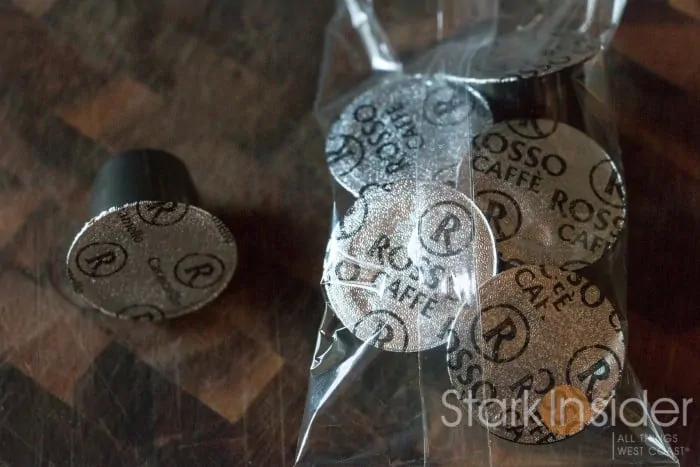 Spoiler alert.
I'm just going come out and say that these pods are outstanding. To date, Rosso Caffe are my favorite alternative to Nespresso pods. If you like variety of flavor, and want to save a little on your daily shots (the Rosso Caffe pods cost $0.49 to $0.59) I highly recommend you give them a go.
Rosso Caffe Nespresso Pods
The first thing you should know about Rosso Caffe is… choice. Get your flavor on, you've got plenty of choice with these pods. Here's a sample of the capsules we evaluated:

There's something here to please everyone. The packs above (10 pods each) are arranged from lightest (left) to darkest. Like Nespresso, each is rated on an intensity scale from 1-10. And, also like Nespresso, the pods are color-coded so when you're fumbling caffeine firs thing in the morning, you need only think: purple! black! (but definitely not red)
In addition, pods are classified as suitable for various drinks: Ristretto, Espresso, Lungo.
Whether you like straight-up espresso or a milk-based drink, these pods should have you covered.
Other things to know about the Rosso Caffe pods:
— The pods are well machined. I found the finishing, especially along the rim where the foil meets the plastic capsule to be almost on par with Nespresso, and definitely a notch above Gourmesso
— Pulling down the latch on my Nespresso Le Cube machine takes a little bit of extra effort with these pods. Just a bit. Not that seems to be a problem.
— Rosso Caffe capsules come in boxes of 10 each. Inside are two sealed bags of 5 capsules each.
— "Best by" dates suggest these should have a shelf life of about a year.
— They are a product of Israel, with U.S. distribution based out of Florida.
Rosso Caffe Taste Test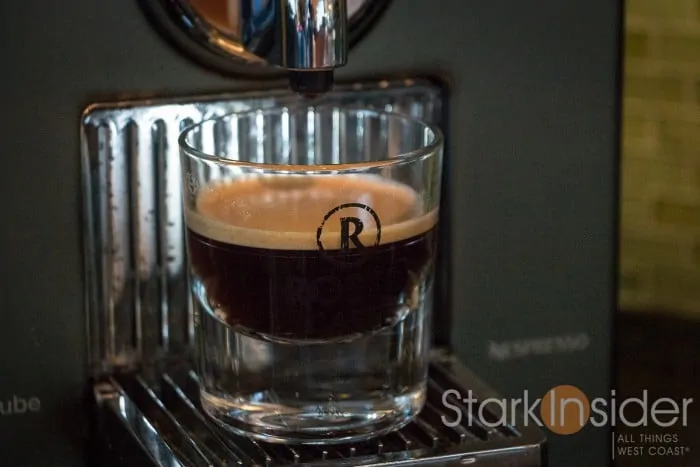 My benchmark for these tests is the black pod. It's intensity is rated 10 out of 10, and is the strongest available (though, Nespresso, obviously fans of Spinal Tap, now as one that goes to 11). Nespresso calls their black pod "Ristretto" and Rosso Caffe calls it "Gentleman." Maybe they should've opted for something like Tiger, or Godzilla?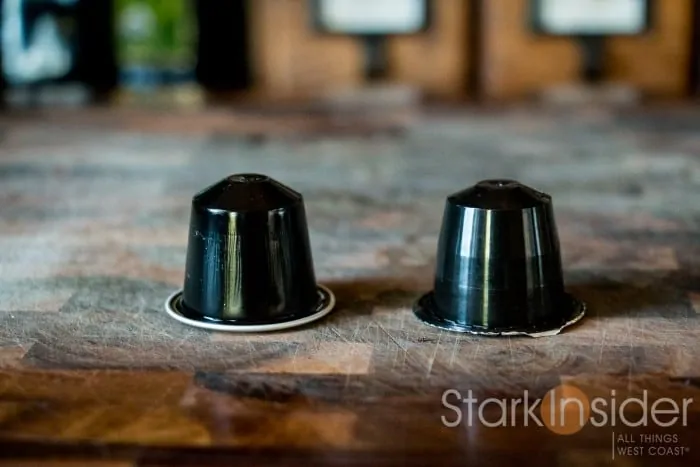 Typically I make shots with my Pasquini Livia. I love it. A great machine. But I find the Nespresso ideal for busy mornings, or for when I don't want to fuss about grinding beans and dealing with a portafilter.
When I pour a shot, be it with my Livia or Le Cube, before taking a sip I'm evaluate the density of the coffee, the crema, and the aroma. Here's how a Rosso Caffe Gentleman shot (l) looks next to a Nespresso Ristretto: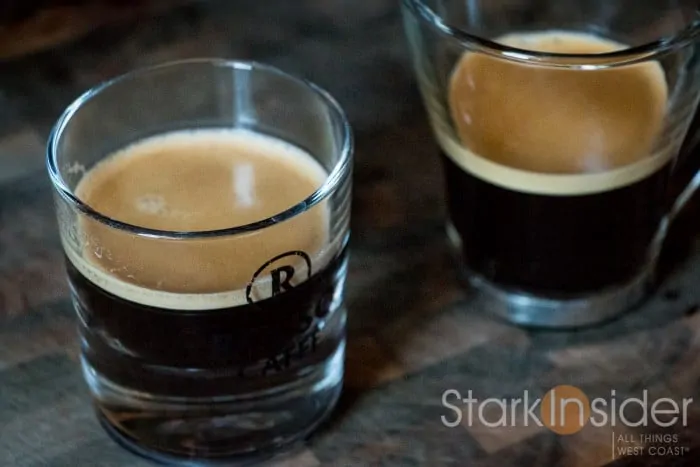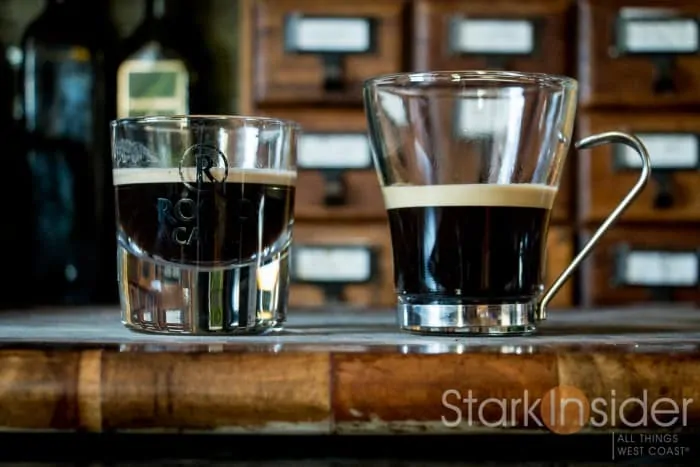 Promising stuff. You can see the Rosso Caffe shot is dark. The crema is rich, though perhaps not quite as intense as compared to the Nespresso.
The aroma is, simply, wonderful. I suspect that's a testament in part to the quality of the beans used, and their freshness — two very important components to making fine tasting espresso drinks.
Tasting the Rosso Caffe and Nespresso shots back to back revealed that the two are very close in flavor profile.
I would still rank the Ristretto as the stronger of the two. But by just a hair. Rosso Caffe is smooth, full of rich flavors. It's, simply, outstanding.
Flavors and Styles Galore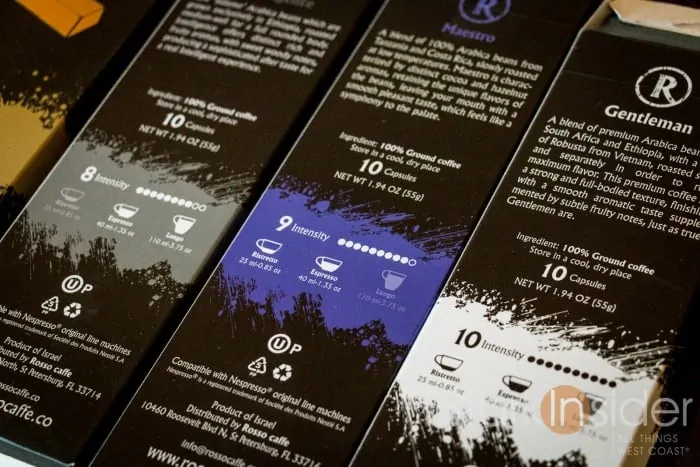 I'm not generally a fan of flavored coffees. Pumpkin. Ginger. Mocha. This or that. Serve it straight up please, or with steamed milk in the form of a Latte or Cappuccino and I'm good.
But, an open mind is a good thing right?
So I ventured into some of the flavored Rosso Caffe pods. To my surprise the Caramello really grew on me during the two-week testing period. So much so, in fact, that it became a regular in my morning espresso ritual. Pop a Caramello into your Nespresso machine, and you'll get a bonus waft of delicious caramel in your kitchen. It may not be for everyone, but if you're looking to add a change to your routine, it's definitely one to consider (Crème Brulee would be another interesting one, especially to serve to guests after dinner).
Rosso Caffe Nespresso Pods: Highly Recommended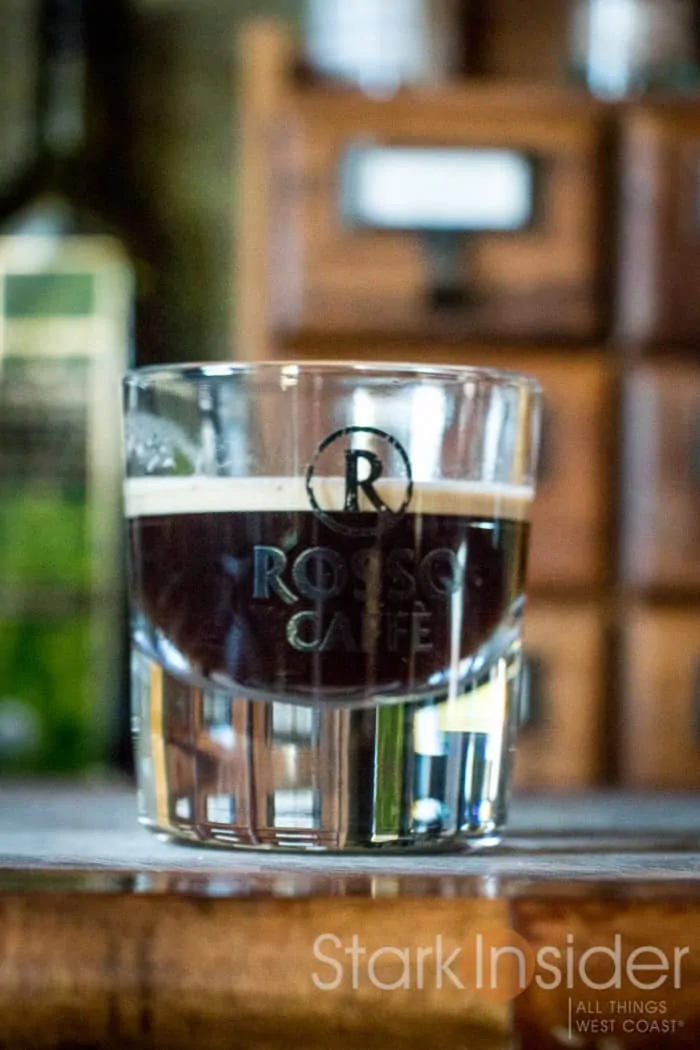 Rosso Caffe impresses. It's good to see the market open up for third party Nespresso pods. Not only does it give us more competitive prices, it also affords us some interesting coffee choices.
Needless to say, I highly recommend Rosso Caffe.
You can buy these pods direct from their web site. Prices range from $0.49 (for decaffeinated pods) to about $0.59.
Another option: you can find a Rosso Caffe variety pack (60 pods) on Amazon. That works out to about $0.61/pod, but keep in mind that pack includes the "Ricco" — a premium blend that sells for $0.99/pod.
Though I only tested Rosso Caffe on a Le Cube machine, I'm told they're compatible with the full range of Nespresso machines (original line) including: Essenza, Citiz, U, Pixie, Miele, Masteria, Grand Masteria, Latissima Plus and Inissia.
If you're a fan of espresso and espresso-based drinks, you might want to give Rosso Caffe pods a look. At the very least, it'll open your Nespresso routine to new options. Maybe, like me, you'll even discover a new favorite or two.
Rosso Caffe
Nespresso compatible capsules
4.5 / 5 stars
Where to Buy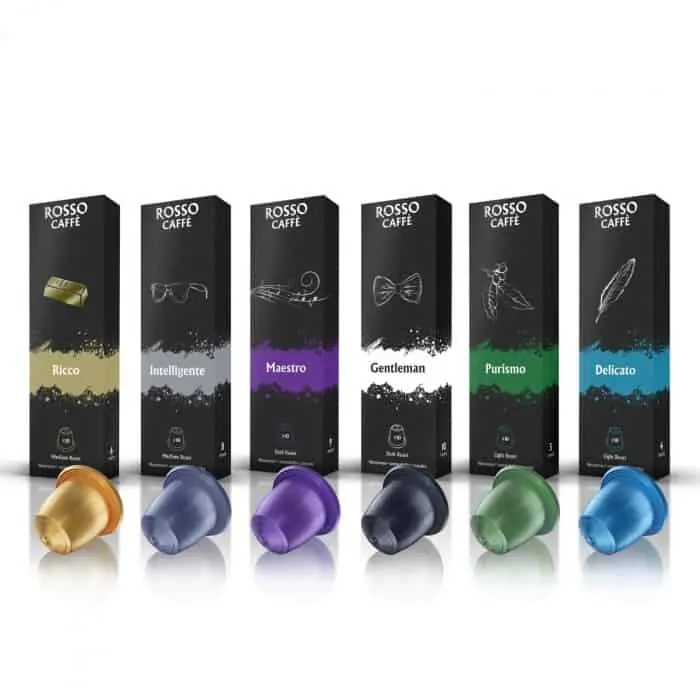 Direct:
Rosso Caffe web site
Amazon:
Rosso Caffe Variety Pack (60 Pods)
Rosso Caffe Sweet Flavors Pack (60 Pods)
Rosso Caffe Dark Roast Pack (100 pods)