Congratulations to all involved in the stunning revitalization of the new Strand Theater on Market Street.
A.C.T. artistic director Carey Perloff today announced the new space, featuring a bold red facade and clean lines, had won a major award.
The American Institute of Architects awarded The Strand project its prestigious "Revitalization Design Award" — recognizing owners and developers "who have enhanced the community by making significant improvements to their properties, which have, in turn, had a positive impact on the surrounding area."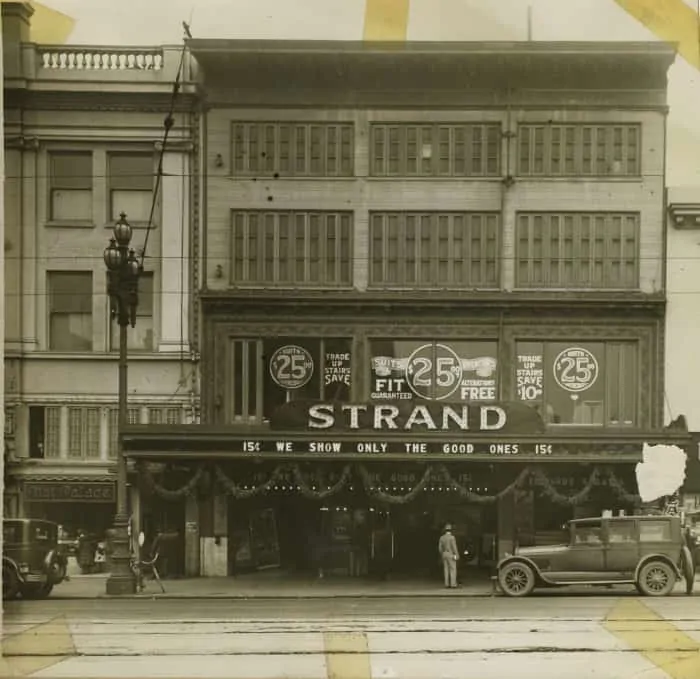 "A.C.T. is incredibly honored to be recognized for the thrilling revitalization of The Strand Theater," says Perloff. "The building has become a beacon for so many communities in the Bay Area who are looking for a funky, fun, welcoming space to gather, to see theater, to make music, and to look out upon the City. We hope The Strand will become an indelible part of the Central Market corridor and help light up the neighborhood."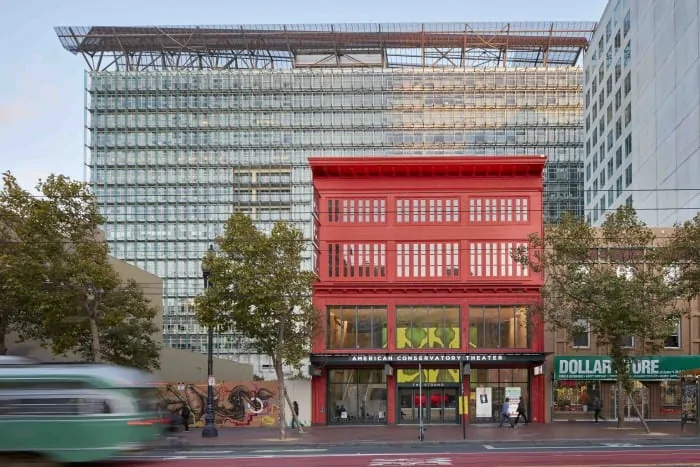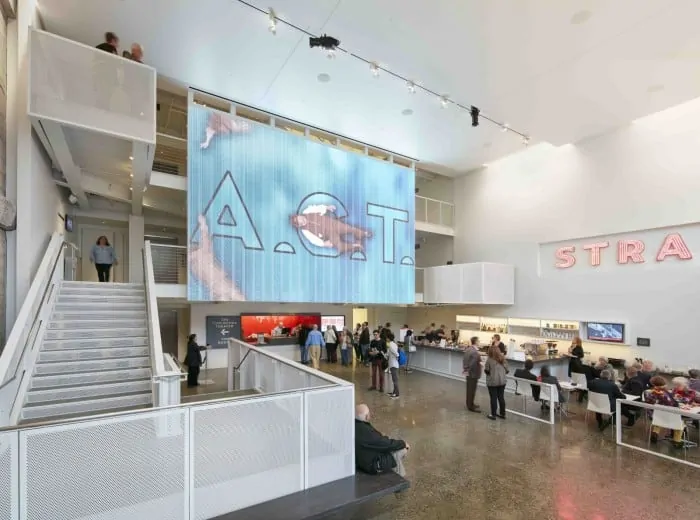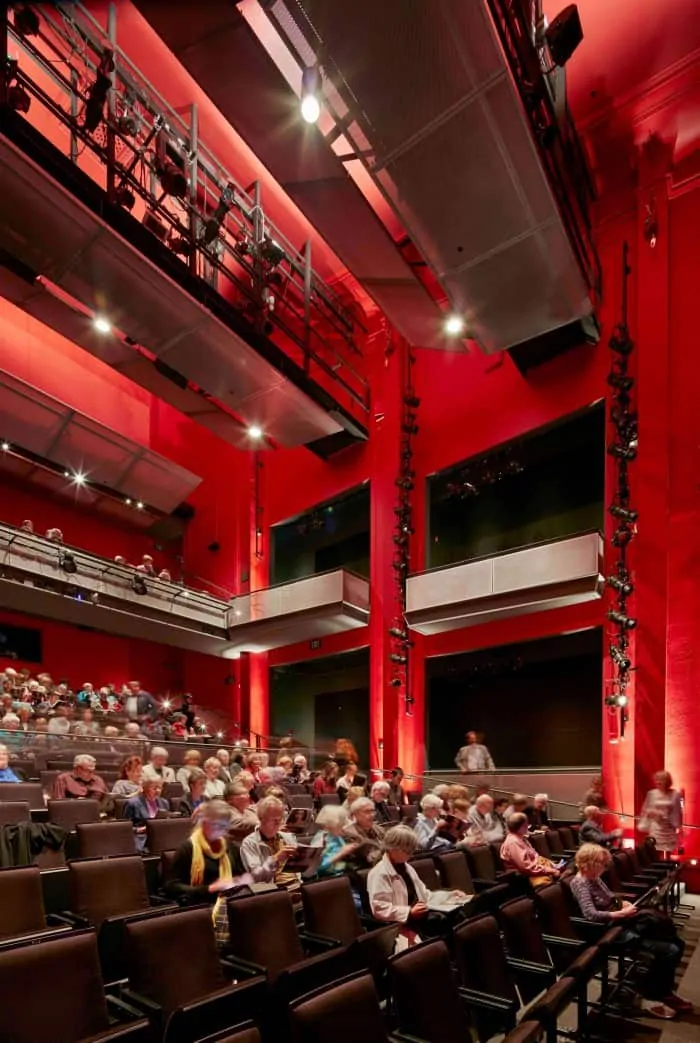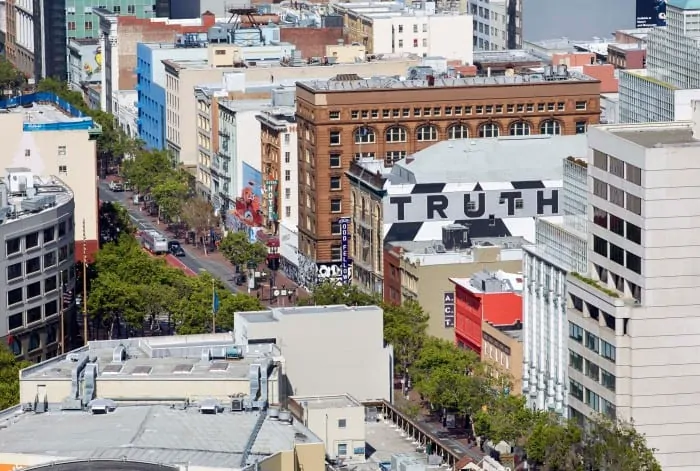 Key players in the redevelopment of The Strand include:
Architect, Structural Engineering, Architectural Graphics: Skidmore, Owings & Merrill LLP (SOM)
Development/Project Manager: Equity Community Builders LLC
General Contractor: Plant Construction Company LP
Among many others — see below for complete list of the construction project team.
ALSO SEE: The story behind San Francisco's re-born, iconic Strand Theater
Earlier this year Stark Insider profiled The Strand in a special feature. You can watch this video below, as Carey Perloff gives Loni Stark an informative, historic tour of the multi-level educational and theatrical space.
WATCH:
The Story Behind San Francisco's Strand Theater
Hard to imagine, but 1127 Market Street used to be the epicenter of (very seedy) film porn in San Francisco. How times have changed. Today, the invited, airy space is home to thought-provoking, fresh stage productions. I've seen and reviewed two productions at A.C.T.'s Strand. Love and Information was a fitting play for the opener, what with its rapid-fire Twitter-inspired messaging and staging. Monstress, which is still playing at the Strand, is a gorgeous, heart-felt look at the Fillipino immigration story. Not to be missed.
The Toni Rembe Theater, the Strand's new, intimate space (283 seats) joins A.C.T.'s iconic and grand space on Geary (1,040 seats).
In addition to hosting performances, and emphasizing new play development, The Strand will also be used for classroom and workshop space as part of A.C.T.'s Master of Fine Arts, Young Conservatory, and Education and Community programs.
In an era of endless streaming video options, blockbuster video games, and hyper-kinetic social media messaging, isn't it nice to see the live arts persevere?
THE STRAND – Construction Project Team

Architect, Structural Engineering, Architectural Graphics: Skidmore, Owings & Merrill LLP (SOM)
Development/Project Manager: Equity Community Builders LLC
General Contractor: Plant Construction Company LP
Theater Consultant: The Shalleck Collaborative, Inc.
Historic Architect: Page & Turnbull
Architectural Lighting Design: PritchardPeck Lighting
Legal Counsel: Farella Braun + Martel LLP
Construction Financing: First Republic Bank
New Market Tax Credits Investor: U.S. Bancorp Community Development Corporation
Historic Tax Credit Investor: Clearinghouse CDFI
Community Development Entity/Lender: San Francisco Community Investment Fund
Community Development Entity/Lender: Northern California Community Loan Fund
Community Development Entity/Lender: Clearinghouse CDFI