Are you married to a Squid Mother?
Then, what are you waiting for, you could have a star in the making!
All it takes is some polyurethane, a filmmaking partner based in San Mateo, and dreams of Hollywood.
Such is the fate of creature feature filmmaker Checkers Rosario (Sean San José). He's been making Ed Wood-like horror films for years, casting his wife (Melody Butiu) as the monster — "Monstress." They're happy enough living in Manila. But one day "Hollywood" calls. And soon they find themselves on a set in a California canyon shooting a sci-fi flick. This one had Loni and I cracking up (inside joke).
In Monstress, the laughs come loud and often. As do a few tears. Featuring two one-act plays exploring Filipino-American life, the world premiere took place last night at The Strand in San Francisco. Based on short stories by author Lysley Tenorio the play was adapted for the stage by Philip Kan Gotanda and Sean San José (who makes a memorable appearance).
In contrast to the (entertaining) camp that comes later in the evening, the first one-act play, Remember the I-Hotel, is a beautiful, elegant and moving salute to the Filipino immigration story — a heartfelt account of the pursuit of the American Dream. Of the two, this works better, as the end-as-beginning story-line is skillfully told, and the character evolution more consistent.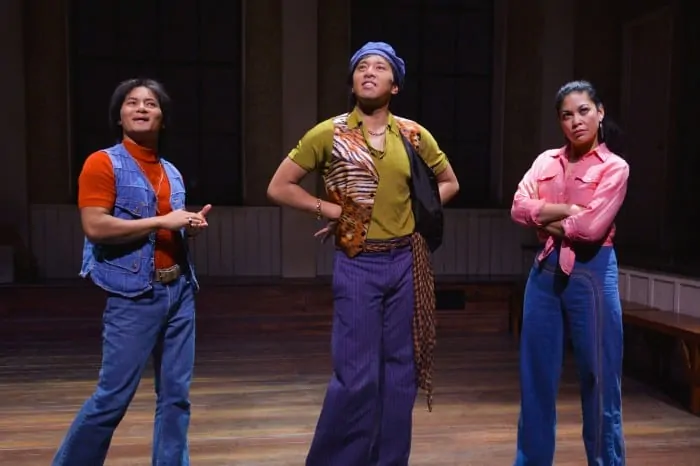 Recent Philippine immigrant Vicente Pacram (Ogie Zulueta) dreams of a life that might be. He hangs along the shores of the San Francisco Embarcadero, shadow boxes with his best friend Nado (Jomar Tagatac), and drinks and dances into the wee hours. Working as a bellhop on Nob Hill he meets a Wisconsin beauty (Kelset Ventner). But will their inter-racial passion survive the 1970s Filipino evictions, and forbidden taboos of the era?
Ultimately what sells Monstress are the performances.
Moving from the streets of Manila to the Bay Area (Do you know the way to San Jose?), Monstress affords us a harsh yet inspiring view into the struggles and joys — both in abundant servings — as immigrants struggle to find new identities here, while clinging to memories of home.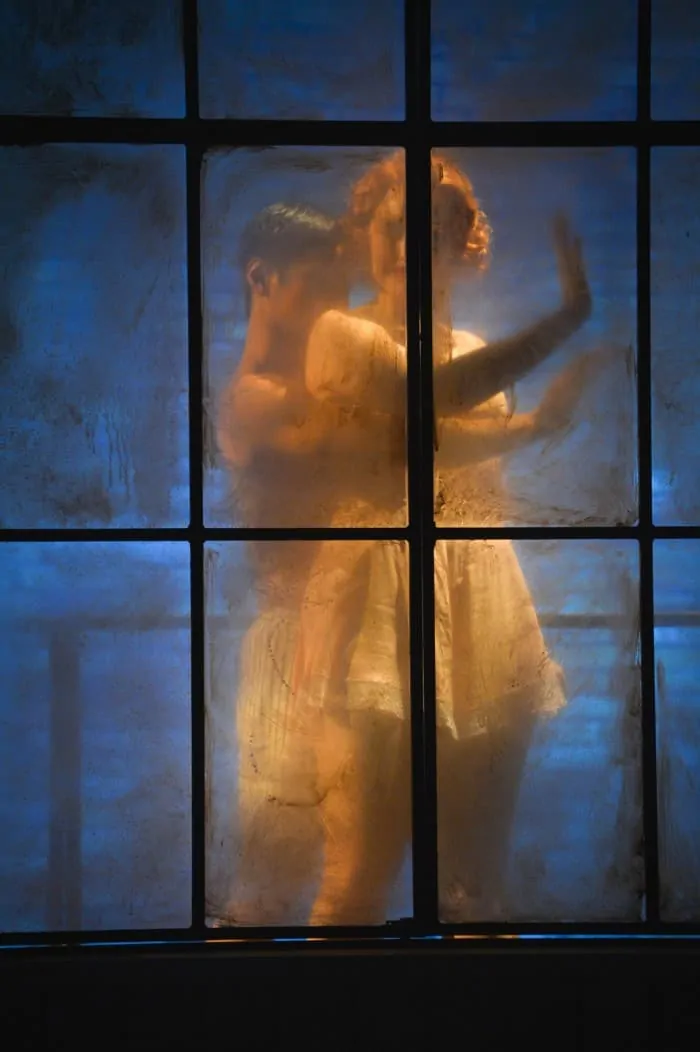 Located smack dab on Market Street near one of the area's largest Filipino communities, the new play feels right at home in that shiny new red box known as The Strand. Indeed, the energy on opening night was palpable. A.C.T. artistic director Carey Perloff told us earlier this year, when Stark Insider toured the site during construction, that their goal with this black box-style theater was to attract a younger generation to the theater; and to stage new, exciting, cutting-edge works. Monstress is as perfect a proof point of that mission as you'll likely find. As I lined-up for a pre-show cocktail, I noticed the youthful crowd felt especially start-uppy.
Both one-act plays use the same core set. I can't see how they'd possibly be able to change it during intermission anyways. This is a Berkeley Rep style set. Meaning, it's something to behold. Multiple-stories, with depth, and featuring three beautiful arched windows along the back. At once we're in the lobby of a hotel, or a concert hall, then the waterfront, and soon a colossal movie set. What wonder this lighting and sound design!
Opening night MONSTRESS at pretty red box. The new @ACTSanFrancisco Strand Theater! pic.twitter.com/q2vbxG66FF

— Stark Insider (@StarkInsider) October 2, 2015
In addition to the gorgeously crafted stories, ultimately what sells Monstress are the performances. Acting is A+. You really can't ask for anything more. These actors give it their all, and it's easy to forget that the same company plays all the parts in both plays. How do they pull it off, I wonder. I'd expect an actor, looking in the mirror, earlier in the day, breathing intensely. I am Vincente! I am an immigrant! I am hungry! I am Vincente! And, just 60 minutes later, to be playing a totally different character, one wearing a wig, and colorful, ridiculous 70's polyester clothes, and waving a poster for "The Squid Mother of Cebu". Yet, this dramatic shift of character is exactly what happens, and that whiplash effect, for both actor and audience alike, is a large reason why Monstress is so successful as a total package.
Just like the creature features the second play plays homage to, this is an entertaining, adventurous double bill. An evening fit for lovers, for dreamers, and for all of us.
THE STORY BEHIND THE NEW STRAND THEATER

Watch A.C.T. artistic director Carey Perloff give Loni Stark a tour of the new Strand Theater, and talk about its colorful history dating back to San Francisco's silent film era.

https://vimeo.com/127034372