"The theater had been boarded up by the S.F.P.D. We walked in here in 2012 and it was like an archaeological excavation. It had dead birds all over the floor. There were squatters upstairs. There were amazing, weird 'Junkies for life' graffiti posters all over the place."
What a difference a few years can make. Carey Perloff's vision of a new black box style theater is just a few weeks away from coming to fruition. Ultimately, despite the edgy condition of the building and neighborhood, the "bones of a really beautiful theater were still there."
The Strand Theater, located at 1125 Market Street, is set to open to the public, for the first time in the last twelve years, on May 14. It's one of the big stories coming out of San Francisco for 2015. In an era when arts programs are sadly swept under the carpet all too often, or can't receive enough public support to continue operating (San Jose Repertory Theatre), it's refreshing to see an exciting project like The Strand come to life (San Francisco Playhouse is another inspiring success story that comes to mind).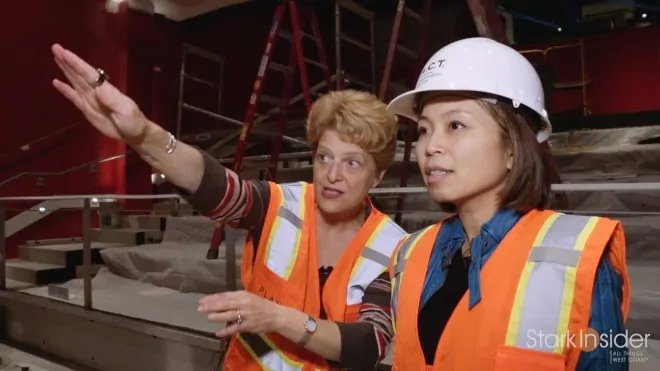 Unlike the traditional, grand Geary Theatre, this space will be distinctly modern, and, hopefully, if Carey and her team can work their magic, will draw from the throng of tech hipsters who work nearby.
"My dream is that all of those twenty-somethings when they finish their day at Twitter, Yammer, Spotify, One Kings Lane and will come and at least have a drink in the lobby, and maybe come in and see a great performance," she says (with unbridled enthusiasm).
THE JEWEL
The Strand's history is rich and juicy — just as you'd come to expect from famous cultural venues in this city. According to A.C.T.'s administrative project manager (and historian extraordinaire) Denys Baker, the theater was originally built in 1917.
"Very quickly we realized that you can't tell the history of the building without it being against the backdrop of the larger story of cinema in San Francisco."
Then called the "Jewel," it was a single-purpose space, used purely for projecting silent movies (unlike most other venues across the city known as "combination" houses which hosted films and vaudeville acts). Just before WW I, it became the "Strand" hearkening back to the success of the Strand Theater in New York.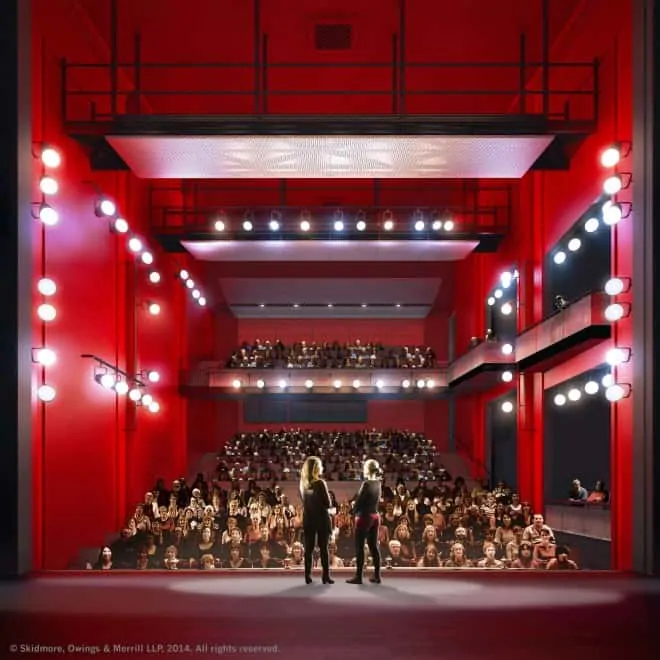 By the 1980's, the neighborhood was in decline. In 1994 the space was used for video pornography. Soon after, drug dealers and pimps were attracted to the area. Police then shut down the Strand in 2003, and it has sat boarded up ever since.
Until now.
REBIRTH OF THE STRAND THEATER
A two-year, $34.4 million reclamation project (land and construction) has given this area of San Francisco new hope.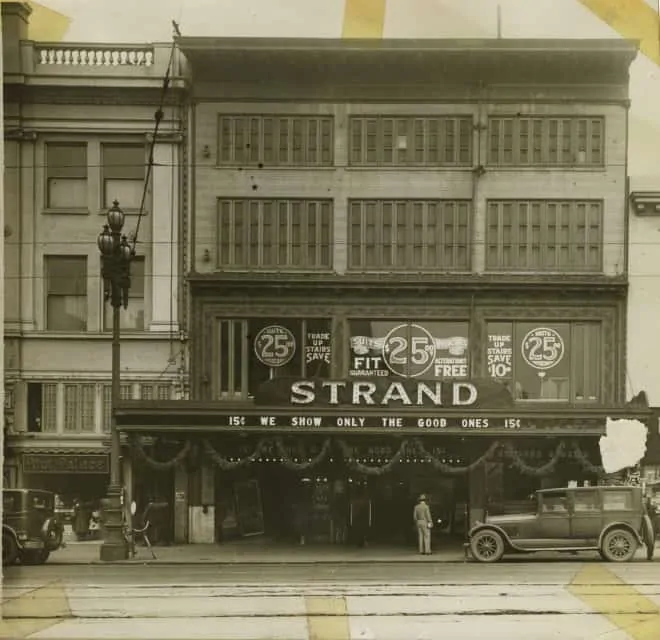 The new space is absolutely gorgeous (watch hardhat tour above with Carey Perloff) and befitting the goal of reaching newer, youger audiences. Think of it as a modern, industrial San Francisco loft — compared to the Geary main stage which is akin to a traditional Victorian. In my estimation from last month's visit to shoot this video, architect Michael Duncan and Skidmore, Owings & Merrill LLP have nailed the look. Inside, the intimacy between the audience and performers should heighten dramatic impact of shows. In this respect I often am reminded of Magic Theatre, and the scintillating plays they stage on their small thrust configuration.
"When you watch a play, you put yourself in the lives of those people… and you walk out of that theater with an understanding of how someone else lives and thinks. That is incredibly valuable." — Carey Perloff, artistic director, American Conservatory Theater (A.C.T.)
"The Toni Rembe Theater," the main stage, features 283 seats (which are removable to reconfigure for a cabaret space) with orchestra and balcony sections. Upstairs is "The Rueff" (named after the board president). This is going to be an inspiring place for artists to stage innovative, black box fare, and also for theater instruction and workshops. Soaring windows offer stunning views of Market Street, and, across the way, the City Hall dome.
LARGE SCREEN ART INSTALLATION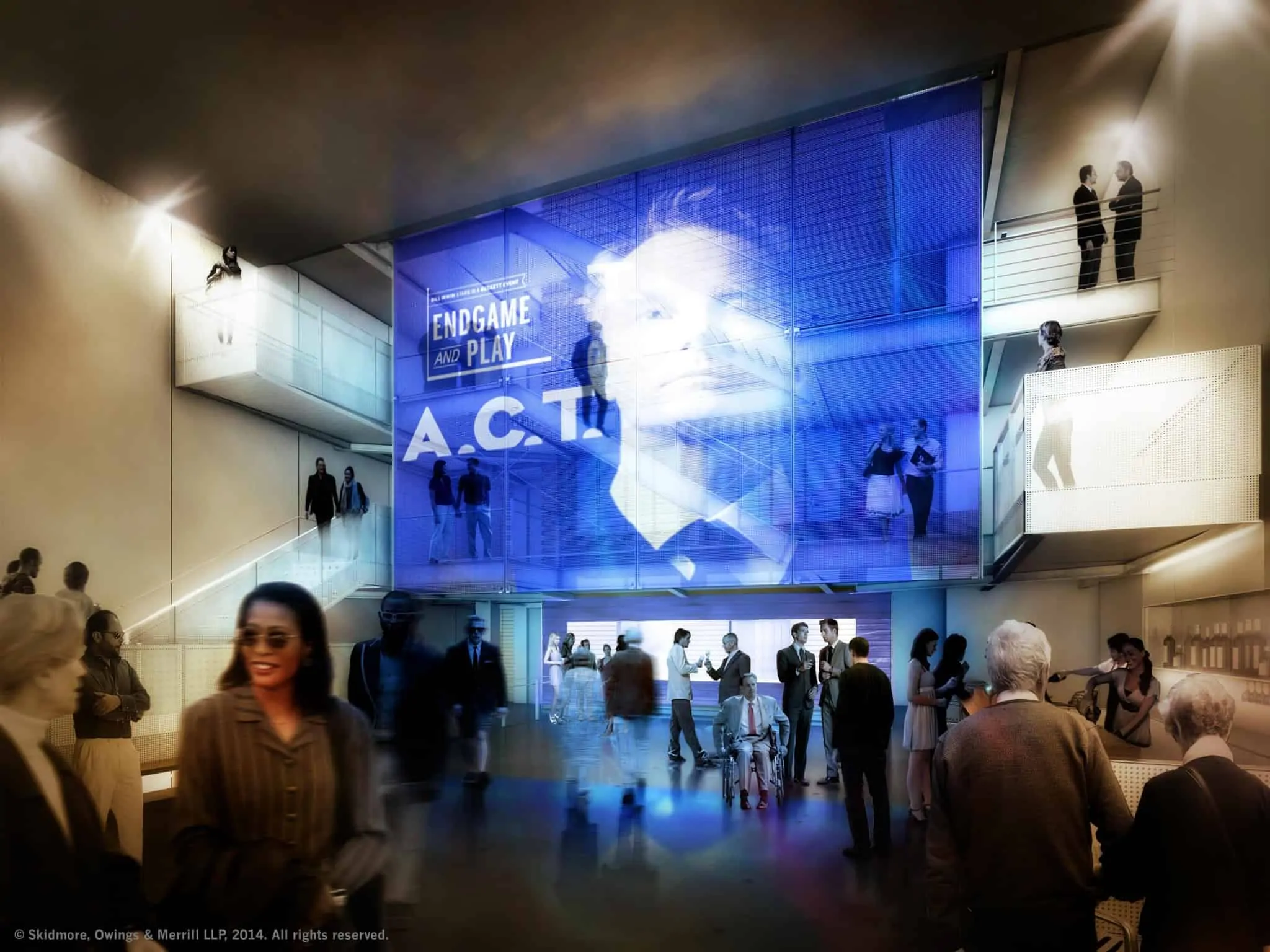 One of the most dramatic features of the Strand Theater is the massive LED screen in the double story lobby. It's one of many "reveals" that Carey Perloff hopes will attract interest from passersby. Treating it as an art installation suggests that this will be an extension of the plays themselves, and that the display won't be used as a marketing tool.
A.C.T.'s illustrious MFA Program (Annette Bening, Denzel Washington) and Young Conservatory (1,200 children annually) should benefit from the educational component of The Strand. I'm told A.C.T. will continue to provide arts education programs across San Francisco, through partnerships with community-based organizations including the Tenderloin, Boys and Girls Club, De Marillac Academy, and Bessie Carmichael Elementary School.
QUICK FACTS: The Strand Theater

Built in 1917, then called the Jewel Theater
Screened silent films
Shuttered in 2003 by SFPD
In 2012, American Conservatory Theater (A.C.T.) buys the building
A year later breaks ground on a two-year $34.4 million reclamation project
The new Strand Theater will feature a 283-seat theater, and a 140-seat event and performance space on the upper floor
Architect: SOM (Skidmore, Owings & Merrill LLP)
With the Strand, A.C.T. will be able to branch out creatively, and, if all goes to plan, satisfy their core base, and also provide a different theater-going experience to new fans, and loyalists alike.
"You can be at the Gearey and have something epic, and heartbreaking and grand, or you can come to the Strand and be really close to an actor on stage. Both of those are valid. To have the full range of theatrical experiences is amazing."
WATCH: "The Strand" with Carey Perloff