Some of the best experiences I've had covering the San Francisco Bay Area theater scene over the years share a common characteristic: that of the unexpected. Perhaps it's a new, never-before-scene work. Or a play that pushes the envelope. Or, maybe, something that challenges your perspectives, and stomps all over your comfort zone, in the most poignant and beautiful way possible. Or, in this case, all of the above.
Humanity is at the core of ReOrient. Stories of loss, love, and belonging are central themes that effectively re-orient our view of the Middle East. The festival is now playing in repertory at Z Below in San Francisco. Produced by Golden Thread Productions, ReOrient features a series of short plays, each written and performed by artists from (per the web site) Armenia, Egypt, Iraq, Iran, Israel, Lebanon, Palestine, Syria, Turkey, United Kingdom, and, yes the U.S. too. Indeed, on paper at least, this is a potentially globally-infused cultural experience. But does it succeed?
In a word: absolutely.
If theater is community, it starts here.
It's been a while since I've soaked up the Black Box experience here in San Francisco. That's regrettable. It's easy to forget sometimes, what with consistently stunning productions at Berkeley Rep, A.C.T., TheatreWorks Silicon Valley, and the like, that the smaller scene is also thriving, and bringing us some of the most compelling, enriching and memorable works. It's here, in these easy to miss spaces with props often sourced by friends of friends, that your mind will get its freak on. In the best way possible. If theater is community, it starts here.
Just as I haven't forgotten experiencing a haunting Creature way back when, or the absurdist acid trip that was The Bald Sorprano at Cutting Ball in 2009, ReOrient will surely be as permanently etched.
Opening night kicked off with "Series A" — four plays averaging about 20-30 minutes each.
Picking up the Scent (Yussef El Guindi, directed by Evren Odcikin) is a heart-breaking opener about life in a war zone. Archeologist Hisham discovers a lost perfume bottle. His wife Nisrin, a poet, begs him not to pursue its history further, what with the risk of the falling bombs and military advances.
There's no one at the steering wheel of this big fuck-up called war.
What follows is a stripped-down, actor en actor tear jerker. These are glorious moments: virtually no set, just black curtains, and a few actors giving it their all. It's a zinger of a start.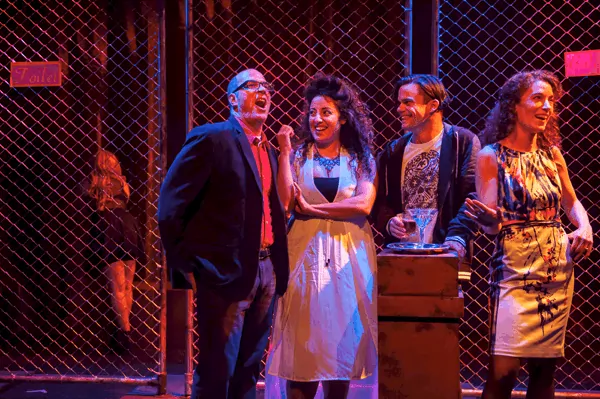 Then an interesting, unexpected, if not slightly bizarre left turn. That would be Turning Tricks (Silva Semerciyan, directed by Erin Gilley). We're transplanted to a futuristic, hipster London. Here the cool kids are buying slaves from places like Bulgaria and Moldavia, using them for sexual gratification, and showing them off to friends at night clubs. When the women aren't needed, they're chained to fences. Remember that thing I mentioned about the unexpected, and it potentially stomping all over your comfort zone? Well, here you go. Provocative, indeed. 20 minutes of squirmish theater never felt so odd and well executed. Same too with the superb performances.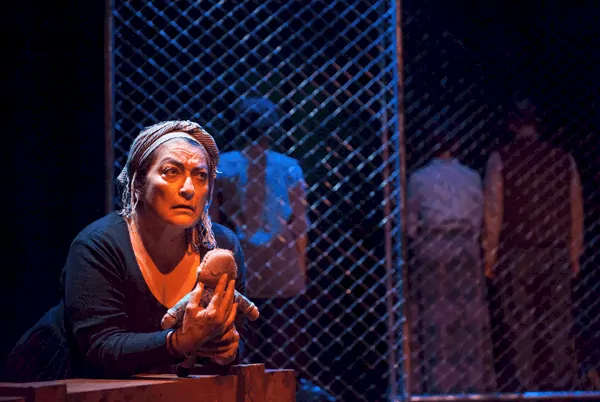 Next up: Bitterenders (Hannah Khalil, directed by Manijeh Mohamedi). Setting the play in an apartment shared between a Palenstian and Israeli family establishes a tinder box. The metaphor is replete with a sand-drawn line. This world premiere is thought-provoking, and attempts to give us an up-close look at everyday life in a world of imperfection.
If we don't respect their space, they won't respect ours.
Cultural co-existence in such proximity, of course, proves to be a challenge if not impossible. Soon, the daughter must contemplate crossing the line to retrieve something on the Israeli side. The dialog here is sharp, heart-wrenching. Once again, performances are uniformly outstanding.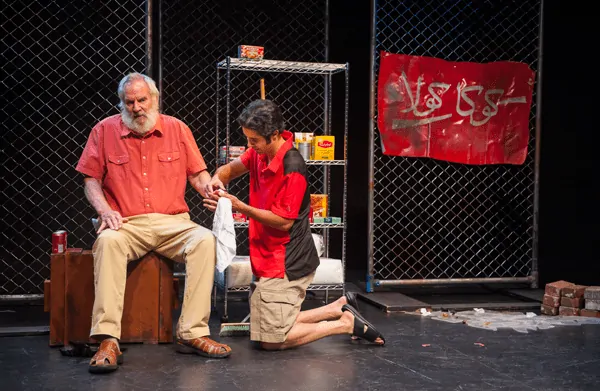 Series A ends with Counting in Sha'ab (Emma Goldman-Sherman, directed by Erin Gilley). Another impressive, eye-opening piece. The plays open with a car bomb going off in Baghdad, and the subsequent damage it causes to a nearby grocery story. Emphasis is smartly placed on the restorative process. Healing is not easy, and business must go on. Watching Mr. Hattab slowly, clinically clean up store shelves, nary a word, speaks volumes. Grateful is how I'd describe how I felt at the end of this one. Grateful for life. And grateful for the opportunity to experience such a play, and the intelligent lens it affords the audience.
If you go — and obviously I highly suggest that you do — try to arrive a little early and, do what we did, grab a front row seat. Being so close to the actors amplifies the drama. Trust me, your heart will thump, and you'll laugh, maybe even shed a tear or two.
If the goal of theater is to expand our viewpoint, to enrich our knowledge, and to embrace empathy, then from what I saw on opening night, ReOrient hugely succeeds.
Photos: David Allen