Pebble today took the wraps off its latest, e-paper based wearable. Pebble Time Round, as the name suggests, eschews the rectangular shapes seen on other smartwatches (notably the Apple Watch) in favor of a slick — if not European — round design.
There's a lot to like: it features an always-on display, looks sort of cutesy cool in a Swatch kind of way, and runs the latest version of Pebble OS with the handy scrolling Timeline. But, there's still no touch, and its biggest obstacle could very well be…
… that price.
$249.
That might be tough to swallow for those pricing out the new Pebble against the competition.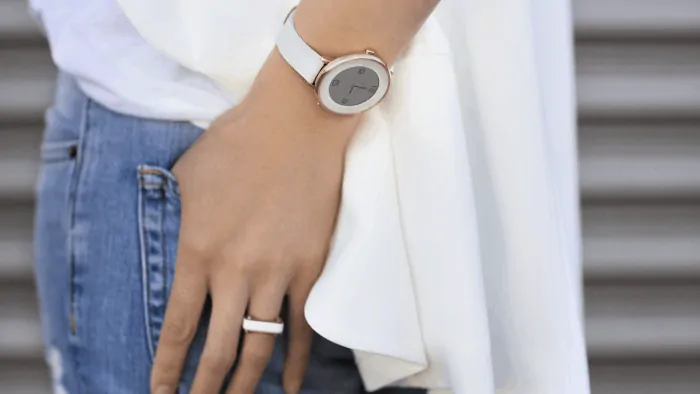 Second-gen Android Wear watches are hitting the market, including some nifty looking choices from Huawei. Samsung showed of its updated Gear S2 which features a trick, rotating bezel — and Tizen looks quite impressive. And, of course, the Apple Watch has quickly become the early leader.
Here are a few alternatives to the Pebble Time Round:
— for $100 more you can get the Apple Watch Sport, with a gorgeous OLED color display, premium build, and tonnes of apps (including the well conceived Apple Pay)
— for $100 less you can get the still impressive original Moto 360
— you could pick up a Pebble Classic for just $99 — sure, it doesn't have all the latest and greatest, but it still has a highly legible display, epic battery life, and does everything a modern day smartwatch should do (okay, aside from looking stylish)
My heart tells me Pebble should've priced this stylish watch at $149.
Regardless, I still like it. Here's a quick run down on the specs:
PEBBLE TIME ROUND

Round watch face
7.5mm thick (Pebble says it's the thinnest smartwatch in the world)
28 grams
Band sizes: 20mm or 14mm
Finishes: Black, Silver, Rose Gold
Two-day battery life (a 15 minute charge will get you through a day according to the announcement)
Band: leather, with metal options coming later in the year
Starting at $249
Availability: November (US and Canada), Q4 2015 (UK) and 2016 (EU)
Pricing aside, Pebble has made a smart choice in opting for a round smartwatch offering. Many in the market prefer a classic looking wearable. Pebble Time Round definitely fits the bill, and could draw new buyers to the brand.
You'll note that battery life takes a hit. Whereas the Pebble Time is rated at 7 days (I get about 3-4 days which is still plenty fine for me) the Round is rated at just 2 days. I'm not so sure that's a big deal as topping off the battery is fast. Some, though, might not like the idea of having to pack a charger when headed on the road for an extended period.
Personalization Trend Continues
Offering multiple band sizes, colors, and face styles continues this personalization trend we're seeing in the smartwatch market. This makes sense, given most of us see watches as a part of our wardrobe, and a reflection of our personality and sense of style.
Apple Watch, Moto 360 2, Huawei Watch, and the upcoming Samsung Gear S2 all offer extensive choice — with colors and styles that should appeal to both men and women.
What would the world be if all of us wore the same ugly plastic black bricks on our wrists?
The idea of personalization is exactly that. It gives us the opportunity to carve out some uniqueness, to personalize the product. Just as we don't want to see someone else at an event in the exact same suit, dress, or jacket, the same I suspect holds true for fashion accessories. What would the world be if all of us wore the same ugly plastic black bricks on our wrists?
Grading the Pebble Time Round Announcement
Grade: B+
Based on specs, and what I've seen on the (again, cute) Pebble web site, I think this model will find buyers. I am concerned about that price. $149 would be far more palatable for something that looks like a Swatch. Then again, I realize this is small start-up and developing wearables is not an inexpensive endeavor.
Those Bezels?
Yes, they're quite prevalent. Looking now at my Pebble Time I notice them too. But in day-to-day use it doesn't seem like a big deal. I have to say, though, when I switch over to a Wear watch, like the ZenWatch or Moto 360, I do appreciate the extra screen size — and more functional watch faces.
Here's how the Pebble smartwatch line-up looks heading into Q4 2015:
I'd also give founder and CEO Eric Migicovsky and his team kudos for offering up an olive branch to Time Steel Kickstarter backers. Given that shipments are being fulfilled, some may be frustrated that there's a new product already. Pebble, taking a page it would seem out of Tesla's customer service playback, is offering a discount and even a trial plan for the Round Watch. Classy move. Read more about that on the Pebble Blog (scroll to the bottom).
Things I'd like to see in a future Pebble model:
larger screen
smaller bezels
some sort of rotating crown or other way to quickly scroll long lists (pushing the buttons, though, makes for a good finger workout!)
better contrast
deeper colors (okay, yes, I'm flat out getting greedy)
Pebble's Future?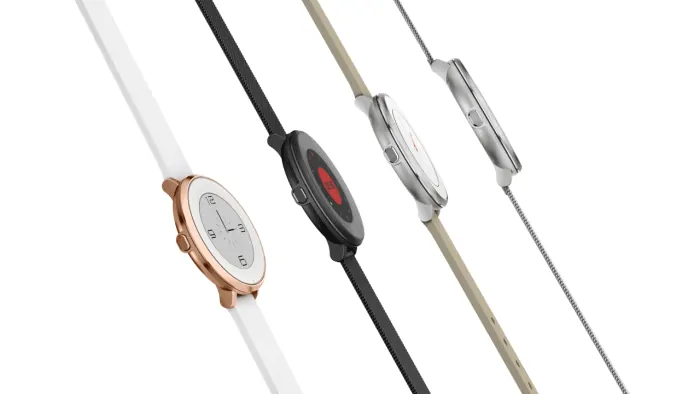 What about this Palo Alto start-up's future?
It really is a tough call. No easy answer.
I think there is room at the entry level for Pebble. Apple, Huawei and others seem to be content positioning as luxury offerings with prices to match. Pebble meantime has the opportunity to be the mass market Swatch-like product. I still feel, however, their pricing isn't quite low enough to achieve that objective.
Can a smartwatch start-up ultimately survive in a world of Googles, Apples, and Samsungs?
I don't think an acquisition would work, as I can't identify a viable suitor. Am I missing someone? The majors all have their own offerings and/or platforms so it would seem snatching up Pebble would be at odds with existing go-to-market strategies.
The market is getting really competitive. I bought the original Pebble. Loved it (Pebble Classic review on Stark Insider). It sold me completely on the value and appeal of a smartwatch. Then I backed the Time. Had a bumpy start with that one (Pebble Time review). Still, when push comes to shove I usually wear it instead of an Android Wear watch. I like that the screen doesn't "glow" in the dark, and overall it functions more like a regular watch than the others. That could change. Samsung says they have some sort of hybrid/e-paper display on the way. If it eventually ships, that could take away some of Pebble's differentiation.
And let's not forget, there are several 800 pound gorillas in this room: Apple, Google, Samsung. For a little player like Pebble that's got to be somewhat nerve-wracking. Then again, Silicon Valley is all about the feisty upstart, competing on brawn, beating the odds. Pebble has been doing a good job of that so far.