"Venice" is the codename for what looks to be BlackBerry's attempt at a consumer phone comeback. Images are popping up all over Internet of the new smartphone, and BB hardcore users will probably like what they see: a classic, rugged BlackBerry rectangular phone, with a slide out, honest-to-goodness physical QWERTY keyboard. And looking all a bit Palm Pre-ish. I expect the faithful to be randy indeed at the prospect of a design that harkens back to the glory days of a company that lost its way in epic fashion — first missing out on touch-based interfaces (remember the botched Storm in 2008?), and then moving far too slowly to adapt to the new app economy.
The biggest news about the upcoming BlackBerry phone (assuming leaked images are the real deal) though is what's inside…
… Android.
It looks like Blackberry management is making a savvy, if not long overdue, concession to the fact that the smartphone platform market is already a done deal. Apple and Google have locked it up. No one has been able to crack the duopoly. Not Microsoft, and certainly not BlackBerry. So why bother trying to develop a proprietary OS? Consumers have spoken.
I suggested a few years back that one strategic option for BlackBerry was to build phones on top of Android. Google's OS, as we know all too well, has massive inroads with developers and manufacturers. Plus, it's an open licensing platform. Combining that rich, well established ecosystem with the quality build and hardware engineering that BB is known could yield the company's best shot at getting back in the game.
Will "Venice" sell like gangbusters?
I doubt it. The "BlackBerry" brand has lots of cache. And many users have, no question, abandoned it in favor of iOS and Android-based phones. The market stats are very clear about that.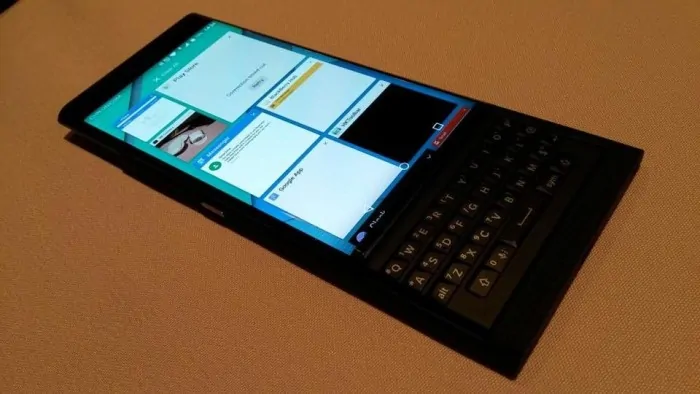 Still, I suspect there's a niche market out there ready to embrace this thing. Government agencies are one target market where BlackBerry has done well — and can still. Security is a big priority, and that's plays right into the company's wheelhouse.
BlackBerry "Venice" – Rumored Specs

5.4″ 2560×1440 display
Snapdragon 808 processor
3GB RAM
Cameras: 16MP with OIS & 5MP front-facing camera
MicroSD slot

and… wait for it…

Physical slider QWERTY keyboard!

but… wait, there's more…

Android Lollipop!

Early Verdict: On paper this BlackBerry looks great. Based on the images, it also looks well machined. Expect it to be a rugged performer. Price will be key. CEO John Chen was hired to turnaround BlackBerry. So far he's making all the right moves.
When I make my way back home to Canada for family visits, I'm astonished that actual BlackBerry users still exist. It's like spotting Snuffaluffagus. It defies the imagination really. Here in Silicon Valley, I haven't spotted a BlackBerry (or Snuffaluffagus) in what seems like eons. And yet, there they are: loyalists in Canada, swearing by them, keeping the faith, and hoping that the company once again rises up. I hope so too. After the Nortel bankruptcy, I'd like to see a comeback story for at least one formerly great Canadian tech company.