I've had a chance to shoot a few more videos this month with the Canon EOS 70D DSLR. It's a workhorse of a camera. And below I've included some video samples.
Particularly useful, especially for us run-n-gun types, is the sweet dual-pixel auto-focus. With that feature, you can touch the LCD to identify a person or object you'd like to track. The 70D does the rest. If someone is walking towards the camera, it will automatically keep that person in focus. Even after having owned the 70D since launch, I'm consistently amazed at how well the AF works.
My go-to lens, as I've written before, is the surprisingly low-cost Canon 18-135mm STM lens. Yes, it's a kit lens. And, yes kit lenses often get a bad rap. If you're a DSLR video shooter I say give it a shot, you may be impressed. I've always thought Canon "L" glass was the only option for pro use. Meh. I deliver to the Web (YouTube and Vimeo primarily) and the STM lens produces images that do the job.
As a brief aside, when I have some extra time on a shoot, I do like to pull out the stunning Sigma 18-35mm ART lens. It's a zoom, yet it's so good that you can think of it as 3 primes in one: 18mm, 24mm, and 35mm. Plus, at f1.8, it's fast — great for low light. I find the colors outstanding. There's no stabilization so if you're doing handheld be wary of that. You can move the camera continuously to possibly avoid micro-jitters, or, probably better yet, use some sticks.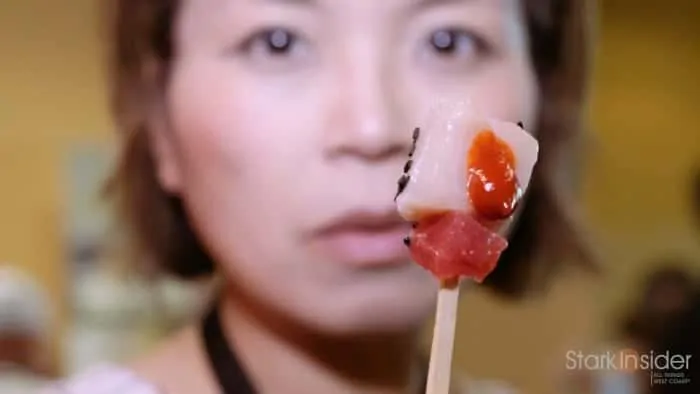 In the month of July I shot an interview at the Live in the Vineyard music festival in Napa with the cool folk/pop duo Oh Honey. Then we headed to Union Square for a run-n-gun street magic session with JADE. That same weekend we headed to the Geary Theater to do a backstage segment on theatrical voice projection. Most recently I shot a bunch of footage at "Taste of Napa" a food/wine tasting event as part of Festival del Sole.
As always, if you're still in the market for a video camera or camcorder, check out your local Costco or Sams for bundle deals on the 70D. It's some of the best bang-for-the-buck gear you can find. Also, you can of course research pricing on Amazon.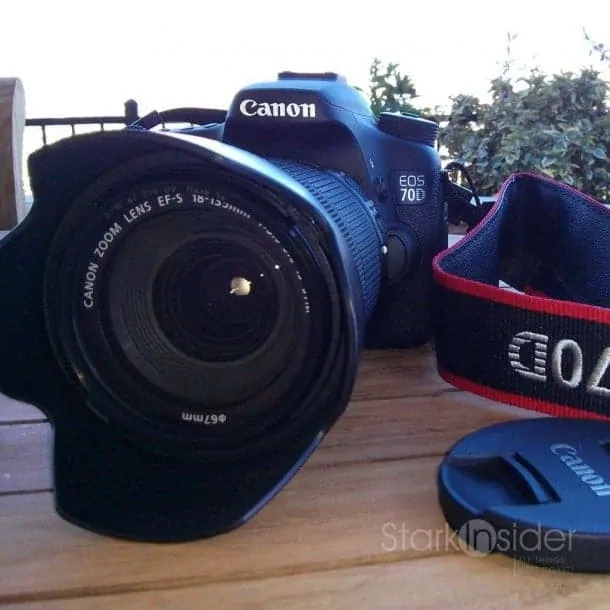 I've been shooting video for Stark Insider since 2009. From the Canon Vixia Camcorder, to a Rebel T2i, to a Canon EOS 60D, and finally, to, my daily driver, the Canon EOS 70D. Of them all the 70D is best, mainly because of the touch-screen LCD, and the aforementioned Dual Pixel AF. Soon we'll add a Super 35 cinema camera to our kit, and that I look forward to immensely. I suspect, though, I'll still turn to the trusty 70D for interviews, and situations where I need something compact and discreet.
In case you missed it, I've recommended my top 5 favorite cameras for shooting videos (there are some incredible options these days!). Also, the first accessories you may want to consider for your DSLR when starting to "rig up." And here I go deeper into Canon lenses.
With that, here's my 70D videos for July. There's more to come, some set/cinematic pieces, others, stylized music videos, and most, like the ones below, of the run-n-gun variety.
Happy shooting!
Shot with Canon EOS 70D and Canon 18-135mm STM Lens
Live Music Concert and Interview: Oh Honey
Street Magic @ Union Square with JADE
BTS: Theatrical Voice Projection at the Geary Theater, San Francisco
A Tate of Napa – Festival del Sole (Outtakes)
Note: these are outtakes, or my equivalent of "dailies." By no means a finished product. Sometimes I like to produce these quick hits, so I can see how the various shots look, evaluate color tone, etc.. Meantime the final video will take much longer as we will need to do some voiceover, green screen, and, ultimately, a far more comprehensive piece. When in doubt: dance!
All of the above videos were shot with the Canon EOS 70D and Canon 18-135mm STM lens, and edited with Adobe Premiere Pro. Shotgun mic is a Sennheiser MKE 600. FilmConvert used for color grading (I shoot using Technicolor flat log) plus some Three-way Color Correction, (very) minor use of Warp Stabilizer. Audio is captured with Zoom H1s field recorders with lavs, and on occasion I also use the fantastic Zoom H6 for interviews and voiceovers.