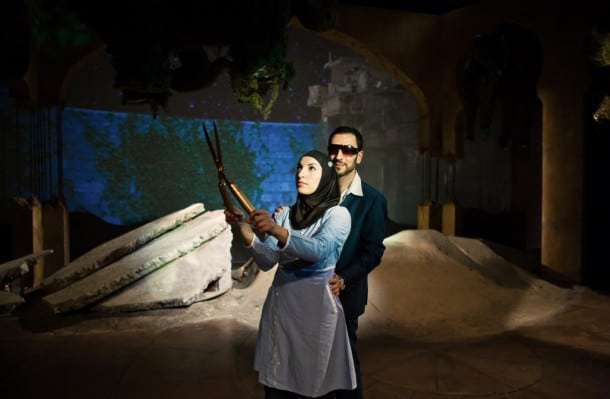 Rajiv Joseph has been on my radar ever since TheatreWorks presented North Pool in Palo Alto. Staged at a time when the city engaged in collective soul-searching after a cluster of suicides, the play spoke to being misaligned with the dominant culture. So much could have gone wrong with this play:  it could have been maudlin, it could have focused too closely on suicide, it could have come off targeted at a teen audience. North Pool did none of these; by speaking indirectly, it touched the heart of a grieving city.
I had to see if this was a one-shot wonder or whether Rajiv Joseph was around to stay so I jumped at the chance to see Bengal Tiger at the Baghdad Zoo, which just opened at the San Francisco Playhouse (formerly SF Playhouse). Like North Pool, so much could have gone wrong with this play; like North Pool, its indirection opened your heart.
The set of Bengal Tiger is unusually beautiful, with sand dunes stretching to the horizon and a sky full of stars. This may be the only thing that radiates calmness, however. Two Marines on patrol stand inside the bombed-out Baghdad Zoo. Only one of the lions (Will Marchetti) remains alive. He's a hungry, disheveled beast, albeit with leonine ego intact. One of Marines shoots the beast, creating the first of the ghosts that people the play. Marchetti's lion is an egotistical bastard, with more than a little bite to his humor.
Director Bill English works wonders in highlighting the indirection of this play, which could have devolved into a political screed about the Iraq War or a sappy two-dimensional anti-war piece. Instead, we have a piece that alternates between bracing humor and a dreamy wistfulness in which both living and dead are out of place.
This focus on the dead haunting the living sets the stage for a search for resolution that's just not coming. During intermission several people remarked that they didn't know what the second act would bring.  That's a good thing in this context, creating one surprise after another.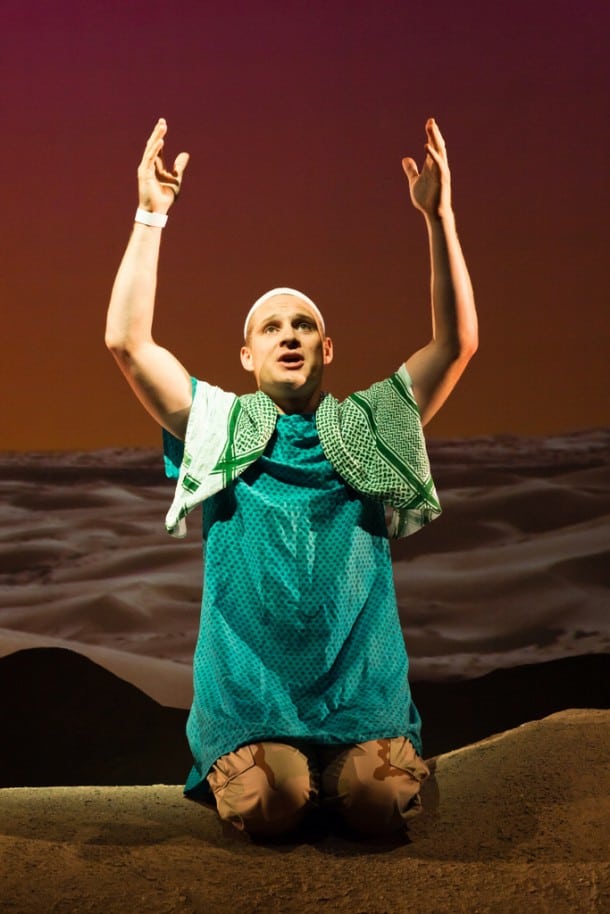 Pomme Koch puts in an incredibly comic performance as the ghost of Uday, Saddam's son. Falling between someone's vision of Eurotrash crossed with lounge lizard, he's one of the highest energy performers on the stage, strutting the stage and offering a peek into the fascinating world of Saddam's palace, replete with gold toilet seats and gold-plated weapons.
Equally compelling is the performance of Kuros Charney as Musa. Formerly Uday's gardener, Musa knows the Baghdad Zoo better than anyone. Presently employed as a translator for the Americans, he's the most emotionally intact of the lot, as capable of speaking from his own pain as he is about plumbing the depths of the word "bitch" in a way that would do Jesse Pinkman proud.
Bengal Tiger at the Baghdad Zoo runs through November 16th.