"We think this is our big red clown nose, right in the middle of Market Street."
Artistic director Carey Perloff made if official last night. The iconic Strand Theater has made a stirring comeback. After years of construction, a few ups and downs, and some $34 million in donor support the space, once home to a porn theater and dating back to the silent film era, is once again — remarkably — open to the public. Caryl Churchill's fast-paced, 140-character inspired Love and Information took honors as inaugural production. Look for our review shortly. Safe to say, given the Strand's proximity to Twitter HQ, and other sharing economy type start-ups it was a fitting, inspired choice.
Perloff was quick to point out that they were humbled to have the new space — which will stage main seasons in parallel with A.C.T.'s flagship theater on Geary — and would never take it for granted. No question, this is some of the most important arts news in the San Francisco Bay Area for the past few years. And most welcome at that. In an era when many theaters and arts institutions are being shut down (San Jose Repertory Theatre closed its doors in 2014 after fighting bankruptcy for years), how amazing is it to actually see a new space built specifically to bring a spotlight to community theater and artists? If you're interested in how the new Strand came to be, be sure to check out the hardhat tour Carey Perloff gave to Stark Insider as the new space was under construction.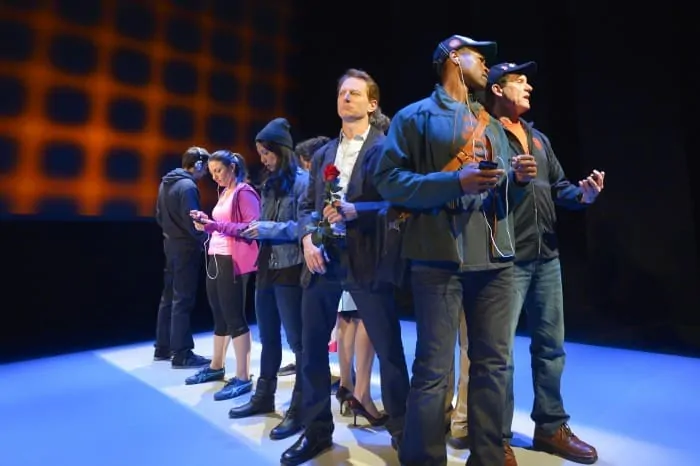 So how does the new Strand feel?
I was wondering as I approached the modern, glass-adorned facade, how it would feel to enter the new space. Each theater has a unique feel, and vibe. Magic feels intimate. Berkeley Rep electric. San Jose Stage Company warm. There's just something that happens when you walk through the front door, and then head into the theater to take your seat. The Strand? Airy. When you first enter you're greeted by an open-to-above lobby featuring a towering LED screen. It's impressive, and pretty darn cool. Likewise the Strand Cafe, to the right, is open and easily accessible. Good on them to serve up some creative cocktails. Getting millenials into the new space is surely one of the goals here. Still, make mine a Chardonnay (and yes, you can bring it into the theater with you).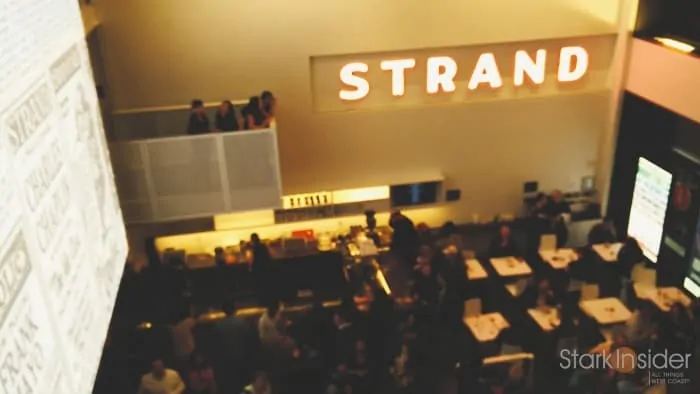 Maybe we should call the Strand the Red Box?
"This is a theater for all of you."
It's not a traditional black box, in the sense that you can feel the budget here — that there is even a budget at all. The seats are all new of course and very comfortable. Lighting is spectacular. Projection, at least in the inaugural Love and Information, is used predominantly (to dramatic effect). So unlike what I see as authentic, rough-and-tumble black box experiences (Cutting Ball, EXIT, Black Box Theatre, etc.), here, you get something glossier. Not better or worse. Just different. And that's a good thing — the diversity of theater experiences in San Francisco is what makes this town so special.
ALSO SEE: The story behind San Francisco's re-born, iconic Strand Theater
I had my OnePlus One Android on hand, and shot some impromptu video. Here you can see some of the interior of the new Strand, plus some post-show remarks by Carey Perloff. Funny enough, she wasn't even supposed to be here on this evening. Though she attended the press night on Wednesday (which unfortunately we could not make), Carey was supposed to be on a plane headed to an arts conference on the other side of the country. Lightning nixed that plan. Lucky for us she gave an energetic, passionate thank-you as only she can. PS- post-show parties at the Strand, if they're anything like last night, are going to be +1 all the way.
So get your # on. Your & on. Your :') on. And be sure to head on over when you get a chance and welcome the new-new theater space to San Francisco.
WATCH: On Location Opening Night at The Strand