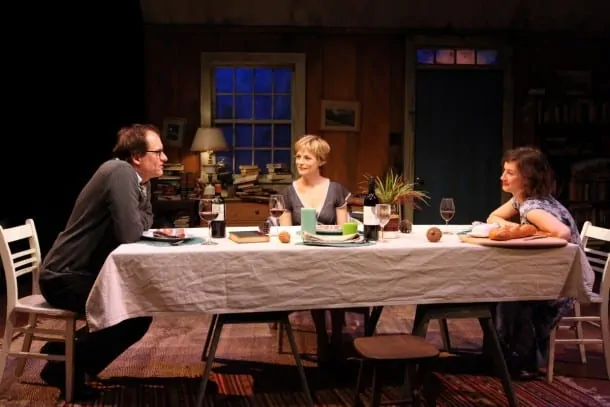 John Kolvenbach has done it again. Sister Play, the playwright's latest work, positively soared at last night's premiere at the Magic Theatre in San Francisco.
Smart. Funny. Touching.
All of the above.
A little crazy too.
Sure, the cliches are sometimes hard to avoid, but put simply: Sister Play is is why live theater can be so remarkable. You don't soon forget a play like this.
As expected, two sisters, and their divergent views on life, relationships, and safety form the core of the story. A family heads to their father's old (moldy!) cabin in Cape Cod as part of an annual tradition. Older Anna (Lisa Brescia) opts to step in for their departed mother, and assumes the role as overly protective sister. Her husband Malcom who often talks to himself ("Who am I talking to?" he wonders on several occasions following a monologue) is content to be the "pamphlet" between the two "tomes" that are the sister's obstensibly more complicated and interesting lives. Meanwhile, 30 year-old free spirit Lilly (Jessi Campbell) makes bad dating choices, and seemingly provokes her sister's ire at every opportunity.
Then, enter stranger.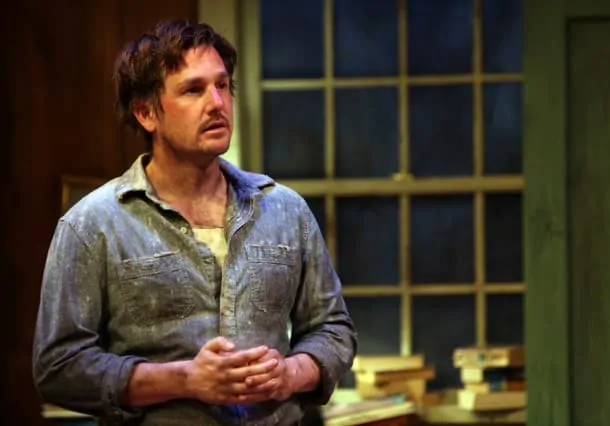 "You turn away from someone and when you turn back they're gone. They wander off, they find somebody else, they change their mind about you."
Here, Sister Play really takes off. What might have been just another dramedy about domestic infighting becomes something special. Kolvenbach's "Man" — apparently with nary an ulterior motive — draws out biases, past indiscretions, and, ultimately, an unlikely path forward. It's these quirky moments, where "Man" (Patrick Kelly Jones), steps forward from the shadows, in full-on hobo grunge mode, and does one unpredictable thing after another.
Like we saw a few years back in Goldfish and Mrs. Whitney, Kolvenbach has the magic touch when it comes to balancing laughs with moments of exasperation. Anna's propensity, for example, for meeting her younger sisters boyfriends while they're wrapped in bath towels is gold. "Where am I supposed to look?"
Later, there's a moment where the play veers towards the absurd. Think an over-the-top Joan Crawford in Strait Jacket. It's gloriously delicious stuff — it might be a fantastical metaphor, but for many of us, protecting siblings can often result in inexplicable, even dangerous, behavior that, at the time, seems perfectly reasonable.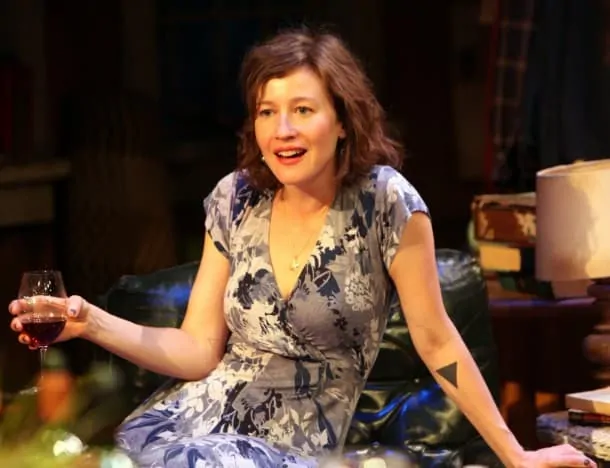 Performances, in short, are divine.
San Francisco theater-goers will likely recognize Anthony Fusco from any number of his performances at the A.C.T. on Geary. So far as I can recall, this may be his best. Maybe that has to do with the intimate thrust stage at Magic. With the audience so close, his delivery can soften from time to time ("I envy people that believe in things."), and that ability to explore range really lends to something vulnerable, charming and eclectic. Outstanding.
Strong performances, too, from the sisters. Jessi Campbell conveys just enough of that disinfected corporate-world-ain't-me vibe, yet her ability to channel and reflect the goodness in others is well played. Ultimately, we like her, we root for her. Lisa Brescia, at first the rock of reason, descends gradually, until we're not quite sure what to think — on this evening, she delivered some of the most hysterical, perfectly timed lines.
Saw terrific SISTER PLAY premiere tonight @MagicTheatre. Smart. Funny. Touching. All of the above. A little crazy too. #stranger

— Clinton Stark (@clintonstark) April 2, 2015
Above all, Patrick Kelly Jones nails it. As the mysterious "Man" — drifter, hobo, vagrant — he delivers his lines like some sort of monotone poet at a read-in honoring David Lynch. Basking in non-sequitors, his performance could-be part Tom Hanks from Forrest Gump, and part "Cowboy" from Mulholland Drive. It's reason enough to want to see this play a second time.
Interestingly, we're never sure when this story takes place. There are no smartphones, no computers. Several moments when a quick text might have resolved an issue, characters are instead content to read (or throw)… books. The shock! Fortunately, the lack of the Internet of Things perhaps heightens our focus on the humanity of the ordeal. And what a two-hour treat it is.