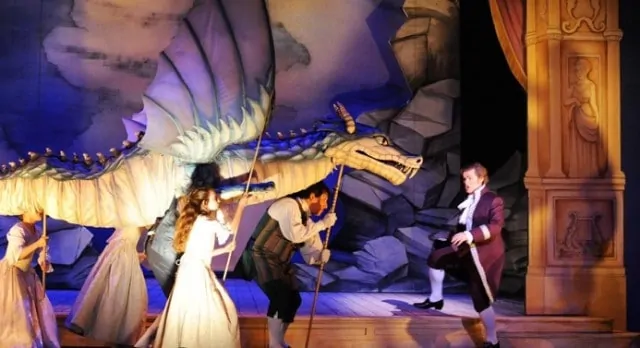 Much was in the air, when Mozart was writing.  The Reformation was stirring, as were ideas about the perfectibility of humankind.  Scratch the surface of the Magic Flute, and you'll find them.
The overture's a perfect tease, severing the sensual effortlessness of a perfect musical gesture with the abrupt crispness of hands clapping. It burbles along, a sonic crazy quilt, a delightful sequence of children across the stage, until it ends too soon, marked by the entrance of pseudo-adult players mumbling obsequities. Thus begins Opera San Jose's production of Mozart's "Magic Flute," which just opened at the ever funky California Theatre.
What I like most about Opera San Jose is that you're never too far from the idea of opera as a very human endeavor.
I've been liking Opera San Jose more and more every time I go there.  Their number of truly stellar moments demand a few lows to better appreciate the mix.
Those few moments where the critical eyebrow was raised came early in the Magic Flute. It's important to note them because the respective singers' recovery played as character development, with characters becoming more of themselves as the singers' voice warmed to the stage.
Our first look at tenor Kirk Dougherty's Tamino, is of a charmingly irresolute young man with a bearing that hints at future redemption despite his current hangover. In these first few moments, so many notes get sung to the rafters or overshadowed by the orchestra,  you naturally focus on the more irresolute swagger. However, the distance between these awkward early moments and the highs of Doughtery's  performance  parallels his development as a character.
Something similar happens with the dear birdman Papageno, capably played by Matthew Hanscom. In his first moments on stage, Hanscom's character carries a physical insecurity, which was mirrored in his voice getting lost, much the way Dougherty's was in those first moments. However, as with Dougherty, this was a feature, not a bug, as his character grew when as his voice got its footing.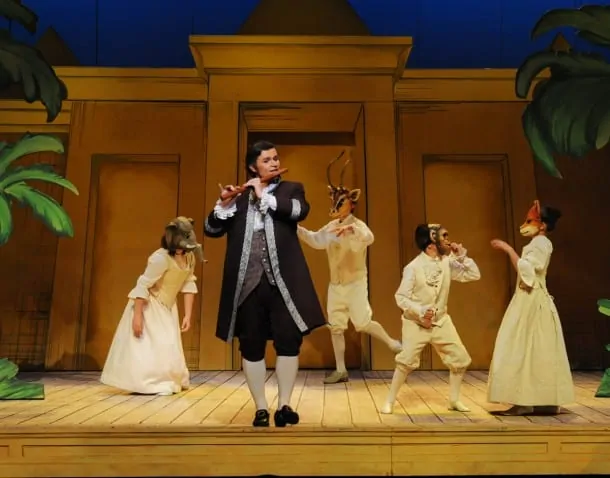 Papageno and Tamino both seek Pamina, brilliantly played by Hae Ji Chang, who had a voice of supple richness, vocal quicksilver.
Tenor David Margulis gave us a deliciously evil Monostatos, with the brooding undertones of Aidan's McArdle's Lord Loxley on PBS's Selfridges.
Mezzo Lisa Chavez, who we've been seeing all over (Opera San Jose's Madame Butterfly and The Italian Girl in Algiers, and Opera Paralléle's Trouble in Tahiti and A Hand of Bridge) brings a wonderful vitality to everything she touches. The performances of Chavez, Elizabeth Baldwin and Chloe Smart, as the Three Ladies were some of the most entertaining in the show.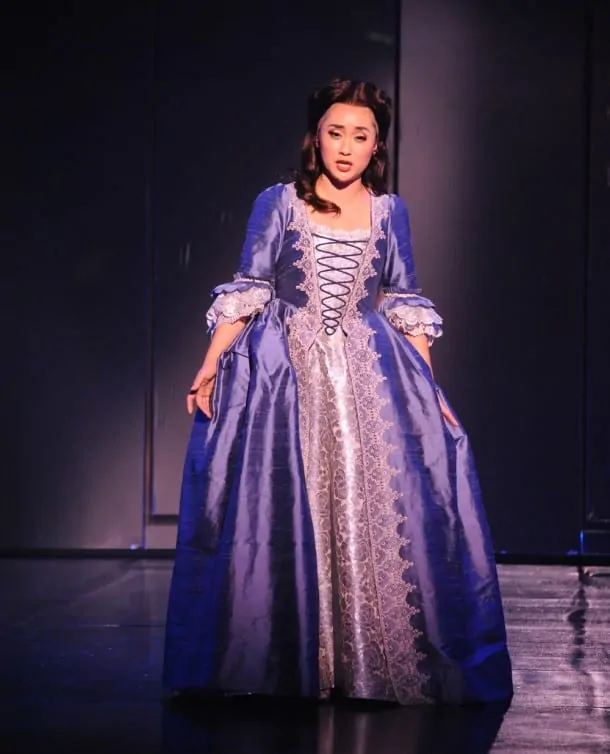 Isabella Ivy's performance as the Queen of the Night was rich, powerful, dark and complex. While she couldn't quite nail the those uber-high notes, this inconsistency points more to the her overall excellence, than a momentary miss.
What I like most about Opera San Jose is that you're never too far from the idea of opera as a very human endeavor. As we get deeper and deeper into our virtual lives, with their exaggerated expectations, it's that reminder of human activity that means so much. These singers aren't lost behind overly technical sets. There's never a moment, you're not aware that it's about the singer and the audience. A warmth and a slowness in every production, which is why even errors are treasured, like the defect on a Japanese pot that evidences its perfection.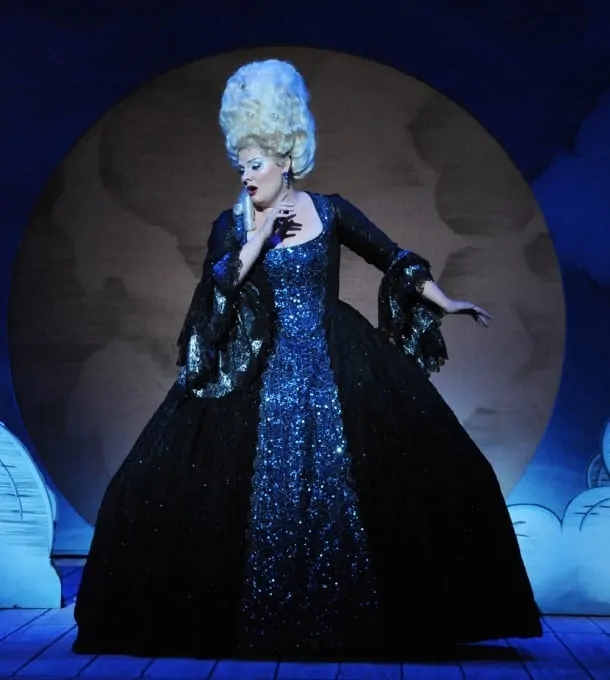 The Magic Flute will be at the California Theatre through May 3. In German with English subtitles. Dialogue in English.