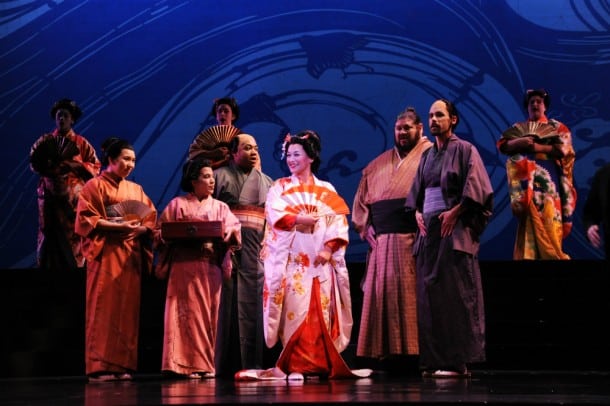 Opera San Jose's production of Madama Butterfly (Madame Butterfly) draws you in from the very first overture. Fast-paced, you'll never imagine three hours have passed from the time Lieutenant BF Pinkerton first purchases a home in Nagasaki until his wife, the betrayed Cio-Cio-san, draws the dagger to commit seppuku.
While Cio-Cio-san's death is predictable, the final moments extract an unexpected toll from the boorish Pinkerton.
The success of this production lies with the talents of its principal singers. Unlike most other companies, Opera San Jose is a resident company, with principals drawn from the cream of young operatic talent. Maintaining a resident company also allows for double casting. Thus, while opening night saw Jennifer Forni as Cio-Cio-san, Nicole Birkland as Suzuki, and Christopher Bengochea as BF Pinkerton, some subsequent productions star Cecilia Violetta Lopez, Lisa Chavez and James Callon in the same roles.
This opening night belonged to Jennifer Forni, whose rich, lush voice from the raked stage could be clearly heard anywhere  in the theatre, even when she didn't directly face the audience. Thanks to her impeccable acting skills, this power did not seem at odds with the frail Butterfly.
Forni's voice melded perfectly with the robust voices of  Nicole Birkland and Christopher Bengochea. Some of the most gripping moments were those scenes in which Forni sung over Bengochea and vice versa, particularly in the Act I love songs. Subsequent nights with different casts look equally strong, particularly if Lisa Chavez' recent performances in Ainadamar  and Trouble in Tahiti are any indication.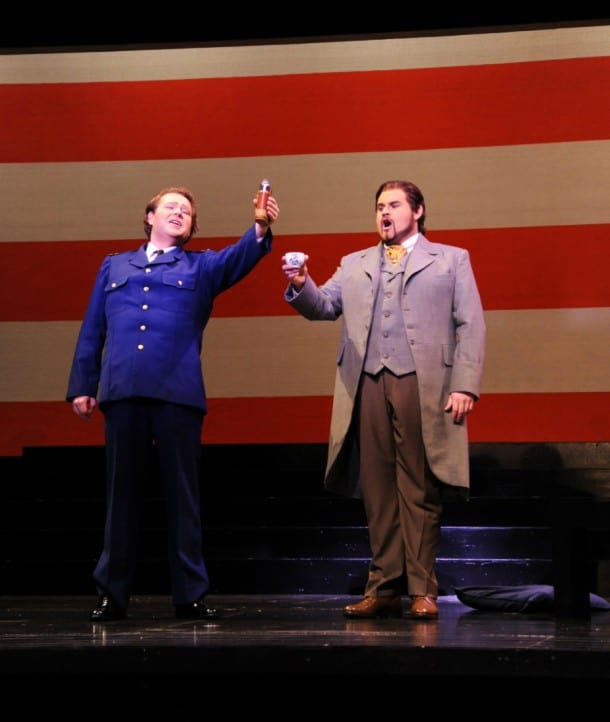 Keep your eye peeled for small twists to the usual ending. While Cio-Cio-san's death is predictable, the final moments extract an unexpected toll from the boorish Pinkerton.
Sets for this three act opera were minimalist. This might be disappointing, but for the exquisite care that went into costuming this large cast. Whether it was the princely Yamadori (Torlef Borsting), the oleaginous Goro (Robert Norman) or the flock of geishas in the opening scene, no shortcuts were taken in the striking wigs, makeup, and costumes.
Founding music director, conductor, and thirty year veteran David Rohrbach  was warmly acknowledged, both from the pit and later when he joined the cast for a final curtain call. This production will be his last with the Opera San Jose. Rohrbach is one of the reasons the Bay Area is so operatically rich, as many leading voices have trained with him.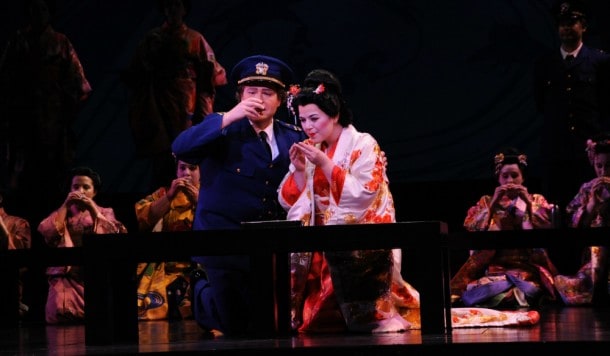 While the plot of Madame Butterfly is so straightforward that it's immediately apprehended, the failed romance of Cio-Cio-san with American cad Pinkerton draws on a handful of currents circulating in the urbane world of Giacomo Puccini in the latter decades of the nineteenth century, all of which are at work in this Opera San Jose production.
The first is Japonaiserie – or the influence of Japanese art. While we don't see as much of this in the performing arts as we do in impressionist art, (think of Van Gogh aping Hiroshige's prints and painting his own vision of Japanese art), it remains nonetheless influential. Japonaiserie was prompted, in part, by the forced opening of Nagasaki, Hakodate, and Yokohama by American Naval Commodore, Matthew Perry. Japan, which had been largely closed off for several centuries, was now open to the world. In writing Madame Butterfly, Puccini created his own operatic Japonaiserie, as this work includes at least ten Japanese melodies, including the Japanese national anthem, which plays during the wedding scenes.
Madama Butterfly will be on stage at the California Theatre through March 2.