Who needs the conventional when you have San Francisco?
Those reluctant to sit through just another play or yet another musical ought to dial up New Conservatory Theatre Center. My first visit to the space (home to two theaters in a gorgeous building at 25 Van Ness) was nothing short of memorable. Can you believe they did that? Said that? Flaunted that (with utmost zeal)?
Die Mommie Die!, written by Charles Busch and first brought to the stage in 2007, is tailor made for this city. A satirical send-up to the divas of Hollywood's golden era, it oozes camp, sexuality, and outrageousness. Oh, and laughs. There was plenty of those too on opening night. Our down-on-her-luck pop singer (J. Conrad Frank) refuses to believe that stardom may very well be in the rear mirror. Her husband (Joe Wicht), a film mogul, has also lost the hit-making touch. To make matters worse their son (Devin O'Brien) is flunking out of college and daughter (Ali Haas) will do anything to, well, to… see that mommie meets her untimely demise.
William Castle would be proud
If you recall the camp films of the 60s's such as Whatever Happened to Baby Jane (evil has a name, and it's apparently Bette Davis), Strait-Jacket (a gloriously over-the-top performance by Joan Crawford as a rehabbing axe murderer) and I Saw What You Did (that'll teach prank callers a lesson!) then you'll simply be all over this material. Producer William Castle is probably best associated with the concept of the "hag horrors." Shock value, sensationalism, and a fallen actress in the lead role (usually Joan Crawford) were his calling cards. And what a hoot they are to watch, even to this day. Blasphemous to say I'm sure, but perhaps these films have aged better than their some of their classic predecessors? For a modern spin on that Castle cinema magic, the Joan Crawford biopic itself, Mommie Dearest, is about as camp-o-licious as it gets (coat hangers!).
Meanwhile, consider Die Mommie Die! a hag film revival for the stage. And the formula here is similar to a William Castle flick – though, somewhat sadly, there is no axe to be found, just LSD and good old fashioned arsenic.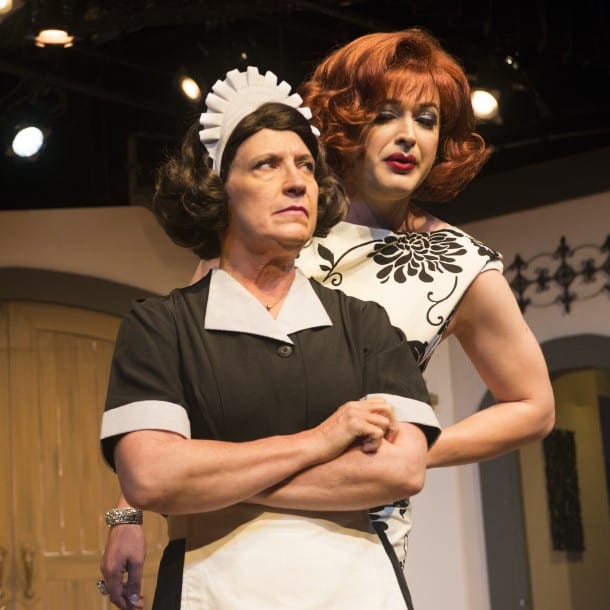 At the heart of the production, of course, is that timelessly glamorous (so she thinks) Diva. Her every move dramatic. Every entrance grand spectacle. And wardrobe, simply divine, darling. Double cross her, though, and find yourself on the other end of a demonic stare – and likely a trip to the morgue.
In J. Conrad Frank we have a performance for the ages in the lead role. On opening night the audience was relishing his every move.
His diva is the living breathing embodiment of a William Castle version of Joan Crawford for the stage (when looking in the mirror she sees "only hair and makeup"). His height and size is used to great effect, as he sashes about the stage, recounting past glory, and basking in tiny moments of domestic stardom. Memorable. Marvelous. My-my. Call it what you will, Frank tears up the stage, and steals every scene. On this evening, everything around him is there to serve him – as any righteous Diva would expect.
Supporting performances are strong too. Ali Haas as the daughter is precocious, yet devious. Devin O'Brien as her brother a joyfully dim-witted college flunk-out. Marie O'Donnell and Joe Wicht as the maid and the husband, respectively, bring laugh after laugh thanks to expert timing. And Justin Liszanckie? Well, that must be a sock. Right? Right?!
MORE STARK INSIDER: London's Calling: 'Sweeney Todd' (Review)
The final act is a roller-coaster of revelation. Multiple story-lines zig and zag so intensely the whole thing conspires to hang itself in the utmost of confusion and improbability – just as it should.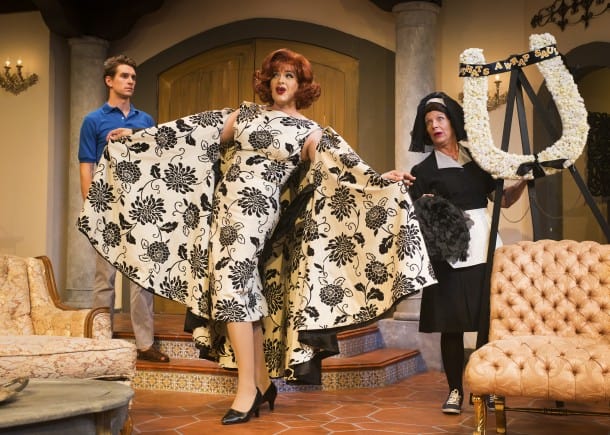 The NCTC team does remarkable work with this set. Details are impressive, bellying the theater's annual $1.4 million operating budget. Ditto that for the lighting design which is terrific – one moment sitcom gold, the next horror hell.
With so many attempts for satirical gold it's not surprising that some of Busch's lines are groaners ("Nobody said it would be easy being an old Jew") and land flat. The play does run a tad long. And, let's face it, you need to have a fair appreciation for jokes about all things male anatomy. This is a play where the mom asks her son, "Are you a c*cksucker?" All this while a play called C*CK plays the theater space adjacent. Did I mention this is San Francisco?
Live theater. The thrills never end.