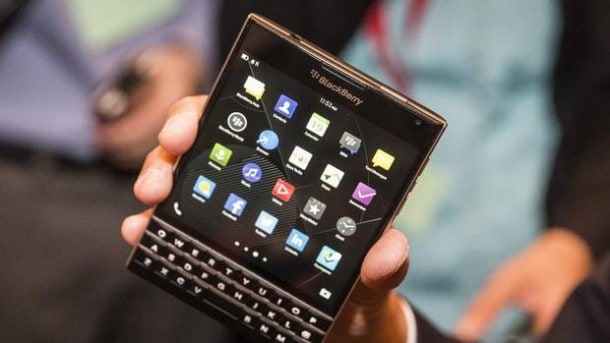 It's called the BlackBerry Passport. And it launches this week in Canada, with the U.S. to follow shortly. That BlackBerry is launching a new smartphone is slightly remarkable news in its own right – this is a company that has teetered on the brink of insolvency. Once a dominant player–the dominant player–BlackBerry crumbled under slow product releases, lackluster designs, and, most importantly, the original management's inability to foresee the app economy (along with touch-enabled screens).
The Passport is the first major product to launch under the watch of turnaround expert and CEO John Chen. He did wonders previously at Sybase, a then struggling software player. Many are watching to see if his skills are equally adept in the hardware arena (though, I should note, a large part of BlackBerry's portfolio includes software such as messaging (BES), enterprise security and the BB operating systems itself).
I like what Chen is doing so far with the BlackBarry reboot. Here's a few things in particular:
1. Compete on Price
Only one company today in mobile can charge a premium and get away with it. That company is, of course, Apple. No one else dare try — the Apple mystique is and undecipherable as it is unassailable. So Chen is wisely pricing the Passport accordingly. At $600 without contract, it matches up well with recent Androids (such as the HTC One, Samsung Galaxy S5).
Since BlackBerry is on the comeback trail, many are skeptical of the company's long-term fortunes, not to mention its ability to support new devices. Discounting is all but necessary. Unfortunately, that idea was lost on former CEO Thornston Heins. It cost BB dearly.
2. Be Different
I don't know a single person in Silicon Valley that owns a BlackBerry phone. Ten years ago, that would be implausible. Today, Apple iOS and Google Android reign supreme. Interestingly, though, what made BB popular back in the day may very well be what helps it stay in the game (however small and niche). The new Passport phone features that trademark physical keyboard at the bottom. Stalwarts will love it. While most have become accustomed to touch-typing on soft keyboards on smartphones and tablets, there's something satisfying about typing on good, clicky keys – tactile works. That Chen is embracing the company's past is smart; many will still want the new stuff from Apple and Google, but by appealing to his hardcore buyer he's realizing that BB while no longer a mass-market player, needs to lock-in the faithful.
Another differentiator with the Passport phone is its widescreen format. Most phones today are rectangular and narrow. That makes them easy to hold. But, it also means information–especially text-gets truncated. You need to scroll a lot to read long emails, or web pages. Chen thinks a wide-screen design will help solve that problem. BlackBerry says the Passport screen will accommodate up to 60 characters across. Will consumers care? I'm not so convinced they will, but, once again, being different–for better or worse–is the only way to stand out in the crowded mobile space.
3. Focus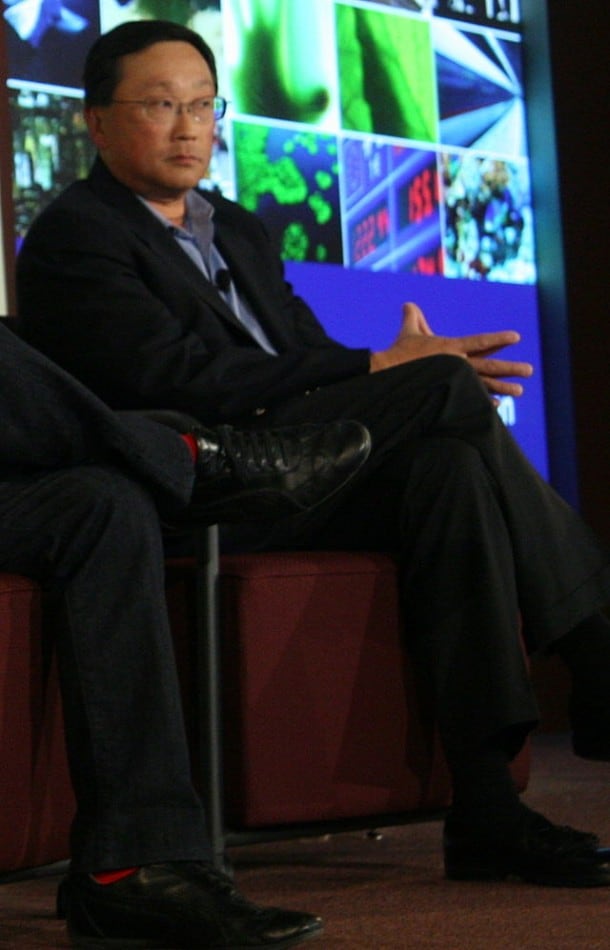 Remember CES in 2011? At Vegas back then BlackBerry was actually pretty hot stuff. They were showing off their new BB platform which had incorporated high performance features from its acquisition of QNX ($200 million, 2010). Not surprisingly perhaps, they were also showing off a new BlackBerry tablet (as was just about everyone else, most notably Motorola with the 10-inch Xoom). Problem is, all of these things were ideal for press demos, but were far from ideal for the ultimate adjudicator: paying customers. In retrospect it was obvious BlackBerry was doing too many things. Staff was stretched thin. This was not Google, and yet the company was acting like a Google… or an Apple, or a Samsung.
What I like about Chen's strategy so far is his obvious focus on, well… focus.
When Jobs returned to Apple and took over a company on the verge of death, he instituted a famous 2 x 2 grid. In each square was a single product targeted at a single market. For once in what seemed like forever everyone understood Apple's product offerings. Simplicity sometimes is underrated.
So with focus in mind, BlackBerry is targeting the enterprise–it's core strength. Now about a year after Chen started restructuring efforts, we're getting a new smartphone, the first since Heins' fiasco in early 2013 (is Alicia Keys still using her BB… did she ever use a BB except when praising it on stage?). And, we're getting a single device. Just one. No confusing array of choices. That's good for a stripped down operating team and that's good for a customer that wants simplicity.
Niche or Bust?
BlackBerry's glory days are in the rearview mirror. It's completely unrealistic to think this battered, now re-tooled company has a remote chance, at least in the next 5-10 years, of stealing away share from Google or Apple. That's just common sense. I also suspect it's not part of the plan. Pragmatists will understand though that a viable, healthy business can be built (or rebooted) around high margin enterprise buyers who value security, messaging, and honest-to-goodness keyboards on their phones. The core idea on the streets of Waterloo should be all about this niche; embrace it, understand it to pieces, and then never lose sight of its needs.
Tomorrow we learn if the company is ready for that new mission.