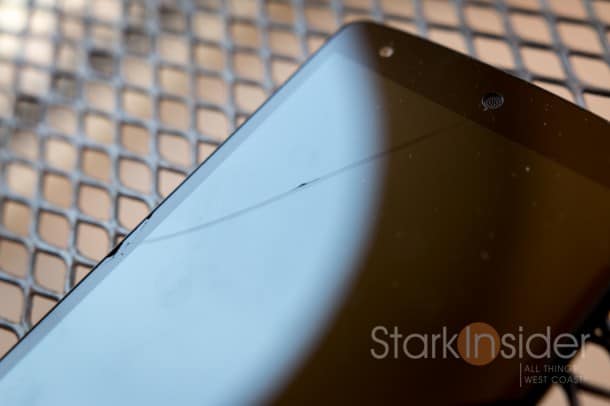 Yes, I can confirm that, in my case at least, Google did replace my Nexus 5 with hairline screen fracture under warranty.
I noticed a hairline fracture a few months ago– it was an odd thing as I keep the phone in a case, and am ever so delicate with the thing so I can flip it when the follow-up model arrives (let's hope it's made by Motorola… or Sony even?). I suspected at the time that the issue was related to a design flaw. Maybe. Maybe not. But it seems like there are a lot of people out there with cracked/fractured/defective screen on their Nexus 5 phone.
I first tried chat. But was ultimately told to call:
Hi! You have questions, Taylor L. has answers! At the end, we'll link you to a survey to get your feedback. Happy chatting!
This chat is no longer off the record

---

Hi Clinton! Thanks for waiting and for getting in touch with Google. My name is Taylor.

---

---

Hello! I'll be happy to provide you with any information about our warranty that I can for you today.

---

---

Thank you so much. Do you have any idea how this crack formed on your screen?

---

No it's very unusual as I use a case, and have not had any issues with previous Nexus devices or dropped it. It's very tiny, almost unoticeable – it runs on top left of screen diagonal from edge to edge.

It distorts the screen slightly, but phone still works.

---

I see. Thank you for letting me know. At this time, our 1-year limited warranty doesn't cover any damage to the screen for any devices purchased on Google Play.

---

I've been reading widespread reports yesterday that Google is allowing exchanges for Nexus 5. I suspect the phone has design flaw. Many others are experiencing same issue.

Many have theirs replaced. Not sure why not allowed – been longstanding Google customer. Never had screen issue before or tried to exchange before.

---

I definitely understand your concern with this, and although you may have been reading this online, unless any changes has been stated by Google on either Google Play or our Google Support pages, our 1-year limited warranty remains the same. If you'd like though, I'd still be more than happy to look into your warranty status for you.

Can you provide me with the IMEI number of your Nexus 5?

To find the IMEI number of your device, look on the original box you received the device in, or look in Settings > About phone > Status > IMEI. It is 15 numeric characters and starts with '35,' sometimes with '035'.

---

Yes one sec…

xxxxxxxxxxxxxxx

---

Thank you so much!

Do you mind waiting a minute or two while I look into this for you?

---

---

Thank you again for waiting, Clinton!

To help you in the best way possible with your Nexus 5, it's best if you call us to speak to a support rep who can present some different options available to you. You can reach us at 

(855) 836-3987

.

Are you still there, Clinton?

---

Yes

Ok I will call that number

---

Sounds great! Thank you again for being so patient and understanding with this. I really appreciate it.

Anything else I can help you with while chatting, Clinton?

---

---

No problem! Thanks again for contacting Google. It was a pleasure chatting with you. Have a great rest of your day!

---

Thank you for contacting Google Play chat support. Your chat session is now complete.

Taylor L. left group chat.
chatsupport left group chat.
Note that the first response is to reject warranty claims related to screen damage. Others are reporting varying degrees of success (also on Reddit), so this may appear to be at the whim of the customer service agent. TechCrunch are indicating that this is legit and Google will replace Nexus 5s that have broken screens (though there's that word "probably" in their headline), and that even a Google spokesperson confirmed the policy (U.S. only at this point).
So I politely pressed a bit–I've been a long-time Google Play/Nexus customer–and that seemed to help.
I should note I've been having all sorts of problems recently with my Nexus 5. It's sluggish, randomly jerky. Worst of all, the GPS randomly drops (I've had this issue on the Nexus 4 too). If I'm using Google Maps and heading up 101 to San Francisco it's not uncommon for the nav to all of a sudden tell me to exit at Univesity Ave in Palo Alto – only for it to re-calibrate and once again correctly keep me headed north on 101. In many situations I need to rely on my wife with her iPhone to get us on track in unknown parts. If you have similar issues I'd suggest you lead with that before the screen problem. Might make warranty claim easier.
If you're in similar situation, do this:
1. Ensure you're under 1 year warranty.
2. Call Google Play Support at (855) 836-3987.
3. Tell them the screen is cracked from defect (at least that's what happened with mine).
4. They will likely have you do troubleshooting tests (I told them I already did factory reset, etc.).
5. They will email you with RMA instructions – that will contain special 24-hour link that will take you to an order screen where you can order a refurbished replacement
The fact that so many are successfully getting replacements with broken screens for the Nexus 5 perhaps suggests that, yes, LG did not make the most robust product. All in all Google's customer service has come a long way since the early days. There was a time it was impossible to connect with anyone. As Google became more successful with Android, circa 1999/1999, things began to improve. While not quite Amazonian, it's getting much more pleasant, and buying a product through Google Play is no longer something to think twice about.
I like the Nexus 5 overall, but it's a rather fragile thing. Compare it to something like the HTC One (or iPhone) and you'll immediately see the difference in build quality. That's why I can only hope another manufacturer comes on board to build the Nexus 6 – I'd love for it to be Sony or HTC, but I suspect it will end up being Motorola. That too would be all good in my books.