Meow Meow's new cabaret show at the Berkeley Rep is so different she almost defies explanation. She's not one-of-a-kind in the way Cirque du Soliel is one-of-a-kind, but you start heading down that road, if you follow me.
At the outset, the lines between Meow Meow and Liza Minnelli (either in or out of "Caberet") are obvious. However, the version of Minnelli that informs this performance seems distorted by a drug so strange that you might well be in an alternate universe.
This avant-avant garde performance repeatedly exposes her vulnerabilities in ways that make you want to scream "Stop!"
Alternatively, the lines connecting Meow Meow could go straight to a louche Christopher Isherwood in Berlin, bypassing Minnelli altogether. However, once again, that's alternative universe stuff.
Meow Meow brings a bit of the surreal self consciousness of Cindy Sherman, with its 'round-the-edge creepiness. However, she lacks the fleshy disembodiment of Sherman's subjects. Meow Meow's creepiness is more genuine, more enthusiastic.
Lastly, there's just a soupçon of Mitzy Gaynor gaming off a child's desperate need to be liked that's built into the entire 16 song performance.
Ms. Meow Meow claims to be post- post-modern – which brings you back to "alternate universe" and the "unimaginable drugs," if you think too hard about it. However, if this is truly post-post modern, then perhaps the end of the world  with it's warm up on talk TV won't be such a drag. Who knows? It could even be divine if there's good cabaret. And those notions bring you smack back to Liza Minnelli. However, crossovers don't end there.
MORE STARK INSIDER: Mill Valley Film Festival 37 – Stark Insider Preview
For starters, Meow Meow sings "Let's Never Stop Falling in Love," penned by the Thomas M. Lauderdale and China Forbes. Don't think for a minute that she'll give you any of that Je ne veux pas dejeuner stuff. Her European sense is edgier, more German expressionist – with a German Expressionist take on Itsy Bitsy Teeny Weeny Yellow Polka Dot Bikini. Audience singing included. A five man band conducted by Lance Horne performs from the corners of the state
Even her two ne plus ultra hunky dancers bring their own linages. Michael Balderrama has choreographed or performed with everyone from Bruno Mars to Mariah Carey, with Michael Jackson thrown in. His powerfully executed moves look concise and clear even in the remote peanut gallery. Equally powerful is dancer Bob Gaynor, who recently appeared in the "Sound of Music Live" with Carrie Underwood, and has a long list of other Broadway and film credits to his name, including Elton John's "Aida."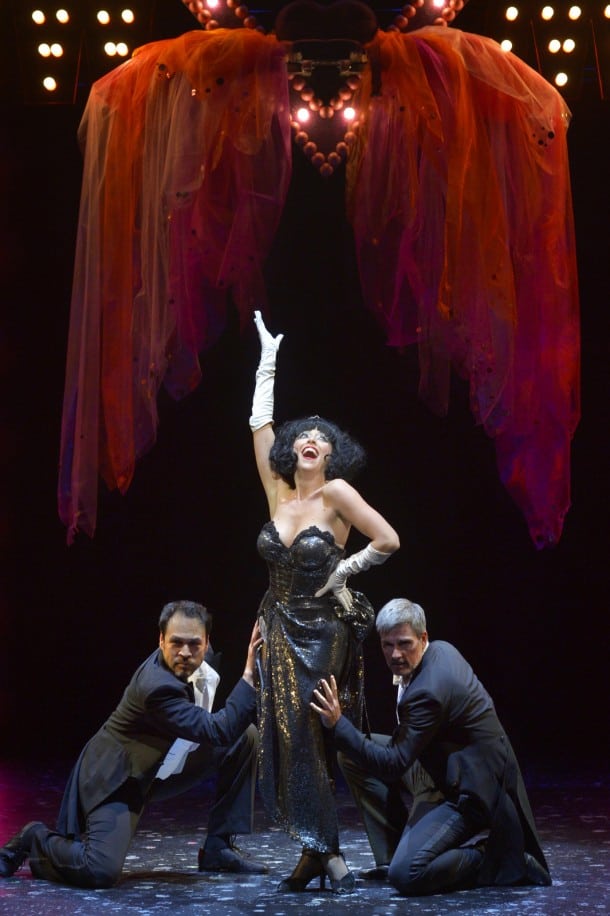 Still other connections can be traced from the famed hijinks of Kneehigh Theatre's (whose Wild Bride and Tristan & Yseult were recently at the Berkeley Rep) to Meow Meow's distorted humor. Joint artistic director of Kneehigh Theatre Emma Rice is also Meow Meow's adaptor and director.
Don't think for a minute all that cross-fertilization makes for anything that feels derivative. Again and again throughout the night, Meow Meow takes an idea and pushes it so past any boundary, you wonder whether it will ever return, or whether it will just twinkle back at you from the remote reaches of space. At the outset, she reminds you "we can choose to forget." You will (as she reminds you) be part of the "avant-avant garde."
CY ASHLEY WEBB ON THE ARTS: Rigoletto – Opera San Jose delivers another classic
This avantgarde performance repeatedly exposes her vulnerabilities in ways that make you want to scream "Stop!" For starters, she brings the audience on boundary-piercing acts stage vaguely reminiscent of Yoko Ono's work with Fluxus and John Cage. The direction of this merger doesn't go in one direction as she later body surfs into remote reaches of the audience. You want to say "Listen to your mother. That's not good for you. Nobody wants to see your scantily-clad body injured." This isn't being a high wire performer. High wire risks are localized to a small number of very knowable factors. In Meow Meow's act, the risks are a huge number of unknowable factors. While there may be a few handlers in the audience, (or so I imagined the big guy who boomed authoritatively "send her here"), there's an awful lot of randomness.
In an alternative universe, the bare plot involves a show that falls apart. But then, we're reminded our worlds fall apart every day. Entropy happens. The length we go to fiercely reconstruct what was lost, and protect what remains are one measure of the value of our lives and our connectedness to each other. It's that kind of intensity that Meow Meow brings to the stage. With sequins, tails, and tights. Bikini extra. Swinging from the rafters not optional.
Meow Meow is at the Berkeley Rep through October 19th.