A bit of an eye opener came across my Twitter stream (ironically enough, more on that in a sec) this morning. It was a chart via Mashable ranking the sites responsible for the most mobile traffic in North America (for March 2014).
YouTube was on top, accounting for just over 17% of all web traffic (wow).
Facebook was next, driving 14%.
That was followed by web protocols HTTP, MPEG and SSL. I suspect these are related to users surfing on mobile devices using browsers such as Chrome and Safari.
Rounding out the top 10 in order were Google Play (interesting), Pandora, Netflix, Instagram, and iTunes. Chart here: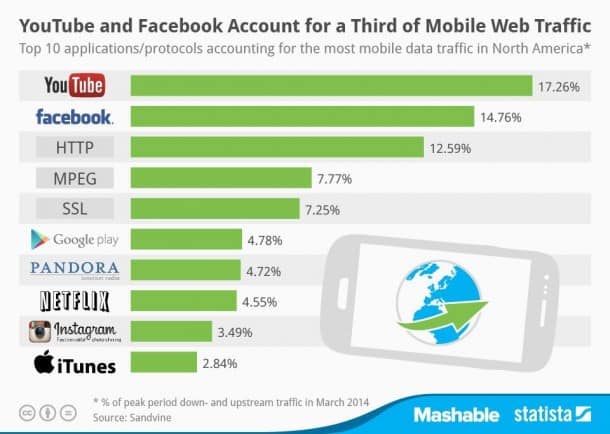 Granted, the results weren't a complete surprise. We know mobile apps are where it's at these days. But the sheer domination by the top two players–YouTube and Facebook–is astounding. Combined, the two platforms account for about a third (32%) of all mobile traffic. Seems like we like watching videos on the train, and then like sharing them (along with a few selfies) with friends on Facebook.
The YouTube metric could be slightly misleading, however. Keep in mind video traffic, especially when streamed at higher rates such as 1080p (and now even 4K for certain publishers), can drive the number of bits sent through servers. That could be true partially of Facebook too which has its fair share of video and photo updates.
That might help explain why Twitter, the very source that I read about this stat originally, doesn't rank. Twitter, of course, is primarily about text. 140 characters. Unlike high bit rate videos, that requires a lot less heavy lifting in terms of bits and bytes. Also, there's the fact that the user bases of both YouTube and Facebook far surpass that of Twitter. Something to keep in mind if you're looking to build your social communities for a business, web site, or product.
[YouTube, Facebook Account for Nearly a Third of Mobile Traffic]