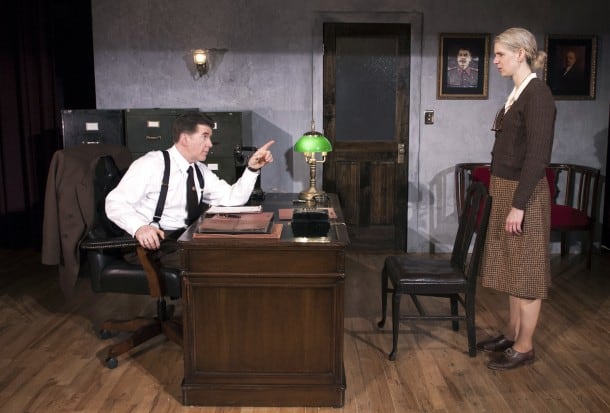 You'll be slightly perplexed when you walk into Harry's Upstage at the Aurora Theatre because the tiny stage is sealed off behind a pair of old-fashioned blinds. Relief comes when the houselights dim and the blinds open to reveal some Soviet functionary's office, with pictures of Stalin and Lenin looking back out at you. Welcome to the world of The Letters, a play by John W. Lowell, starring ­­­­­Beth Wilmurt and Michael Ray Wisely.
Lowell explains that "the Monica Lewinsky scandal was unfolding just as I was reading a biography of Tchaikovsky in which the author asserted that the Soviets had employed editors to remove any hint of Tchaikovsky's homosexuality from the man's letters and papers." The combination of these events fueled Lowell's desire to write a play, which "came to be about the interests of the state vs. the interests of those who wanted to keep the record straight, so to speak."
Immediately after the blinds open, we hear Anna's slow, deliberate footfall around the office. Looking like a nervously  mousy librarian, she's an  underling editor, who has been called in for a dressing down. However, her nervous struggle to be correct doesn't mask her keen intelligence. She walks around the office, ill at ease and trying to find clues as to why she's been called there.
Her superior, an apparatchik known only as "Director" enters, vaguely handsome in a Donald Trump dunderhead kind of way. He tells Anna she's being promoted; however, if this is the entire agenda, the meeting lasts way too long. Who's the player and who's the played becomes the subject of this short  drama.
MORE STARK INSIDER: Wrong's What I Do Best (Video)
Connecting actor Michael Ray Wisely with his previous performance as Schmitz in The Arsonists  (also at the Aurora)  is almost impossible, so different are the two characters. Wisely unwraps the Director's motivations at a pace as measured as Anna's footfall in the opening minutes. Director's glibly chatty demeanor belies his true intention of feeding her just enough conversational leads to hang herself.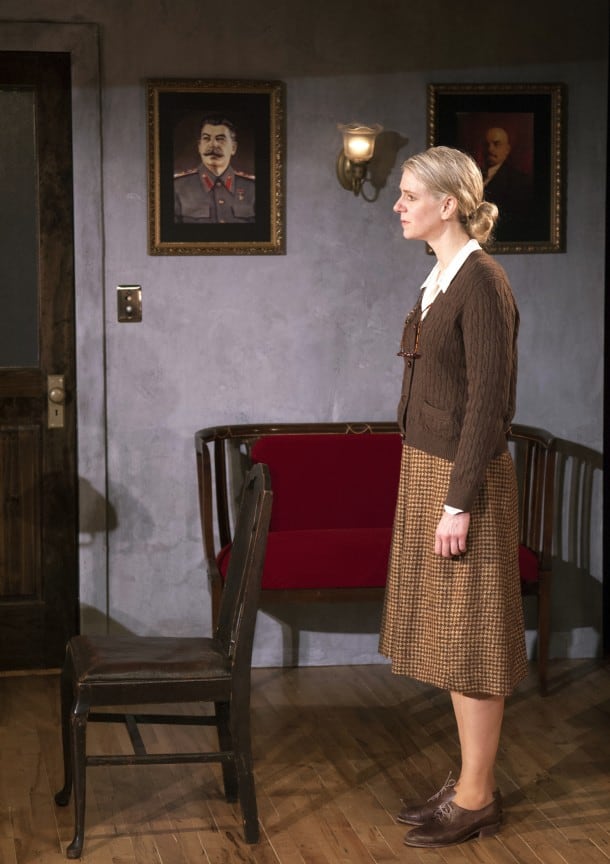 Looking at what appears on stage, this play is very good. However, the portrayal of the Stalinist era, excellent though it was, was not supposed to be the entire subject of the play. In referring to the Clinton scandal, Lowell tried to draw lines to more contemporary machinations that pit the state against the individual. Unfortunately, the play was less successful in making this leap. If one was inclined to draw a self-satisfied "that couldn't happen here" conclusion,  nothing in this material suggests the contrary. However, what remains is a sturdy cat and mouse thriller that is no less entertaining for this failing. The play is a psychic tease, with the improbable ending entirely unexpected and satisfying.
This run has been extended to June 1, when the blinds in this Soviet office, will open one last time.