Google's most recent version of Android, 4.4 KitKat, is slowly, but surely, seeing wider adoption. According to the company's latest dashboard, the KitKat platform now powers 8.5% of Android devices.
While an improvement, adoption still trails that of the most widely used version, Jelly Bean (60%), and even the three-year-old Ice Cream Sandwich platform (13%).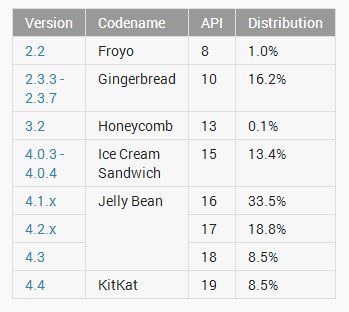 As it typically does when updating operating system share numbers, Google collected data over a 7-day period, in this case ending on May 1, 2014. It measures the number of devices "actively" visiting the Play Store. Google says it believes "this measurement best reflects your [Android developers] potential user-base."
For those keeping score, at just 0.1% share, Honeycomb is the worst adopted Android version of all time – much of that has to do with the fact that version 3.2 was designed only for (the then new) Android 10-inch tablets.
The data continues to demonstrate a key difference in approach between Google and Apple.
Google's open platform results in many different versions of its operating system; official versions released by itself, and also those alternative versions created by other companies, and developers. Cynaogenmod, the well-known ROM, is a leading example of a custom version or "fork" of the Android operating system. Google has famously opted for an open source model, which means anyone can license Android for no charge. That has resulted in wide adoption. Unlike Microsoft, which levied heavy licensing fees for its Windows platform–most notably in the 80s and 90s–Google's strategy is to get the Android platform into as many devices as possible. This seeding strategy of sorts has bode well for market share – Android is now the dominant platform across mobile devices including tablets, smartphones, and, possibly soon, with "Android Wear" even wearables.
But the resulting flavors (literally) of Android has created the so-called "fragmentation" problem. That is, developers have to test their apps and code against several incarnations of the OS. This adds cost and time to development cycles. Further some argue that it also creates consumer confusion. Others, though, counter, buyers ultimately don't care what operating system version a device runs, merely that it does what it needs to do.
Apple, on the other owns the whole enchilada. It has opted for vertical integration. From the operating system through to hardware, and ultimate distribution (Apple Store, or Apple web site), it owns the entire experience. You can only buy a new iPhone from Apple. There are no open license agreements in play. The tighter control results in a few key differences from that of Google:
— Higher cost products
— Higher margins
— More cohesive design and user experience
— Only one choice of iOS vendor for tablets and smartphones: Apple (compared to Google: Samsung, HTC, Sony, LG, et. al.)
— And–importantly within the context of KitKat's trailing adoption numbers–more devices running the latest version of Apple iOS
On that last point, many argue that because Apple has much more control over pushing out software updates to iPhones and iPads, developers can be more confident that their software will run on various IOS-powered devices, in comparison to the legions of combinations of Android that need to be tested.
KitKat Key to Services-Based Android
Meantime, watching KitKat's growth will be interesting. First and foremost, this version has the omnipresent Google Now predictive service built-in (on KitKat-powered phones such as the Nexus 5 it can be accessed by swiping right from the home screen). And if all roads lead to Rome, then all searches lead to Google ads. So the more places that Google Now can be seeded the better – voice activated search and the card-based results are just one more way to improve targeting algorithms and increase advertising effectiveness. Devices running pre-4.4 versions of Android, though, can't be culled as effectively by Google, hence the importance of getting the new stuff into as many hands as possible.
KitKat should see swifter upticks in growth over the coming quarters. New handsets such as the HTC One (2014), and Samsung Galaxy S5 ship with KitKat (albeit modified versions). As consumers upgrade their phones, they will by default also be upgrading to the most recent version of Android.