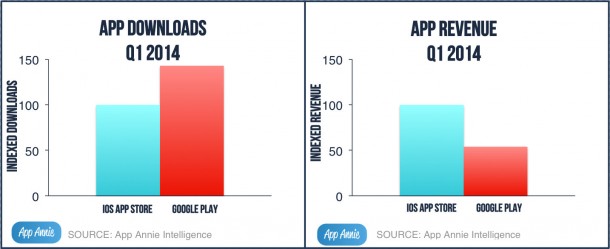 What kind of lead does Google have over Apple when it comes to app downloads?
Try 45%.
In the first quarter of this year, mobile users downloaded 45% more apps from the Google Play Store than they did from the iOS App Store.
A new report released today reveals that games continue to be the most popular category of downloads with messaging apps such as WhatsApp (Facebook), Viber (Rakuten) and Tango making "substantial waves" in Q1 2014.
Emerging markets such as Mexico and Turkey, in addition to ones already on the rise such as Russia and Brazil, are apparently helping fuel a lot of Android's growth. Meanwhile China was key for Apple's iOS App store growth. In many of these markets smartphone adoption is still increasing, unlike the saturation we're now seeing in North America.
Still, when it comes to generating money Apple is tops.
Looking at the revenue, the picture is almost an exact reverse of the download data. There Apple almost doubles Google, generating 85% more top line. Last year Apple booked $10 billion in app store revenue, so we know the stakes are high, as the world continues to increasingly go mobile.
The data reinforces recent strategies by Apple–the low cost iPhone 5c for example–to attack global growth opportunities with lower priced products. In many markets "feature phones" are still ripe for the picking. A platform war starts at the bottom. Lock in a customer early and the chances of retaining them through several upgrade cycles is much higher.
Domestically, it's all about wearables.
No doubt, we will see faster, better smartphones in the US and Canada. For the most part, though, that's not net-new. We're all just riding the upgrade train now. Growth is elsewhere. Now the game is: more devices in more places. In our cars (Apple CarPlay, Google Projected Mode). On our wrists (Pebble and the upcoming Moto 360). On our faces (Google Glass). That too will mean more apps. And more opportunity not only for Google and Apple, but also for developers savvy enough to get ahead of the curve and build apps for the next generation of mobile.
[App Annie Index – Market Q1 2014: Revenue Soars in the United States and China]