Jeff Bridges brought the music. And Napa brought the wine. Last evening at the Lincoln Theater on a rainy evening in Napa Valley both were in ample supply, as a concert featuring the actor-singer opened the inaugural CabFestNV.
Bridges told Stark Insider that there was much in common between acting and performing live on stage. The actor starred as a dysfunctional country singer in the 2009 film Crazy Heart. But his passion for music continued well after the credits rolled. Two albums later (Be Here Soon and Jeff Bridges) he now finds himself touring and performing across the country with his band The Abiders.
And let's address this right up front. Does the Dude get the Dude when performing?
The answer is a resounding: Dude, Duuuuude, and Dude!
I was actually surprised–and quite entertained–to discover that his fans are a fairly boisterous lot, and none to shy about worshiping The Dude at every possible opportunity (mostly between songs).
Bridges' daughter Jessie opened the show, performing mostly originals. Jamming with local musicians in Vancouver while her father was shooting a film led her to eventually record an entire debut album.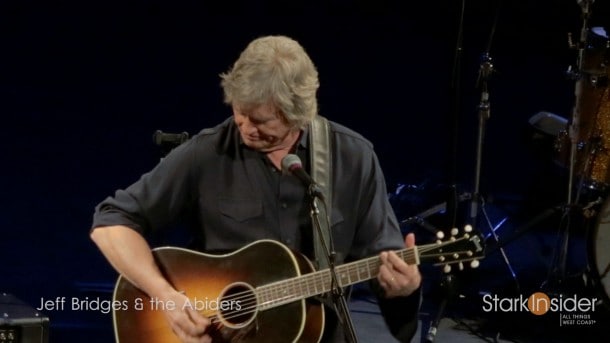 And like last weekend at the Premiere Napa Valley barrel tasting, there was plenty of top notch Cabernet Sauvignon wine being poured including Chimney Rock, Clos du Val, Cornerstone Cellars, Ehlers, Freemark, Hendry, Hope & Grace, 5111, McKenzie-Mueller, Peju, Sequoia, Hess, Mt. Brave, and Pine Ridge Vineyards.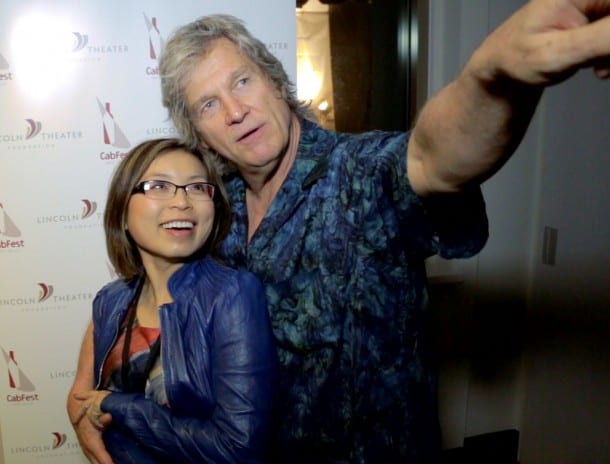 At the intimate, relaxed afterparty Jeff Bridges mingled with fans, signed autographs (including one of his recent GQ cover shoot), and checked out some of the cigars (the aroma was wafting into the Napa night) and wine on offer.
Today, and then on Sunday CabFestNV shifts its focus onto the King of Grapes: Cabernet Sauvignon. Tastings, panels, information sessions fill the schedule. Wine Bible author Karen MacNeill keynotes.
More to come here on Stark Insider including the full interview and additional concert footage. For now I'll leave you with these outtakes we shot at the Lincoln Theater. As an aside, Dude is tall. And I was quite surprised that in person he's absolutely nothing like his character in True Grit (2010). Ever the gentle giant, he charmed everyone and anything within his path on this evening. I'm happy to report that neither Loni Stark nor I were killed during the making of this video.