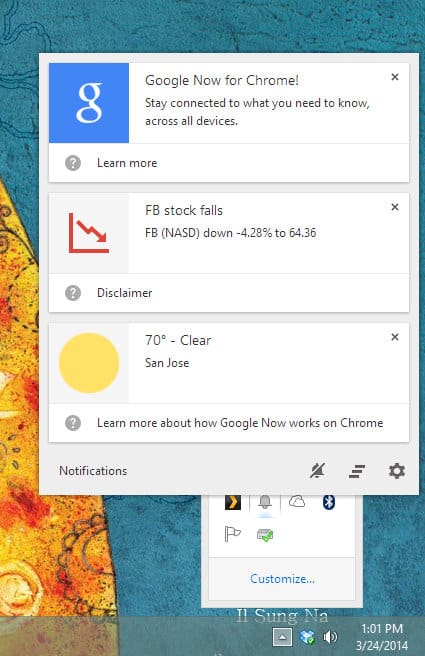 Google Now continues to be a linchpin in Google's strategy. First it appeared on Android. Next it started to appear on Google search results (stock prices, navigation, weather, sports scores, ec.). Then, just last week, we saw it pop up on Android Wear, Google's new platform for wearables. Now, it's being used to further the company's assault on the desktop.
Starting today, Google is rolling out Google Now cards for desktops (and laptops) – so long as you are running the Chrome browser.
Cards will include many of the ones we've been seeing on our Android phones: weather, sports scores, commute traffic and events, among others.
As has always been the case, the service is based on the location of your smartphone. I don't expect that to be a big deal when using Google Now on the desktop, as most of us will typically have our phone nearby.
Notifications appear on the lower right (in Windows) under a bell icon, similar, but not to be confused by the larger bell icon used in the top right of Google-based screens to indicate Google+ notifications (see lead photo for example of Google Now alerts in Windows). There you can also mute notifications, clear them all, and access settings which allows you to select which apps/services can publish notifications.
Google says it is rolling out the new feature to users over the coming weeks. If you want it now, however, all you need to do is this:
— type "chrome://flags" into the Chrome address bar

— look for "Google Now" in the list and select "enabled"
It will be interesting to see how Microsoft and Apple respond, if at all. Google dominates mobile. But it still needs an inroad to the desktop and laptop markets where most users run either Apple's OS X or Microsoft's Windows operating systems. Chromebooks have proved successful, at least for niche markets. For the full-blown desktop space, the Chrome web browser is serving as a key foothold. Google Now takes that one step further by integrating notifications with the core operating system.