It never rains in California. Right? Right?! Right. After an extremely dry winter here in Northern California, the skies have opened up.
We put that  never-rains theory to test over the weekend up in Livermore. A short 30 minute drive from San Jose (and most parts of Silicon Valley, and San Francisco) it's one of our favorite spots for a quick wine getaway. The hidden gem of a wine region was holding its annual barrel tasting weekend. Think of it as a mini-Premiere of sorts. Only this wine event is open to the public. Like Premiere Napa Valley you get to sample wines from straight from the barrel, while making conversation with the winemaker and other oenophiles. Simply: it's a divine, pleasurable experience.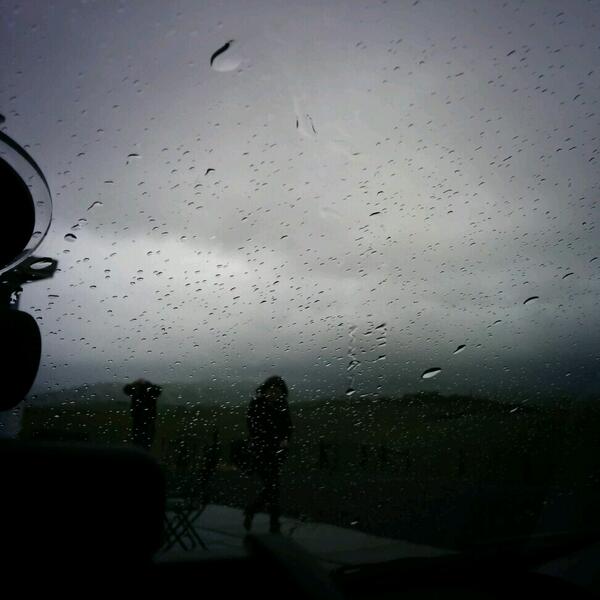 Most in the Bay Area will likely be familiar with Livermore (many will know it for Lawrence Livermore Labs). Those new to the region might be surprised to discover a wine oasis, an easy 60 drive east of its more famous Napa and Sonoma neighbors. Though the Livermore AVA was formerly established in 1982, vineyards have planted here as far back as the 1884.
Two of the biggest names today are Wente (300,000 cases per year) and Concannon (30,000 cases).
A few years back Karl Wente gave Stark Insider his bachelor version tour of Wente, which included strumming guitar on a country home veranda, driving in his truck to various facilities, and, of course, battonage!
In 2011, we were fortunate enough to be at Jim Concannon's 80th birthday dinner. Celebrating that occasion and looking back on 50 years of Petite Sirah, for which the Concannons are particularly known for, was one of my most memorable wine country experiences.
So we were long overdue for a Livermore run. Loni Stark and I decided to head up to the barrel weekend, despite the looming clouds. But first we did some research: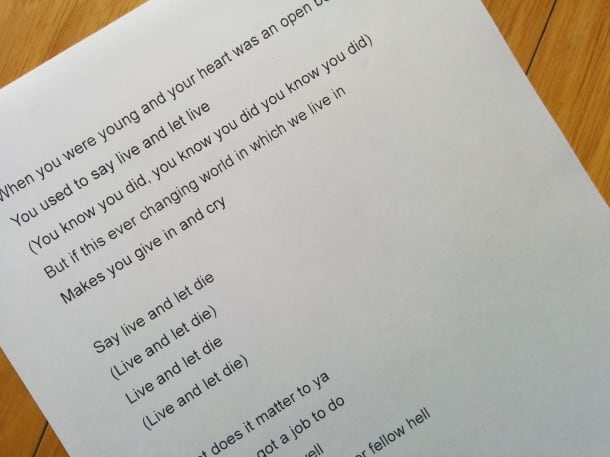 We've all seen beautiful photos of vineyards at sunrise or sunset. Or gloriously sunny vistas of rolling hills. Wine country is picturesque, yes. But, as I discovered again over the weekend, it looks spectacular in the wet too – though it does cause its own challenges when trying to shoot video.
There's about 40 wineries in Livermore. One of the nice things you'll notice is that the roads here are less busy. Fortunately there's no left turn drama (oh, highway 29) as you'll find in Napa. Also, the roads are closer to what you might imagine country roads to look like. White sign posts steer visitors from one cluster of wineries to the next – you almost (almost) don't even need Google Maps: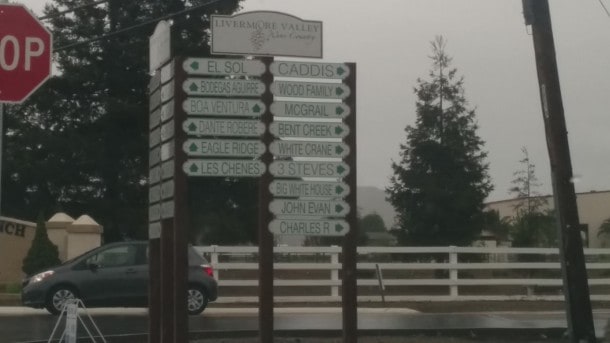 We ended up hitting three wineries: Concannon (the official kick-off spot for the LV barrel tasting), Darcie Kent, and 3 Steves. The latter two were new visits for me.
CONCANNON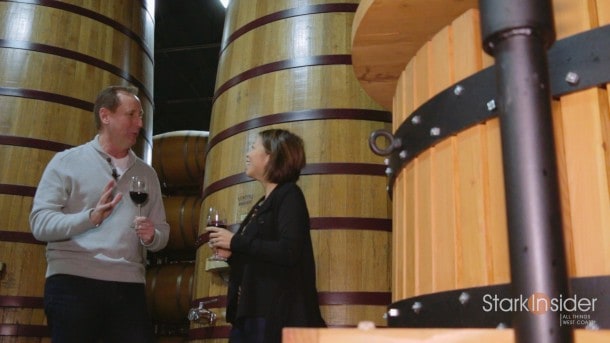 Ever gregarious, John Concannon had a great story for us on Saturday. A few weeks back he hosted a lunch up at the Ritz-Carlton in San Francisco. Dishes were prepped by Chef extraordinaire Michael Rotondo (Parallel 37). Unfortunately I couldn't make it on that day. John tells us that the great Mr. Marriott himself, spry as ever at 90, just happened to be touring his properties on this day. As he came across John, he thanked him for his years of service and hard work… as a Marriott employee! John tells us he thanked him, humbled, but perhaps too flush to correct the hotel magnet, in front of so many others. I wish I could've been there for that great moment. Concannon is a bit of a legendary name too – four generations of winemaking. What a scene!
Anyways, John and his team were pouring a '12 Merlot from the barrel. Often I expect acerbic when tasting young reds before their time. This was not the case. Absolutely smooth, bursting with vanilla, red fruit, and spicy notes on the finish.
DARCIE KENT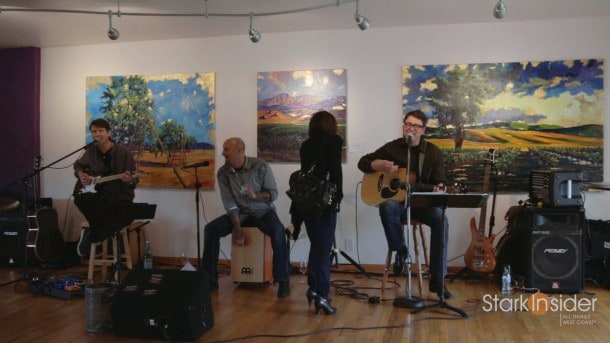 Do you like the color purple?
As soon as you step onto the grounds of this relaxed winery and home, you'll know in a heart beat: proprietor Darcie Kent loves purple. Both her and her husband were wering purple shirts. So were the staff. There were purple lights. Purple things all around. Oh, and paintings feature bold purples (and golds!) adorned the tasting room. Needless to say, labels on her wines also feature lavish purples.
Hungry Like the Wolf.
That was the first thing I heard as I stepped into the tasting room– in a small, charming country home. A funky trio was doing an awesome cover of the Duran Duran classic. As the rain pelted tin roofs, and a food truck rumbled out back, the music, the wine, the conversation… well, it was a pretty darn awesome scene.
As for the paintings, yes, Darcie Kent is not only a winemaker she's also an accomplished artist. Overachiever! Her striking works can be seen in the tasting room. As you can see in the video below, Loni Stark enjoyed checking them out.
3 STEVES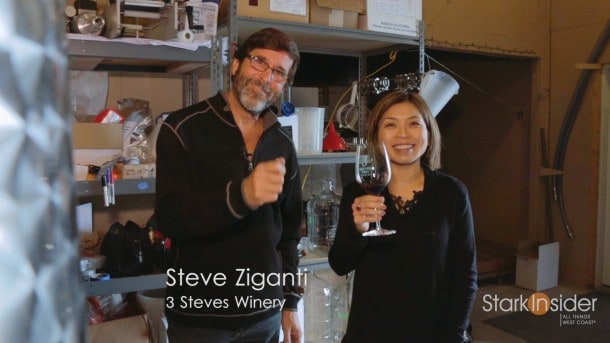 I hadn't heard of this winery before. There's a good reason for that. 3 Steves is new, having just opened last year, and coming up on its first vintage. There's a great story (several in fact) about how the three Steves came up with the idea to start the winery. I'll save that for another time, as we cut together the full edition of the "Livermore Hustle" video which features at least two of the Steves telling us the trials and tribulations of getting a wine operation off the ground.
The Steves were pouring a might tasty port (and I'm not even a port fan) in the barrel room, alongside a Cabernet.
LIVERMORE HUSTLE
We have the full video coming soon of our Livermore tasting experience. For now, here's a bite-sized preview:
Wine Country: Livermore Hustle Preview from Stark Insider on Vimeo.