At the San Francisco Playhouse world premiere of Bauer I was reminded of the power and complexity and magic that is the creative process; genius, its daredevil counterpart, inexplicable, manifesting itself in what would appear to be mere mortals.
When we hear of "tortured souls" surely artist Rudolph Bauer would rise to the top of the list. A 20th-century abstract master, Bauer is widely credited with pioneering the "non-objective" form. His unique, ground-breaking and bold brush strokes took the art world by storm. His works appeared next to Kandinsky, Chagrall and Picasso, among many other greats. Even having been jailed by the Nazis for "subversive art" did not crush his prolific output. Guggenheim called him "the greatest living painter."
Then, Bauer stopped painting.
Why?
Bauer had latched on to my imagination and was tickling my brain.
That mystery is an alluring part of the Playhouse's production. Unravelling its many layers takes the audience on a compelling–occasionally frustrating–and illuminating journey into the mindset of a man that refuses to be caged like an animal. Stubborn, it would seem, is the very definition of living with an artist.
In the production, Rudolph Bauer (Ronald Guttman) is portrayed at times as a gentle giant, a humorist (how on earth, he wonders, can you hang a painting on the curved wall of a Frank Lloyd Wright museum?), and at others an enigma, a curiosity of contradictions, forever challenging loved ones. He sits in his apartment surrounded by unfinished works. From time to time he bangs away at a typewriter, firing off cryptic and manic letters. Regardless, he steadfastly refuses to paint.
Whimsical Rudolf Bauer watercolor "hammock" 1906-1910. Can see influence on video games, art, album covers. pic.twitter.com/zfThEKjrnQ

— Clinton Stark (@clintonstark) March 23, 2014
But if Bauer the painter is defined by his works–gloriously bold cacophonies of geometry, colors–then Bauer the person is ultimately defined by the two woman in his life. Loyal, doting wife (Susi Damilano) is a witting sparring partner, having, it seems, long ago thrown in to the idea that living with a painter would be slightly more obtuse than, say, living with an accountant. Bauer's flamboyant, driven business partner Hilla Rebay (Stacy Ross) is the wild card. Evidently motivated by contracts, she is resolutely determined to get Bauer's art its due notice at the Guggenheim, though seems to be harboring emotional secrets of her own. The love triangle fuels the storyline, igniting revelations, literally lighting up the walls of the staid, white apartment with scorching reds, shimmering blues and sanguine yellows.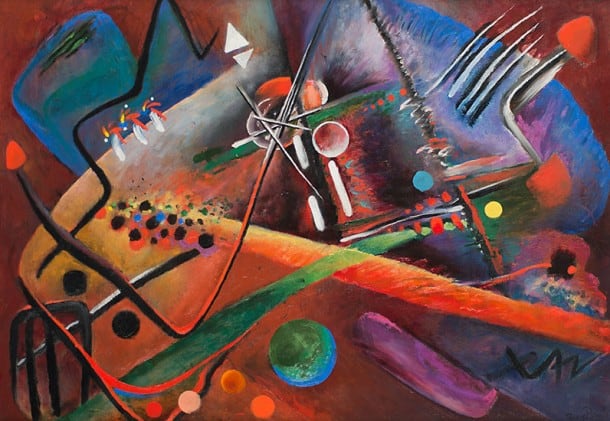 Written by Lauren Gunderson, Bauer is a keen, adult play. Dialog heavy, it dives deep into psyche, the fallibility of the human condition. Is it possible for art and commerce to co-exist without compromise?
Artistic director Bill English noted at the premiere that he was inspired by a Rudolph Bauer documentary that he watched three years ago. That in turn resulted in him commissioning–the extremely busy wunderkind–Gunderson. The result: the first commissioned play to premiere at San Francisco Playhouse.
This is a theater company known for its innovative set design. Bauer is another classic. Angular, soaring, and white- as if someone dipped Architectural Digest into an Escher. There's no set changes. A smart choice. The absence of possible distraction puts relentless focus on the anguished trio. Expansive projections bathe the set from time to time as we revisit Bauer's past works in magnificent, big-screen fashion. The modern, yet mostly austere presentation reminds me of Berkeley Rep, a theater known for superlative lighting, costumes and sets.
ALSO FROM STARK INSIDER: Bug Out! Actors spotted backstage at San Jose Rep eating crickets! (VIDEO)
Acting, though, is ultimately what makes or breaks this production. Fortunately it's a success, accents and all.
As Rudolph Bauer, Ronald Guttman is stoic, charismatic. When he rails against the capitalist system that threatens artistic merit, he comes across more as convivial storyteller, and less as perpetual whiner.
Susi Damilano establishes the perfect note as the headstrong wife in search of closure – far from an overly-domestic portrayal that might otherwise cause the whole shebang to collapse.
And Stacy Ross, a Bay Area favorite, once again brings thunder, chutzpah as the firecracker Hilda. There's something about the way she delivers a line, that makes each word crackle.
If there's a critique of this new play, it's would likely come from the middle section. Occasionally there's repetition in the eternal effort to get Bauer to paint again. Essentially: Paint! No. Paint! No. Paint! Why not?!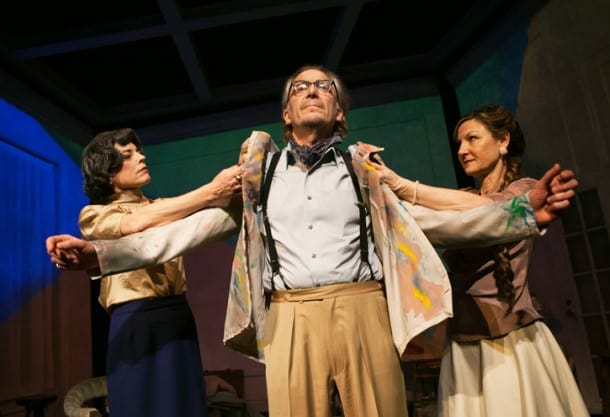 Later, as I headed down Powell and then across Union Square on a brisk evening, I couldn't erase the images from the final moments of Bauer. It had latched on to my imagination and was tickling my brain. The creative process is a magical thing alright. When I arrived home I immediately went to Wikipedia and to Google. The story of Rudolph Bauer was new to me. I looked up the documentary that inspired the play. Then I sat down with a glass of Chardonnay and relished every one of the 56-pages from "The Realm of the Spirit," a wonderful, pocket-sized history of the artist (from Weinstein Gallery). Pouring over his colorful works I could see the impact it had on generations of work, from album covers and murals to art design in film and even video games. Bill English asks, "Can the act to 'not paint' become an artistic statement in its own right?" San Francisco Playhouse has an answer. That would be a resounding yes.