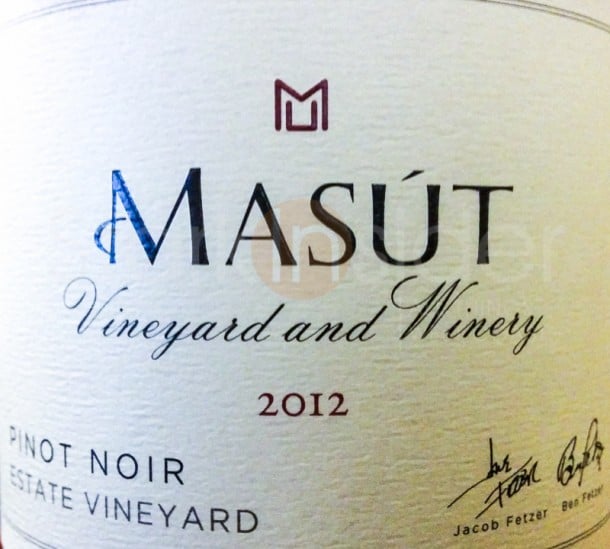 Mendocino continues to be the land of the hidden gems.
Another great example: This medium-bodied, earthy '12 Pinot from Masút. While I'm far more versed in the wineries of Napa, Sonoma, Santa Cruz and Livermore, I'm continually impressed (blown away really) with the bang for the buck and quality found  in this often underappreciated AVA.
Located north of its famous peers Napa and Sonoma, Mendocino County currently counts a total of six sub-AVAs. In other words, there's a lot of interesting and diverse wine country to be explored in the region. Speaking of diversity, if you do tour the area on your next jaunt you'll find a wide range of grape varieties being harvested here: Cab Franc, Cab Sauvignon, Barbera, Malbec, Grenache, Chardonnay, Petite Sirah, Viognier and Zinfandel, among several others. Crush represents only about 2% of California's total, but I'd suggest it's that smaller volume that truly gives the region its character.
About this Pinot then. It's my first go with a Masút, and I hope it's not my last. If you ever wondered what it would be like to drink the earth (as ridiculous as that might sound) this is what you might expect it to taste like. Pinot usually has that barnyard, earthy thing going on – and this one is no exception. At their worst, Pinots often have a sweet, candy-like finish. Frankly, it's horrific. Imagine dipping candy floss into a your favorite Sauvignon Blanc and you'll get a fairly scary approximation. Fortunately, none of that here.
ALSO SEE: Bob "Prince of Pinot" Cabral departs, record harvest, my wine cellar project
The Fetzer brothers, self-described "independent thinkers," converted an old barn, and now make wine on a hilltop where they take pride in getting dirty in the process (hey, it's agriculture after all!). Their lush flagship Pinot reveals that whatever they're doing–"our clothes are covered in grape juice"–it's working quite well. Gem, definitely.
2011 Masut Vineyard Pinot Noir

Clones: Dijon 113, 115 and 777

2,450 cases

93 points, $40
MORE Mendocino Wines You Might Enjoy:
La Follette Chardonnay, Mendocino Ridge ($48, 94 pts.)
Parducci True Grit Petite Sirah, Mendocino 2005: Cowboy boots not included