Jared Leto has a message for the music industry:
You suck.
But…
I still love you anyways.
That's the gist of the actor/director/musician/chameleon's documentary Artifact. The 105-minute fast-paced film, which won a People's Choice award at TIFF, chronicles the band 30 Seconds to Mars and its battle to overcome a $30 million lawsuit filed by its record label. It's as much about the inner workings of the music business, as it is an interesting all-access pass to the band's song-writing process, and garage-based rehearsals.
"What is the new business model!?" asks Leto during a meeting with his lawyers. Early on in the doc, he's repeatedly confounded by the lawsuit filed against the band and the modern-day machinations of the broken thing known as the music industry. 30 million dollars! Director Bartholomew Cubbins (uh, Jared Leto) milks the David-Goliath angle for all it's worth. There's no shortage of shots of the band members in various states of introspection. Standing on a hill above Hollywood. Looking melancholy in the studio. Driving somewhere in a state of disbelief (wearing a designer scarf). 30 million dollars! (It does put San Francisco parking rates in perspective; 30 dollars!) You get the sense that inside they're thinking that this is absolutely the best publicity anyone could ever ask for. Just remember: when you take a call from your attorney, be sure it's dusk, while you're (ideally) standing dramatically on a rock, like a God, and–this is key–the bokeh is oh-so-perfect.
So what is a three-member band to do (Jared Leto vocals, his brother Shannon on drums, and the formidable Tomo Miličević on guitar and keyboards) when fighting against the man? Leto's strategy to navigate the situation appears to be:
Let's rock!
And rock he and his band do. As the band precedes to lay down tracks on its aptly titled album "This is War" we witness, up-front and personal, discussions about songwriting and the band's predicament. Many of the film's best parts are the visceral performances. 30 Seconds to Mars fans (and there appears to be a lot of them) will eat this up, and, likely, have already watched the film three or four times. Highly skeptical, I must admit, the band's music grew on me, fast. And soon enough I found myself humming their hit Closer to the Edge. "No! No! No! … No, I'm not saying I'm sorry…." Evidently, my wife prefers the official version.
I haven't heard of a label that doesn't screw an artist." – Bob Lefsetz, Music Industry writer. "That's the business model.
Unlike so many celebrity-fronted bands, 30 Seconds to Mars is the real deal. And I regret not informing our Stark Insider host Loni Stark properly when we met Jared Leto–in full-on Jesus mode–at the screening of Dallas Buyer's Club at the Mill Valley Film Festival. "Isn't he a singer in a band?" she had asked me the day before. I just chuckled and shrugged it off, telling her that every actor (and waiter in LA) is a rock star. I knew Leto best from landmark films such as Fight Club (1999) and Requiem for a Dream (2000). Fortunately my ignorance wouldn't cost me too much; ultimately he was at the festival to talk up his new film.
"There's no road that you can do down where the artist isn't fucked."
This is about music though. Smartly, Leto educates the viewer as much as he entertains them. If I didn't know any better I'd accuse him of wrapping a Music Industry 101 class in a glossy, often charming, sometimes ridiculous wrapper. At one point a slick animation explains the workings of the industry – and how difficult it is, after all the costs and management fees are calculated, for an artist to make any money. In fact, any debt accrued selling an album is typically carried forward, he explains.
Story-telling is a forte of Leto's, who's been on the PR warpath for months now. One of his stump favorites is the overcoming-the-odds montage which begins like this:
"We kind of climbed out of the muddy banks of the Mississippi River with food stamps in one hand and our instruments in the other."
On a recent appearance on NPR with (the wonderful) Terry Gross he shadowboxed. His wry coyness can be tricky to decode. He appears to have a bit of that performance art DNA found in creative people; though, thankfully it's far from the extremes found in the apparently difficult-to-work-with Shia LaBeouf. So when he talked about growing up in a circus family, it was hard to know where the truth ended (if at all) and the story-telling began.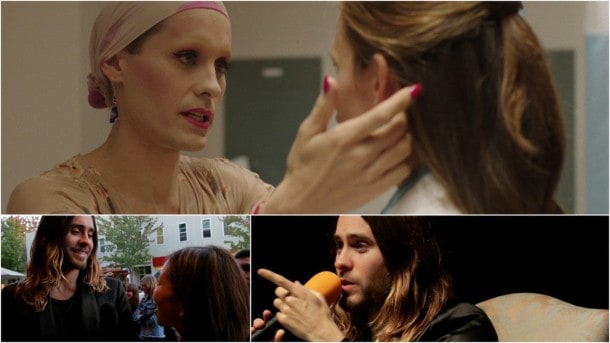 In Artifact, Leto relies on a parade of thoughtful talking heads to fill in the blanks. Musicians as united artists is clearly a theme and so we hear from members of Linkin Park and Incubus among several others. Unlike many documentaries, there's a positive undercurrent. Yes, there's anger – it manifests itself effectively during the creative process. There's also an intelligent layer of hope that doesn't cloy. Hey, it's hard not to like these guys.
One thing that caught me off guard while researching Leto's back-story–aside from the fact that he still uses a BlackBerry– is his age. This is the young guy, that young actor, right? Not really, that was fifteen years ago. Leto is 42. It's amazing to consider, especially in light of the creative vortex he's unleashed on the (largely) unsuspecting masses. Here's a multi-talented enigma in the prime of his career(s). Confidence is apparently not in short supply. Fear? What's that!? And this weekend he will shift his chameleon self into movie star mode. On Sunday we'll find out if he'll take home an Oscar for his performance in Dallas Buyers Club. He should. It was a defining role. An earth-shattering performance (in an otherwise decent film). Many will still know Jared Leto as an actor. But they would do well to seek out this documentary–like I did–and get to know the musician and creative demon.

Artifact 
4.5 out of 5 stars
Update: BBC Worldwide announced it has acquired the global television rights (excluding the U.S.) for Artifact.