If you're a fan of well-made, spec-laden, Android-powered kit then no doubt you're a fan of the flagship HTC One. Many call it the best phone of 2013 – on any operating system. Samsung with its Galaxy S4 would probably have something to say about that. Regardless, both flagship smartphones, the One and S4, are set for refreshes very soon. For the S5, likely next week at MWC in Barcelona. And for the One likely on March 25th when a presser is scheduled by HTC in New York.
But you don't have to wait until then to get a glimpse of the refreshed device, reportedly to be marketed as the "All New One." (code named M8)
Evleaks once again has graced us with an early look of the phone with leaked images in gray, silver, and even gold.
Based on the leaked shots (and there's no guarantee they're 100% real, but based on the source's track record there's a good chance that's the case) HTC has made several design changes. Some seem to be if not a complete step backwards at least questionable.
1. Power button is still on top
Why HTC insists on this awkward button placement is a mystery. Pretty much everyone else puts the power button on the side where it's easier to reach. Here's a sneak peek at the top of the 2014 HTC One courtesy of geek.com.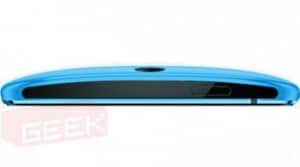 2. That rounded look kind of removes some of the One's cool look
I appreciate the squared-off look of the 2013 One. This one, however, is slightly rounded. To my eyes it loses something.
3. Bezels: Surprisingly large
Word is Apple could unveil a bezel-less iPhone 6. No question we're headed in this direction. So it's somewhat odd that HTC didn't narrows the bezels even if just a bit.
4. HTC loves its logo
Truth be told, I like the HTC logo. But do we need it on both the front and back of the phone?
5. Non-symmetrical speaker holes
Aesthetic perfectionists, this one's for you.
6. On screen buttons, good. But not removing space from where they used to be, bad.
On the upside, the HTC One 2014 will (should!) come with a faster processor, higher resolution display and better cameras.
I still think it'll be one of the top phones of the year, rivaling Samsung's Galaxy S5 and Google's Nexus 6 (if that's what they end up calling it) as the Android hay-maker.