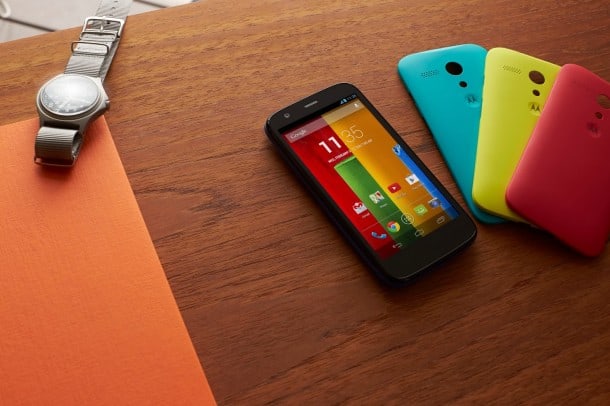 It's official. Google has taken off the gloves.
While the Nexus 5 was already a bargain at $349 (16GB unlocked), the Moto G at $179 (8GB unlocked) is a screaming, ridiculous, mind-blowing smartphone bargain. And this smartphone is no slouch. No sir. G comes with a quad-core processor (Snapdragon 400), 4.5-inch HD screen (329ppi), decent cameras (5MP rear and 1.3MP front), and HSPA+ (up to 21 Mbps). Even better, it comes loaded up with Google's latest mobile OS, Android KitKat (4.4). Again, for $179. No contract. No commitment. No love lost.
About the only compromise I could find is the lack of LTE. Still, T-Mobile will get you up to 21Mbps in many urban areas on HSPA+ which will be plenty fast enough for just about every casual mobile use under the sun – email, web surfing, social networking.
To imagine we'd see this kind of quality hardware for this sort of discount price is unthinkable, even just 8-12 months ago.
Essentially, the mobile market is quickly becoming a commodity market. The real game is the software and services. This is where Google and Apple make real money. Akin to the razor/cartridge model, they want to get the devices into our hands, even at break-even or below cost; the follow-on gravy comes in the form of high margin app sales, ad sales, content sales.
One of the scariest roles to be playing in today's market is that of the carrier. Consumers have spoken. And we don't like being locked in to ridiculous two-year contracts. We also don't like data caps, early termination fees, line connection fees, and all that dreg that goes along with a business model that is in severe need of a makeover – it looks like the industry is going down kicking and screaming. T-Mobile, and its aggressive "uncarrier" campaign may well just be the thankful exception to the rule.
Meantime, the consumer is winning (finally).
With the Moto G Google Play Edition you get a name brand handset (Motorola build quality is top notch) running the latest and greatest that Google has to offer in the form of the exceptional Android KitKat OS. $179?! Man, even though I already run a Nexus 5, I'd be tempted to pick one up to use as iPod Touch of sorts for the home; to control Sonos, INSTEON lighting, XBMC, Plex, and the like.
I don't believe 2014 will be the year of the wearable. Try as every company under the sun might try (with oodles of budget from their marketing departments) – the products just aren't in a polished enough state. Too crude. Too bulky. Too geeky.
Rather, 2014 will go down as the year that (name brand) mobile hardware became a commodity. Google has fired the first salvo with Moto G. Next, will we see heavily discounted tablets? My guess is yes.
Welcome to the platform war, price wars edition.