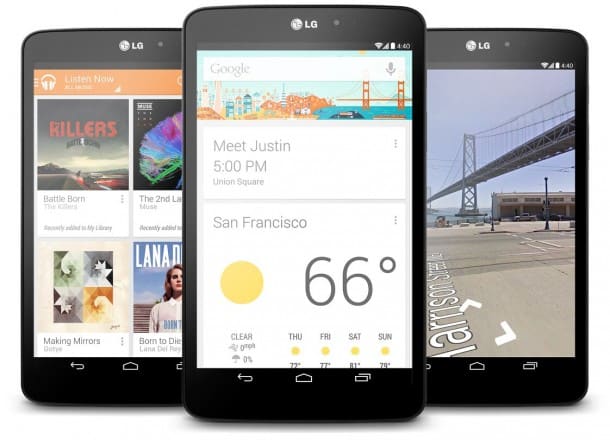 Problem solved.
Google today filled a gap in its product lineup. With the "Play Edition" of the LG G Pad 8-inch tablet, Google now has a viable alternative to the Apple iPad, most notably, and also to the increasing number of small sized Windows-based tablets (Lenovo Miix 2, Dell Venue Pro 8).
While the tablet is not entirely new (it was launched earlier this year), this version–like the HTC One and Samsung S4 smartphones also sold direct on Google's Play Store–will get the latest and greatest Android experience, sans bloatware. That means Kit-Kat comes installed, ready to go. And it's a beautiful, smooth OS. In my tests I've found it in a word, exemplary.
The LG Pad slots in between the Nexus 7 and Nexus 10 tablets. As Apple has proven with the runaway success that is the iPad Mini, the consumer appetite for a tweener tablet is voracious. It makes a lot of sense. With the increasing screen sizes in smartphones (flagship Androids are typically 4.7 to 5-inches) many don't find that a 7-inch tablet, such as the Nexus 7, provides enough of a bump in real estate. And the larger 10-inchers are obviously not as portable, or easy to hold. Hence, 2013 has turned out to be the year of the 8-inch tablet. Finally, Google has an answer.
At $349, Google (and LG) have undercut the Mini by about 12%. Is that enough to woo the iOS faithful?
I doubt it.
For an extra $50, the Mini gives you a retina display, longer battery life, and more apps than you could shake a Ballmer stick at.
But for Android geeks like me–those of us who are all in when it comes to the Google ecosystem (and love things like Play Music, Google Voice and a best-in-class notification system)–the LG Pad looks like a slam dunk. I find the Nexus 7 too small. And give me stock Android over any skin any day of the week. As a nice bonus, the LG Pad features a microSD slot. That's sadly something  you won't find on the Nexus 7 (or Nexus 5). For about $25 or so you can stick a 64GB card in there and load it up with movies and music. I find this invaluable for long-haul flights.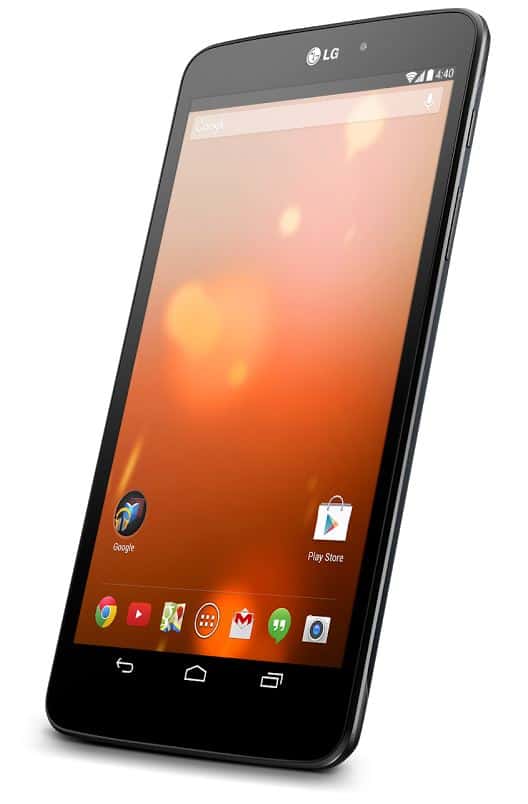 After spending time testing the new Galaxy Tab 3 8.0 I came away underwhelmed. Sure, you can get it for about $100 less. But I find the dual-core processor just not convincing enough – there is lag. After using a Nexus 5 all day (a nice comeback for LG after the mediocre Nexus 4) and its quad-core processor, tablets with dual-cores just don't cut it anymore.
Here's a quick recap of the LG G Pad specs, which you can now buy on the Play Store (1-2 business day ship time as of this writing):
LG G Pad 8.3

8.3″ Full HD Display – bigger than iPad Mini (7.9-inch)

1920 x 1200, at 273 PPI – Mini bests it with Retina at 326 ppi, but in daily use will it matter much I wonder?

4,600 mAh Lithium polymer battery- Bigger than Tab 3 8.0, but unfortunately Android is not nearly as efficient at power management as iOS; Google needs to work on this in 2014

Cameras: 5MP rear, 1.3MP front

16GB storage

2GB RAM

Bluetooth 4.0

MicroSD slot – yessss!

Android 4.4 KitKat – absolutely stellar release from Google. Aside from the camera issues, I find the Nexus 5 absolutely brilliant.
Overall, a solid device. It's not going to set the world on fire. But it does give Google a strong alternative to the iPad Mini just in time for the holidays.