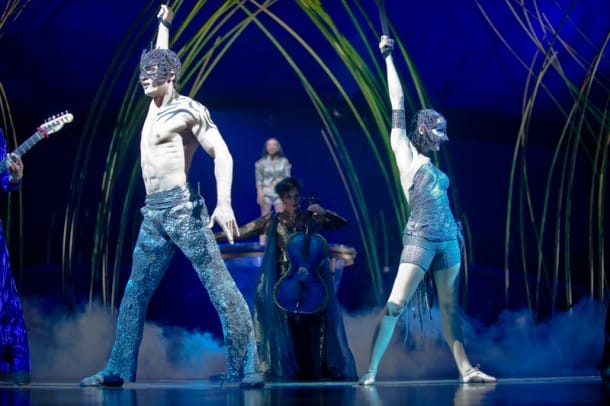 Ama means mother. Luna means moon. You enter the world of Amaluna with its saturated blues, teals, purples and gold for a two hour journey through a surreal landscape of peacock goddesses, amazons, and valkyries. With pulsating music and stellar costumes, Amaluna just might be the best Cirque du Soleil show yet.
The 2,600 seat Grand Chapiteau outside of ATT Park feels like an intimate venue, allowing performers to speak directly to the audience. Such proximity is a big improvement over Quidam, which was staged at the Cow Palace.
The intimacy is fostered by how the creators of Amaluna use tech to work their magic. While far from a low-tech show, the avoidance of video projections means that the show relies on conventional theatrical elements of acting, lighting, costumes and set design to bring Amaluna to life. However, "conventional" might be a misplaced descriptor in this context, however, since Cirque's insistence on excellence is anything but conventional.
ALSO SEE: Stark Insider TV: Cirque du Soleil Behind-the-Scenes at 'Amaluna' (VIDEO)
Individual acts are unified by a story line running through the evening. However, this narrative is not adhered to so intensely that the action feels constrained by the story. Rather, it emerges, through continuity of character. While there is a series of acts, they evolve organically out of each other in a manner unknown in regular circuses.
Pacing throughout the program meant there was nary a dull moment. Breathtaking multi-performer acrobatic sequences build to progressively more improbable and impossible acts before morphing into something new. Quieter numbers, such as the meditative manipulation sequence, are interspersed with more driving ones, such as the bold teeterboard and aerial strap numbers, which allow the intensity to rebuild, again and again. At every step of the way, suspense and anticipation were built into the act, with something to pique audience curiosity and expectation.
Music for this show differed from past Cirque programs. Bob and Bill, a pair of Montreal composers, wrote raw and unpolished rock numbers, performed by an all-girl band. The score worked surprisingly well. Intense and pounding, it powered the show forward until culminating with a celebration that returned all the performers to the center.
Artistic Director Mark Pawley speaks of the desire to make the audience "hope, dream, believe, and take it into the world." As with the energy that informs Cavalia, this impulse is a deeply spiritual one that unites performer and audience. As Cirque brings something new into the world, we emerge from Amaluna restored by the excellence of this performance.
Cirque is in San Francisco through January 12th, after which the touring production heads down 101 across Silicon Valley to San Jose.