Cirque's new touring show, Amaluna, is in town. Stark Insider was invited for a behind-the-scenes look at the new production which features a 25-foot evolving center stage (that weighs 6,000 pounds), acrobatic winches and at least one couple hopelessly in love. So I headed to the blue and yellow Big Top (located by AT&T Park). There, in a sprawling micro-village of tents, myriad hallways and energetic artists and staff, I discovered a markedly different kind of Cirque du Soleil show (see video below for an inside look).
Yes, you'll definitely revel in jaw-dropping artistry, and incredible feats of human performance. Cirque's hallmarks are on wonderful display in Amaluna.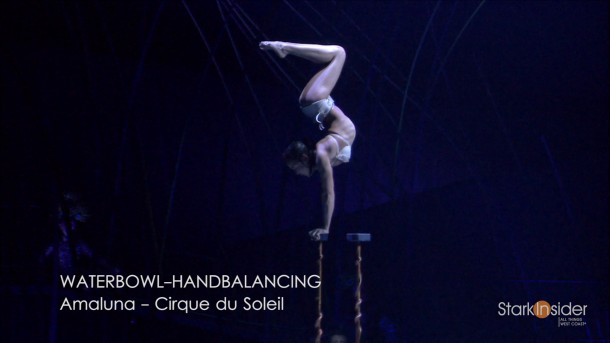 But this time the proceedings, so far as I could tell from rehearsals and a few brief performances for the press, feel almost unplugged, for lack of a better word. No visual effects are used in Amaluna. That design choice means the focus is squarely on the performers.
Another interesting twist: director Diane Paulus told me that 75% of the cast are women. "The gauntlet that was thrown down was to make it a homage to women," she added. Given Shakespeare's The Tempest served as inspiration for the story that makes a lot of sense. After all, this is an island governed by goddesses. As the story goes, a group of men wash up on shore. Romance ensues. But, does romance conquer all?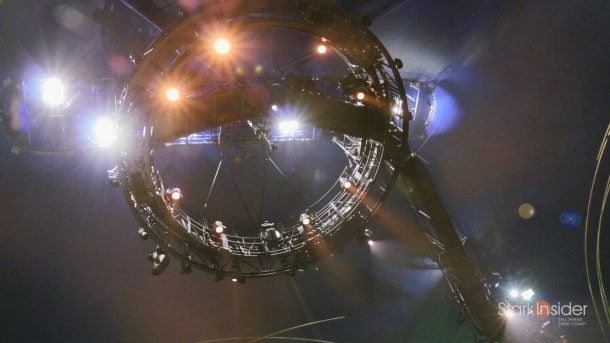 Cirque is not only known for its amazing human feats and acrobatics, but also, perhaps even more so, for its stunning visuals. Peacocks served as color inspiration for Amaluna. Imagine a peacock's tail being used as a paint brush. Rich swaths of greenish blues. Violets. Golds. Those color themes are carried through the entire production, from costumes and lighting, to the stage floor and even makeup. Visuals, once again, will not disappoint.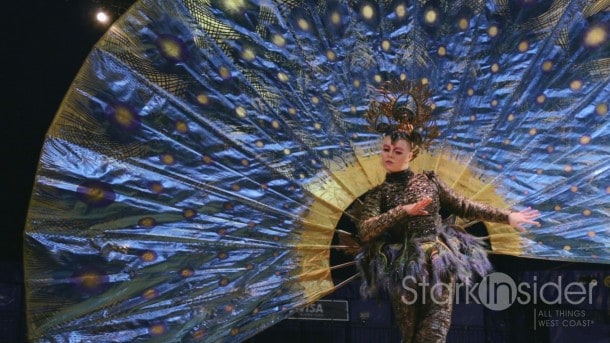 This is Stark Insider's fourth time covering a Cirque show in recent years.
Ovo was an eye-popping extravaganza ("Ovo. Oh wow.") featuring a massive wall that performers ("crickets") used to launch themselves–as if cliff diving–to a trampoline some three stories below.
Quidam ("kee-dam") means regular person, regular life – an anonymous passer-by, the kind you might encounter on an everyday street. The time I spent with performer Ardee was anything but mundane as he emotionally recounted being discovered on YouTube by Cirque talent scouts. His life, forever changed.
Finally, Totem explored the evolution of mankind. Featuring a world of frogs, turtles, and cosmonauts, the show proved that Devil Sticks are not exactly as easy to use as one may think (I failed miserably!). Safe to say Totem also featured the steamiest rollerskating dance we've ever caught on video.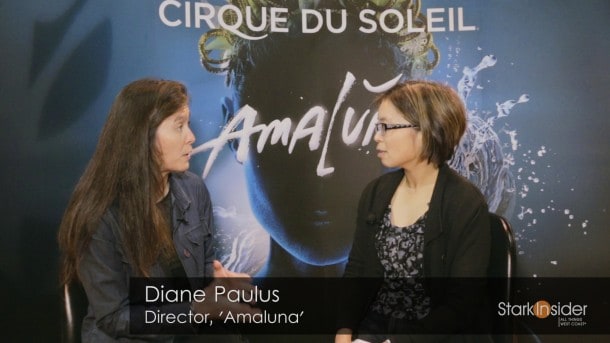 In this episode of Stark Insider TV I head backstage at Amaluna as crew, staff and performers continue preparations for opening night.
I talk with artistic director Mark Pawsey and Tony award-winning director Diane Paulus about the inspiration behind Amaluna and insights into what it took to mount such a unique staging. Once again I was particularly interested in exploring the creative process–there's seemingly a symbiotic relationship between performer and Cirque, and I wanted to get their perspectives on that idea.
Amaluna plays San Francisco through January 12, 2014 before heading down our beloved highway 101 (good luck with that!) to San Jose.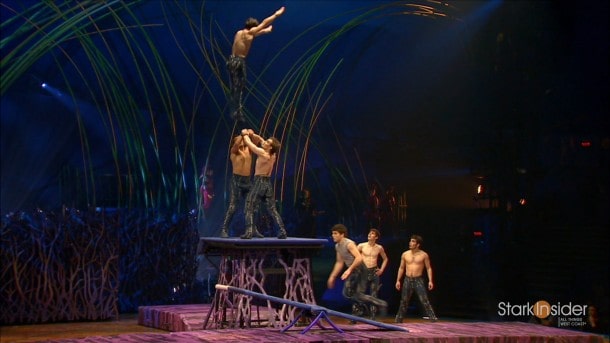 DID YOU KNOW?

The Big Top seats more than 2,600 people
The entire site set-up takes 8 days – this includes installation of not only the Big Top, but also the concession tents, artistic tent, box office, administrative offices and kitchen
The Big Top stands over 62 feet high and is over 167 feet in diameter
The Big Top alone requires 550 'tent pegs' (5 feet each) to secure it firmly to the ground
Amaluna travels in 65 trailers, carrying close to 2,000 tons of equipment
Stark Insider TV: Behind-the-Scenes at 'Amaluna' by Cirque du Soleil