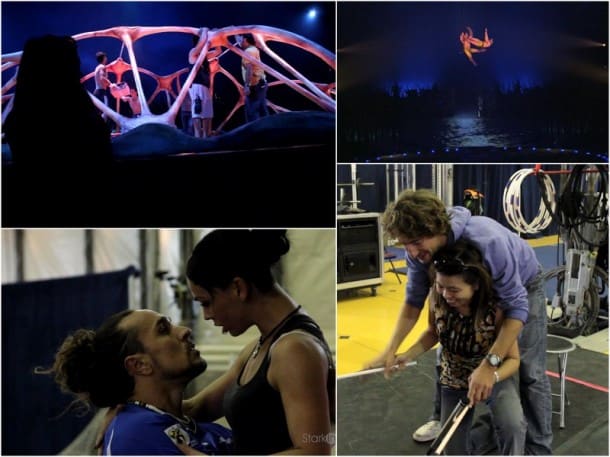 Here's another up close and personal backstage to Cirque du Soleil. This time Loni ventures inside the evolution of mankind into a world of frogs, turtles, and cosmonauts. It may just be the most interesting (and steamiest) Stark Insider TV episode yet!
Watch as performers warm up, train and go through their routines before the premiere later in the evening. Tension and nerves results in an electric atmosphere– well, that is until star Brazilian gymnast Fabio Santos cracks up with embarrassment as he worries about his English. "Don't worry," says Loni. "It's way better than my Spanish!"
Later, tracker Ante Ursic shows the secret behind mastering the Devil Sticks. Loni tries her hand here with some interesting results…
Inspired by many founding myths, Totem illustrates, "through a visual and acrobatic language, the evolutionary progress of species."
WATCH NOW: Behind the Scenes – Cirque du Soleil TOTEM
Interesting facts about the Grand Chapiteau and the Cirque du Soleil Village:
*    The Grand Chapiteau seats more than 2,600 people.
*    The entire site set-up takes 8 days. This includes installation of entrance, hospitality and rehearsal tents, box office, administrative offices and kitchen.
*    The Grand Chapiteau stands 19 meters high, 51 meters in diameter.
*    The 4 masts stand at 25 meters tall each.
*    550 pegs are required to hold the Grand Chapiteau firmly to the 4,500 square meters of asphalt.
*    The Grand Chapiteau, the Tapis Rouge and Artistic tents are all climate control with air conditioning in warm seasons or heating for colder seasons.
*    Totem travels via 65 trailers carrying more than 1,200 pounds of equipment for the tour.
In case you haven't seen it, there's still time. Totem runs through December 18 at Le Grande Chapiteau (the large blue-and-yellow tent village) next to AT&T Park in San Francisco.